Help! Complete Amateur
My brother gave me a bonsai tree for Christmas after I remarked on a whim that I thought they were pretty. The poor thing has been on my kitchen table for a few months and I'm pretty sure I'm killing it (not on purpose!!).
I've been watering it every two or three days, but the trunk has been shrinking steadily and the leaves have fallen off which leads me to think that it's becoming dehydrated. I don't think all hope is lost because some of the more slender branches are still a yellow-green. It looks like someone lopped off some very large branches before it came into my possession. In those areas, the wood is completely dry and appears dead.
I'm not sure what I should be doing. I've read several forums about how often I should be watering the tree and how to prune it, but I'm not sure what I should trim if there's no growth in the first place. I don't think that the pot is too small for the tree as it's not very big in the first place, but again, I'm out of my league here. The last plant I owned was a petunia which was given as a gift to my mum after a few months. Any and all help I could receive would be greatly appreciated!
The link below is to a photobucket album of the tree.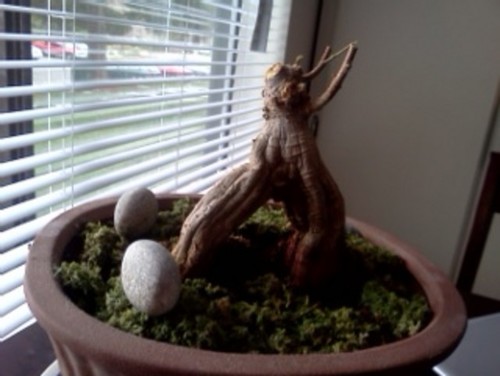 Here is a link that might be useful: Bonsai Tree photos