Gravel level with corrugated drain pipe in SIP containers
After doing some research around sub-irrigation I think I've come up with a cheap method of creating a SIP pot (the 20L pails are expensive in Aus)
9.3L Bucket
~40cm length of 2" Corrugated Drain Pipe
~30cm length of 13mm rigid hose
The space in the centre of the corrugated pipe is almost levelled off with screenings and shade cloth layered over this.
I made up mix of 5-1-1 Pine bark - coir - perlite (with some fertilizer and lime) and covered the surface with straw mulch.
I made up ~10 of these over the weekend, however I don't think it's wicking very well.
Any opinions on having gravel in the base of pots with CDP?
I'm tempted to pull out the gravel and shade cloth entirely and cover the exposed ends of the drain pipe with weed mat.
When I convert larger (and much wider) pots for tree's, I think I maybe should still have a slight layer of gravel in the base otherwise there will be a large amount of media sitting at the water level, with very little air space in the CDP coiling the outer edge of the pot.
Opinions, Tips?
thanks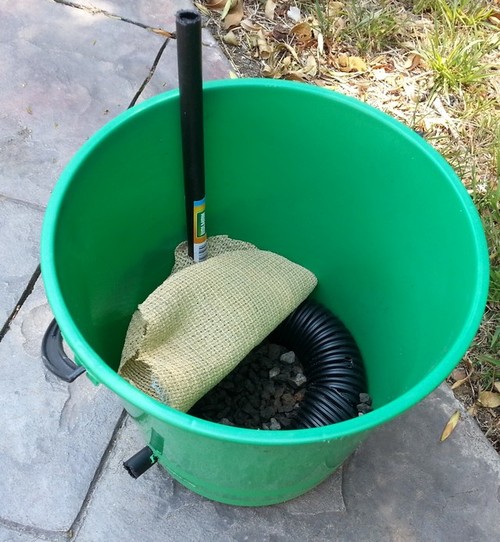 This post was edited by therm on Mon, Jan 21, 13 at 4:26