Bulb ID help please?
courtcourt
January 24, 2010
I bought my home in the middle of summer last year, and didn't do much work to the outside, because it was blistering hot, and because the inside needed a lot of work. We had a couple of days of decent temps, so I set out to pull out the ugly, non-descript bushes in the already established beds, and start some new ones.
I found a TON of these bulbs, growing in little clumps, in a bed by my mailbox, while attempting to dig up what appears to be a small tree stump. I vaguely remember there being tall-ish flowers of some sort, maybe 2-4 feet tall, in that spot, but I'm not sure if that was a result of these bulbs, because I didn't see the house until June. Any guesses? It's kind of hard to tell from the picture, but the leaves are growing very flat and fanned out a bit (and this is on all of them.)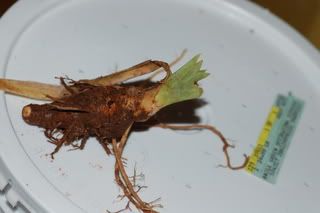 In the process of digging, I saved as many as I could, but some got broken up. I'm much more used to growing from seed, so forgive the stupid question, but can I replant the ones that snapped apart from each other, or are they a lost cause?
Thanks!! :)