Mini Jade Bonsai Leaf Drop
Hello everyone. I'm new to this site and have joined to get some feedback and a little assistance on my new jade bonsai. Last week I purchased a mini jade bonsai at one of our local local plant nurseries here in the Texas panhandle. I brought it home and have it sitting in front room directly next to an east facing window and about five feet from a south facing window. The plant does not get very much direct sunlight due to a tree growing outside the east window. The plant is also very closely located to the front door. Is this a poor location for the plant? I thought it ideal because of the two close windows, but would it be more beneficial to have the bonsai next to an east or west facing window with more direct sunlight?
I've been noticing some leaf drop on my mini jade, about three leaves a day or so. The plant looks extremely healthy and the leaves it drops are green or a slight shade of yellow.
I've only watered the plant once since I brought it home a week ago because I've heard overwatering mini jade is a common problem. However, the rocky bonsai soil seems to be dry within a few days of watering. Being in the West Texas Panhandle, should I be keeping my mini jade watered more frequently? I have purchased bonsai fertilizer as well, but have not yet used any.
I have some pictures I'll upload with this post.
Thanks so much in advance for any assistance you may offer!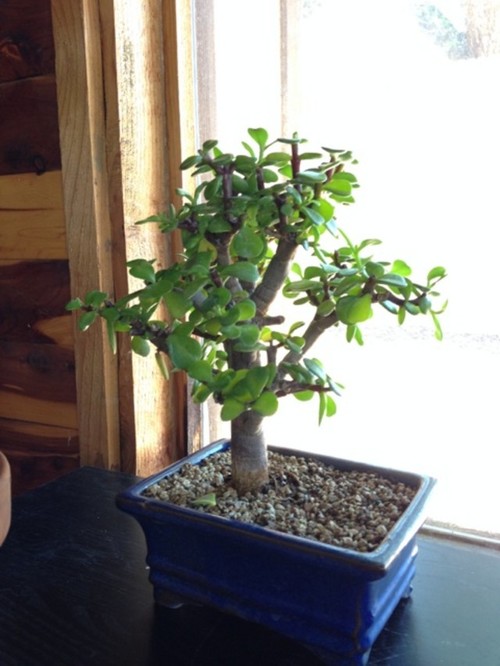 Here is a link that might be useful: Link to pictures of my mini jade bonsai