My Fertigation Setup
DaMonkey007
(10b - Miami)
February 24, 2012
Good Morning Everyone,
I was recently having a conversation with the infamous Meyer Mike, he asked me in passing how I was going about my fertigation. I proceed to tell him the story about how I came to this end. I realized afterwards that it really is a pretty good idea and a pretty good story, and I thought that I would share it. Hopefully some of you might find it interesting and useful! Here it goes:
It just kinda came to me, it was like "meant to be". I had a bunch of those 1 quart spray bottles around for cleaning up and what not. One day, a bottle was on the counter next to some empty beer bottles, soda cans, and a 2 liter soda bottle, ready to go to the recycle bin. The 2 liter cap happened to be off and laying next to the spray bottle. I looked at it, tilted me head, and an idea was born! I tried the cap and it fit, so I busted out the drill. I drilled a bunch of small holes in the cap and a vent hole at the top of the spray bottle...and viola!
The next part of the equation came a few days after that, when I found myself walking back and forth, lugging these bottles everywhere two at a time. I have to give all the credit on this part to beer!! Yes, beer! I had run out and went to the store to grab a few more hoppy adult beverages, I was carrying them out to the car in one of those little hand held bins, I looked down, saw all the bottles lined up in there......and I knew that my idea was coming full circle. I can tell you my friends, that the IPA's were extra tasty that day......LOL! I like this setup because the 1 quart bottles are so easy to manipulate, can get in tight spaces, and the water comes out nice and slow. Here's what the finished product looks like!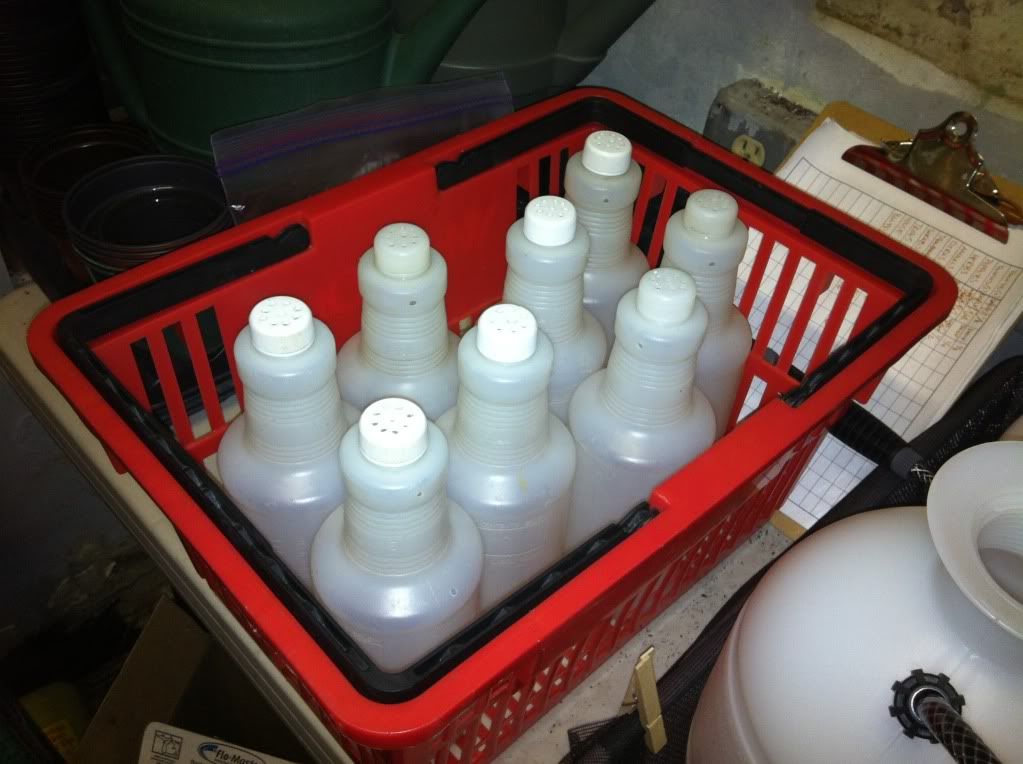 The last piece of the puzzle came a few days later, after I had been adding the MG powder in really small quantities to the bottles directly. This was not very effective, specifically when trying to dilute down to like 1/8 strength. It was very cumbersome and inefficient, to say the least. Once again, the light bulb just kinda went off. I had this 5 gal igloo sitting in the closet with the rest of my tailgating gear. Sometimes I make 5 gallons of some mixed drink and bring it to football games....GO CANES....5 gallons of boose...woo hoo! Our tailgates rule. So anywho, I make 5 gallons of full strength MG in the igloo cooler. I dispense as needed to the appropriate dilution line on the bottle, then top it off with water to achieve my desired fertigation concentration. Yay me!
So like I said, I thought that this is a pretty good story, and a darn good idea, and I wanted to share it with you all! Have a great weekend everyone!
PJ