Avocado as a Container Plant (pics)
greenman28 NorCal 7b/8a
February 21, 2011
Greetings, everyone!
Welcome to the start of a new Thread on growing Avocados in containers!
A little background: in November 2009, I dug up a volunteer Avocado seedling from my garden,
so that I could grow it as a houseplant over the Winter. I chose the shortest, stoutest Avocado seedling
(out of five that sprouted throughout the garden), as I didn't want to end up with a lanky, floppy plant
during the Winter months.
My continuing goal with this plant is to keep it short and bushy and "house friendly" with regular pruning.
Here is a link to the previous Thread, posted in the Houseplant Forum, which exceeded the maximum
number of posts that Garden Web allows: Avocado converted to Houseplant (pics)
And for direct access to the progress pics, click here: Avocado Slideshow
Lastly, a current pic of the Avocado. Click for a full-size view: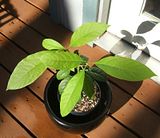 Josh