wintering lily in pots over winter can it be done?
missmyrnaloy
(3)
May 3, 2013
Ok... I used to have beautiful lily gardens, due to a break up I ended up moving and 2 friends offered me the use of their garden for two years. Eight months later I was settled and went to collect half my collection as the deal was they were keep half for the use of their spaces. Needless to say a 10k plants, shrubs, roses, rugoas and bulbs are "dead" nothing left -grapevine basically said they sold them and gave them away to their friends and planned to tell me they died over a period of two years. I didn't say anything what could I say.
So, lesson learned, starting over in a rented house, but want to put my lily bulbs in pots on a deck because living in town the deer here in town come anywhere in the yard and eat every thing in site. I have spent 1k on bulbs so far and want to enjoy them and not have them eaten. I bought cheap laundry baskets from the dollar store lined them with brown paper bags, good drainage can put 5 bulbs in a basket. Each basket was anywhere from .50 to 1.00 each. I have access to under the deck, an unheated garage and the basement. We get anywhere from 30 below to 58 below for a couple of weeks at a time. This last winter was very soft and maybe got down to 30 below for shorter stretches. Now if I put these basket of bulbs in an unheated garage it does get below zero easily in there and would I need to water them? If I chose the basement it gets about in the 50's..... and would I need to water them or just move them down there and leave them alone? I also want my bulbs to be kept portable in case I might have to move again. I have over 4 thousand daff and tulip bulbs in the ground and will be fighting the deer on that... I just don't want to get my lilies eaten and want to enjoy them. Any ideas?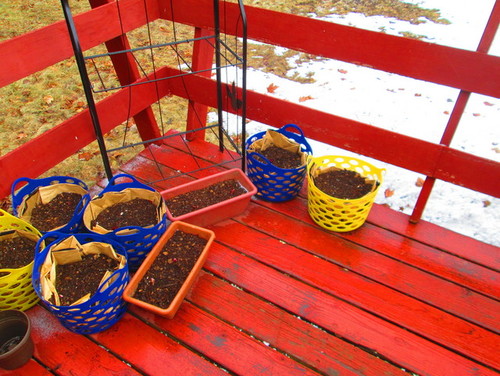 This post was edited by missmyrnaloy on Fri, May 3, 13 at 15:01