28 Days Later 5-1-1
naikii
(9a / 8b)
March 4, 2013
Hey all, so as some may remember I recently started a thread to work out what mix to put a variety of plants into ( http://forums2.gardenweb.com/forums/load/contain/msg0120561912795.html?72 ), and subsequently ended up potting a bunch of plants into Tapla's 5-1-1 mix. Now, 28 days later I thought I would post up some initial results and thoughts as well as accompanying photos.
This will be a big wall of text and pictures and is largely to fulfil my obsession with these plants more than anything else, hopefully you will get as much out of this as I did! Anyone who does not like tonnes of writing, escape while you still can!
In summary, the mix has worked well so far. When I repotted in Feb it was the last month of our Australian summer. Since that time we have had a couple of hot days 35oC (95F), generally dry weather punctuated with a few days of heavy rain. We have just gone into Autumn as of last Friday, and as I live in Canberra, the weather has already begun to cool (22o max yesterday, 77F) and it is going to become more and more cold from here on in.
One strange thing I have noticed is that although the mix feels like it does not need water, it actually does. One time after 3 dry hot days I felt the mix, and decided it was cool and damp and so left it without watering. That afternoon I had some leaves start to wilt and curl.
I noticed that the leaf wilt is different to what I have usually experienced with potting mix. With normal mix, the leaves wilt, you water and they perk up again. In the 5-1-1 for whatever reason the very ends of the leaves wilt and curl, and even after watering the wilted parts of the leaves dry up and die, leaving the unwilted part green. This has happened on a couple of my figs and blueberries. I am quite observant, and watered at first sign of wilting, and so only lost 1-2 leaves on the affected plants. Since then I have begun watering about every 2 days, and two of my blueberries that hadn't done much have really started to wake up since increasing watering.
I have been fertilising with half strength miracle grow every 2-3 waters, and have been adding a couple of tablespoons of vinegar to my blueberries as well as a half tablespoon or so of Epson salts. Everything else has just received MG. In the last week I have begun to add in a little seaweed solution for all plants.
I have now potted about 11 plants total, in 28 days (or 14 in some cases) some have put on a solid amount of growth, some have put on very little or no growth. No plants were lost in the transition to 5-1-1. Here are the photos, and there will be a lot! I will put in the best performers down to the worst.
Blueberry - Blue Rose
This plant I only repotted on the 18th of Feb, and it is very very happy, taking the place for best growth, I am quite amazed at how much growth it has put on in only 2 weeks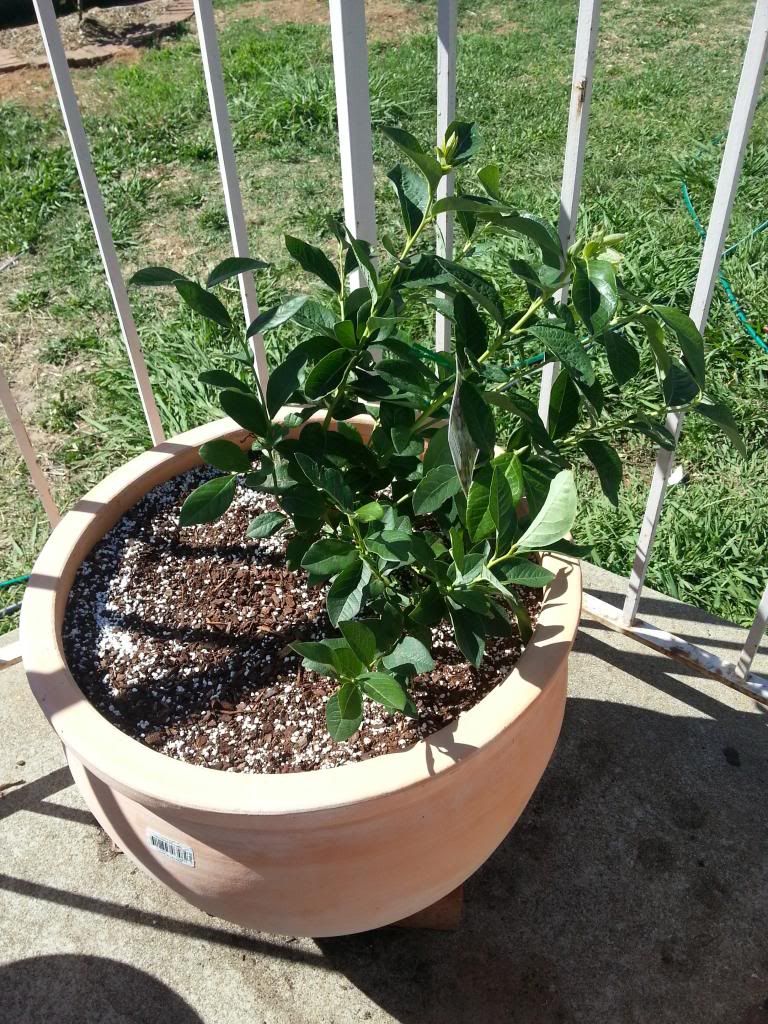 Blueberry - " Brightwell
This plant started putting out solid growth days after repotting, and seemed to branch out from all tips, and broke several new buds as well, growing denser by the day. I think I turned this plant at some point, so the angle may not be exactly the same.
5th feb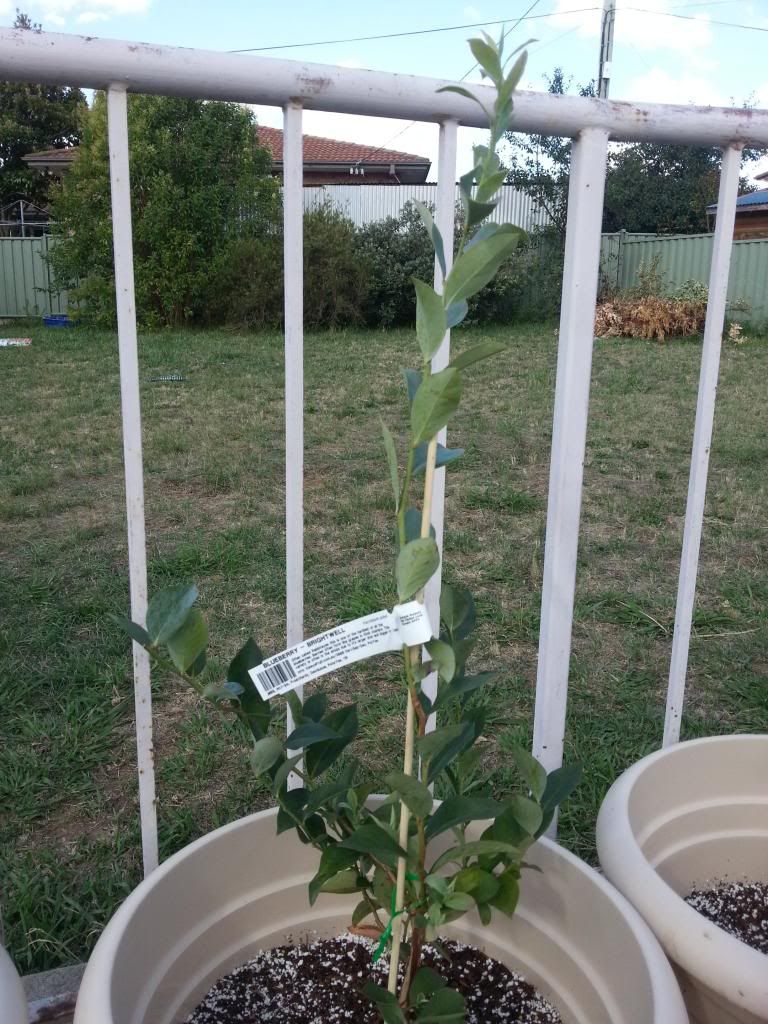 8th Feb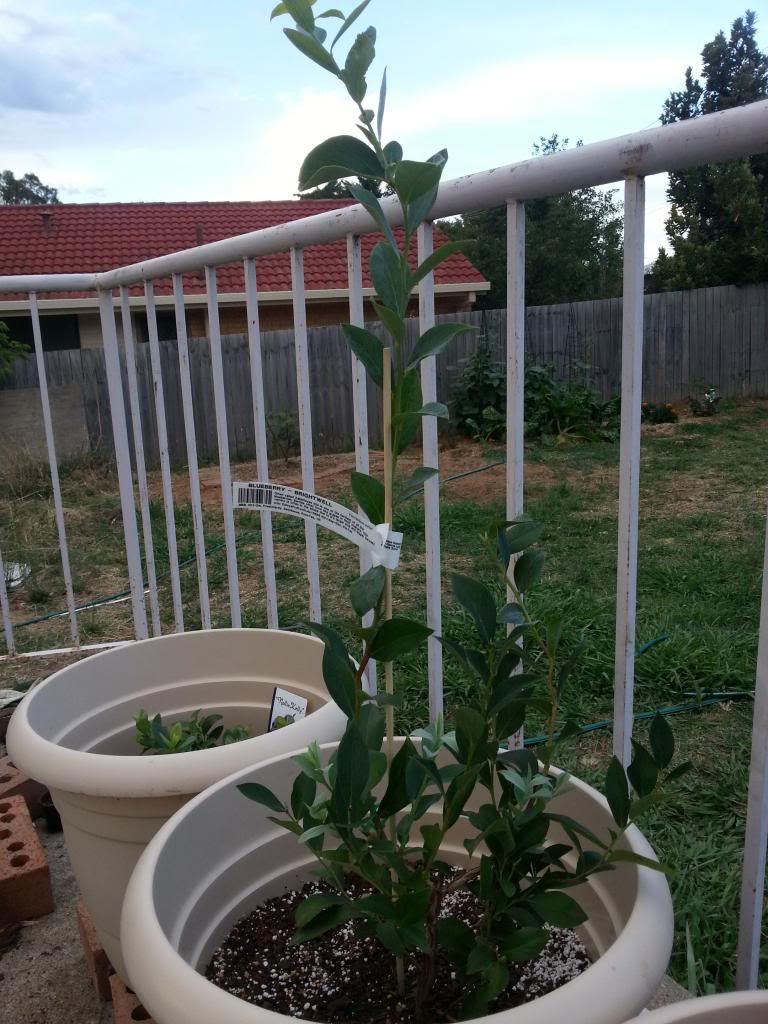 18th Feb


3rd March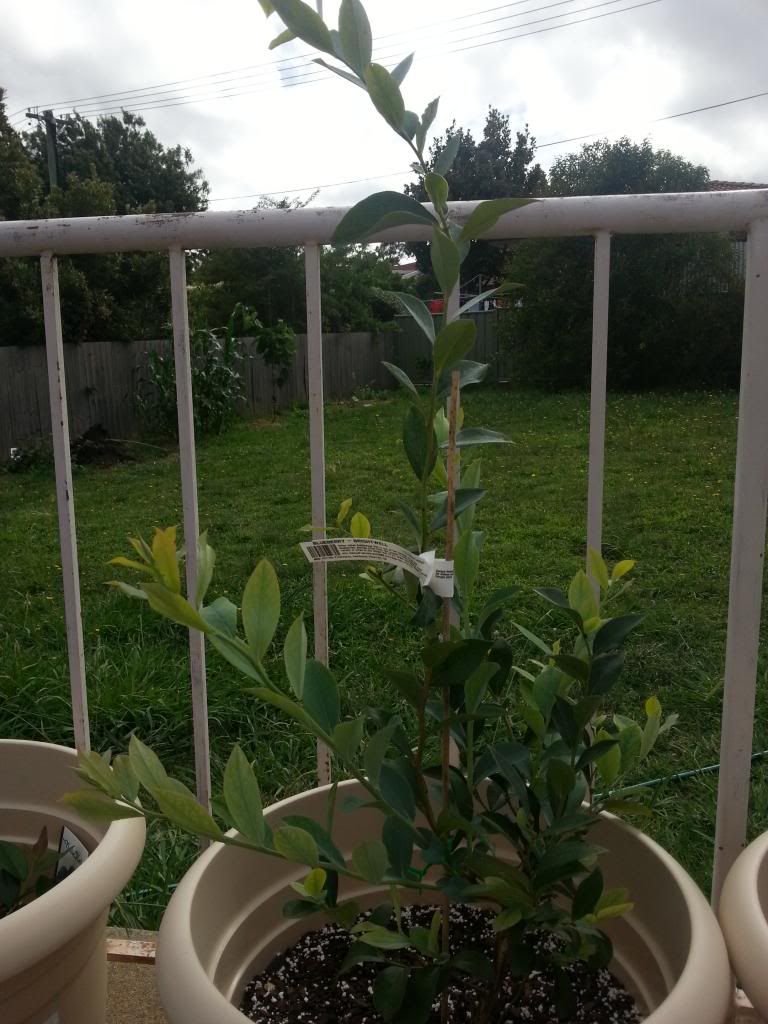 Dwarf Eureka Lemon
This plant has only had 2 weeks since repotting as well, and has put on a nice amount of growth in this time. You can see the height it has put on, from the first to second pic, it was much shorter than its stake in the first pic.
18th Feb


3rd March

Blueberry -" Sunshine Blue
Seems the blueberries love 5-1-1, as long as they get enough water! This one has performed nicely, probably deserves to be above the lemon, however since the lemon has only had 2 weeks it wins the spot!
5th Feb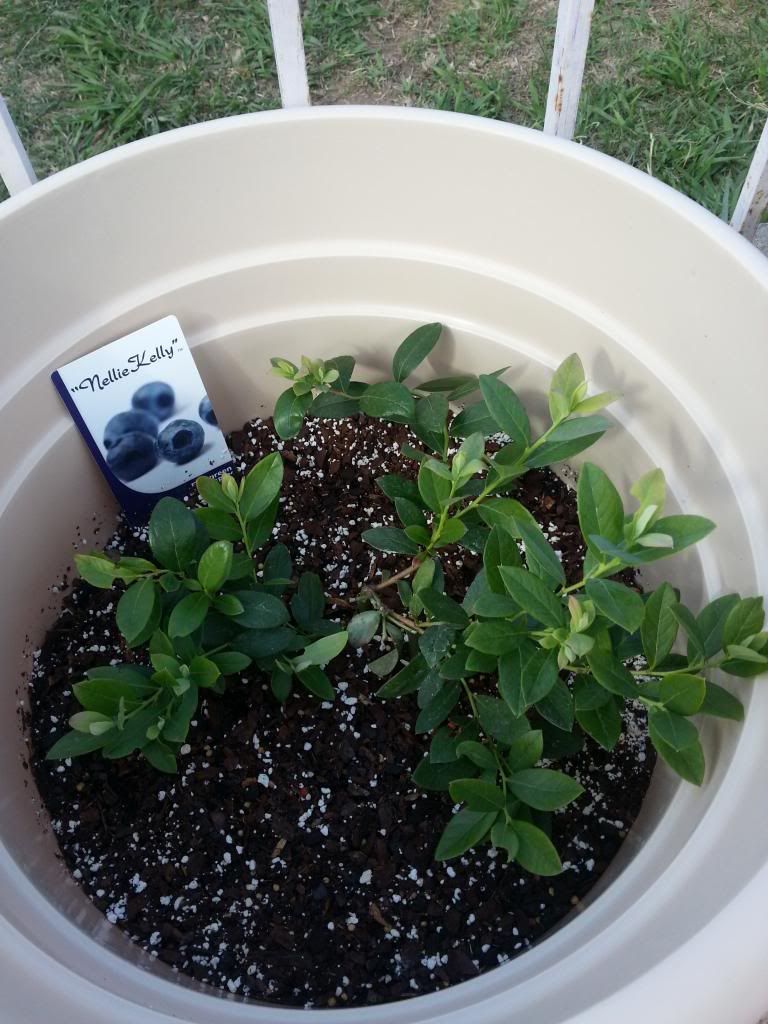 18th Feb


3rd March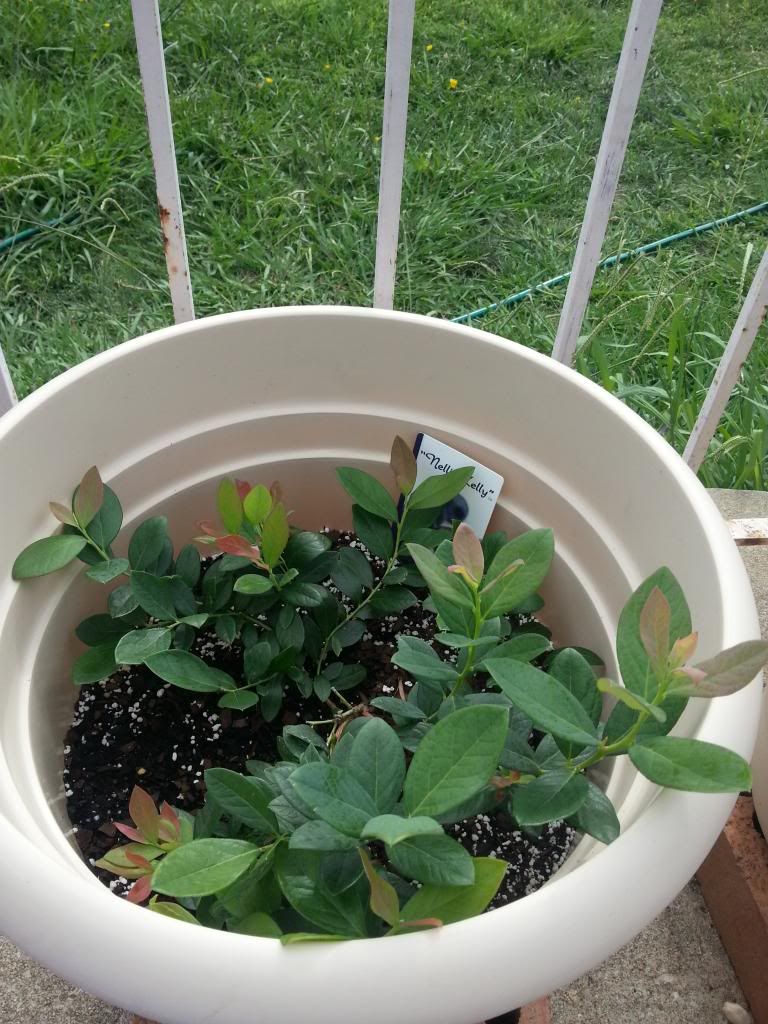 Dwarf Peach
This one is kind of hard to tell from the photos, and me shooting from different angles doesn't help at all, this tree ahs been thickening up, and has grown a few cms on each of its major branches.
18th Feb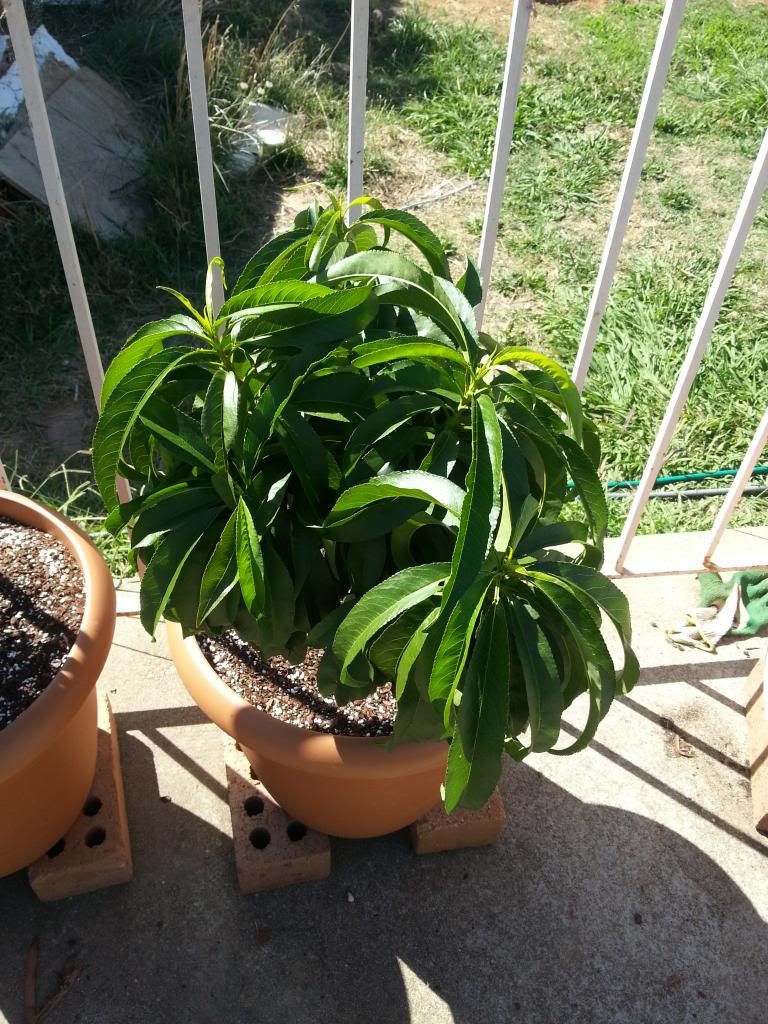 3rd March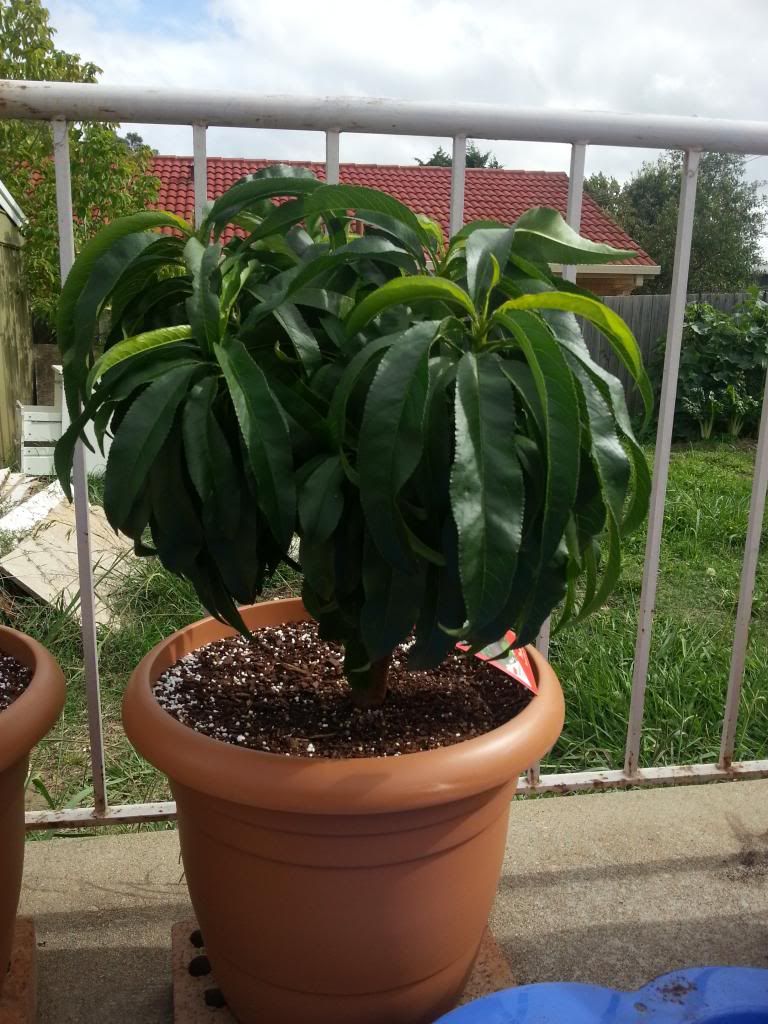 Blueberry- Powder Blue
Ok, I'm looking at the pictures now, and if anything this plant looks worse! Looking at it in person though I consider it a good performer. This is one of the plants that I believe suffered from too little water. The soil felt damp and cool to touch and yet some leaves began to curl and died. The 5-1-1 mix for this plant (and Misty) acts differently to my others as well.
I assumed that since the top felt wet that the soil below must have been dry/hydrophobic so I gave it a super soaking, watering it 4-5 times with the hose at 5 minute increments and really let water flow through. I was also considering that salts may have possibly been blocking water uptake although I allow a good amount of water to flow through at each watering. By watering it multiple times and really letting it soak I thought it would flush out and wet at the same time.
What I noticed with this particular pot (and Misty) was the water would sit on top of the soil for a few seconds and then literally bubble through the mix. As in, as the water went through the mix large bubbles would rise out of the soil. At first I took this to mean the soil had been really dry underneath, however even after 4 passes with the hose it continued to do this each time. I am still not sure what it means.
Another difference between this pot and Misty is that because I ran out of mix I filled the pots less than half way. It may be coincidence that it is the two pots with the least soil acting differently, or something else might be afoot.
Anyhow, since flushing/watering heavily about a week ago several buds along the stem have swelled and broken, and I suspect it will grow speedily with my new information on it.
5 Feb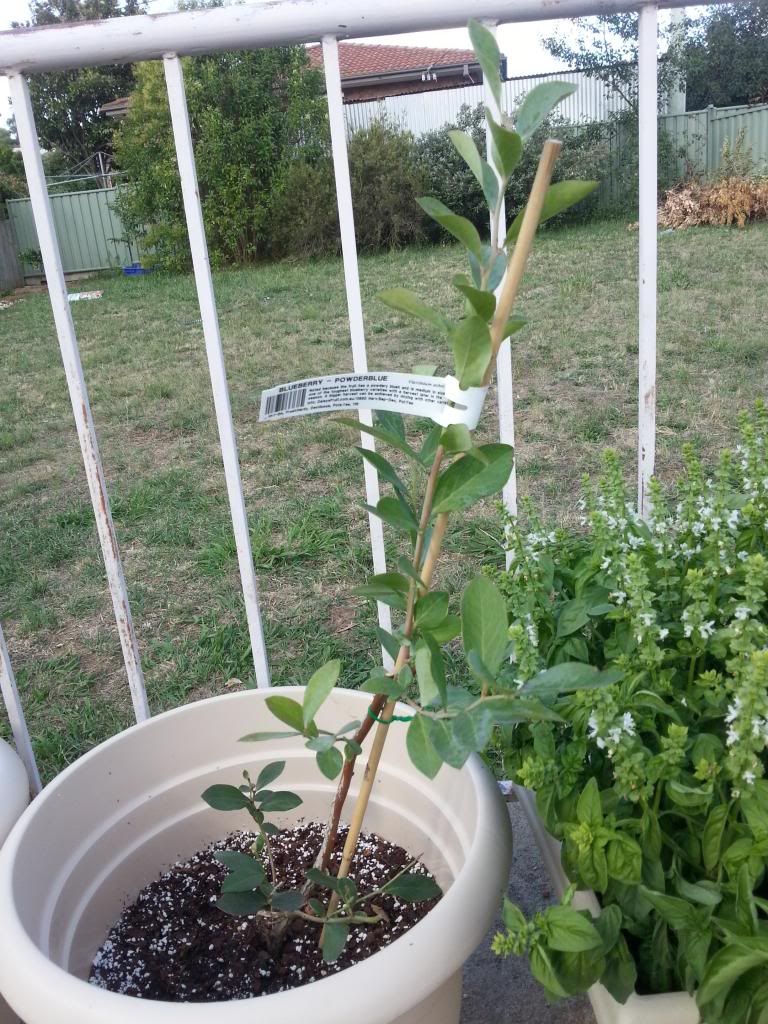 18 feb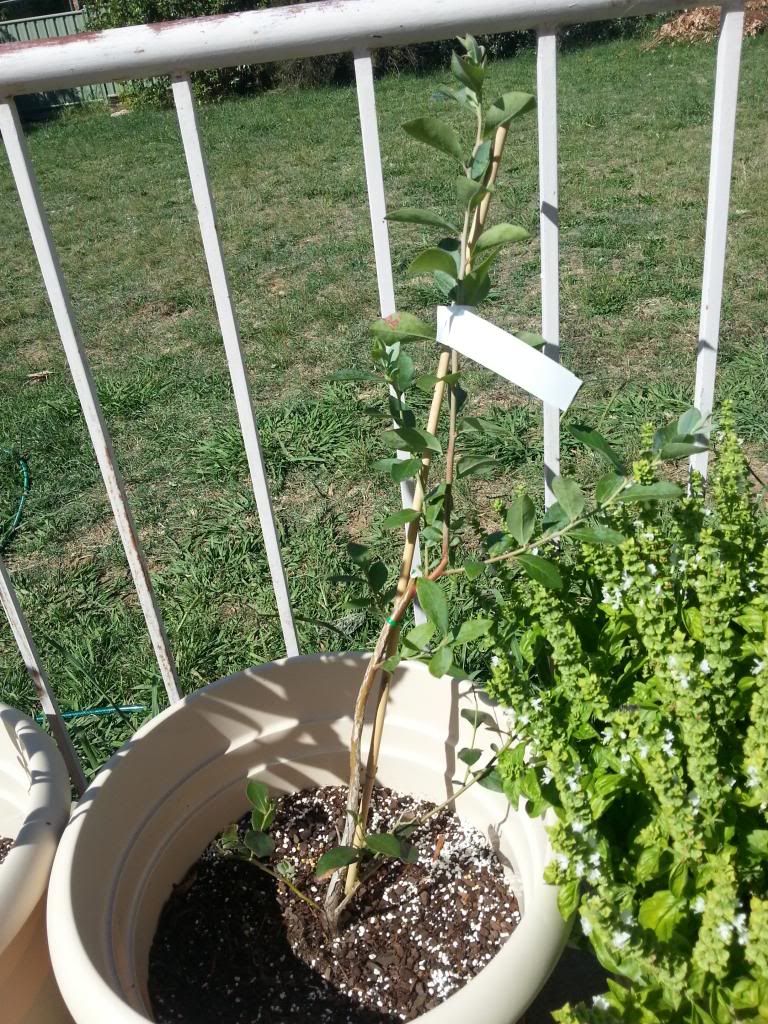 3 March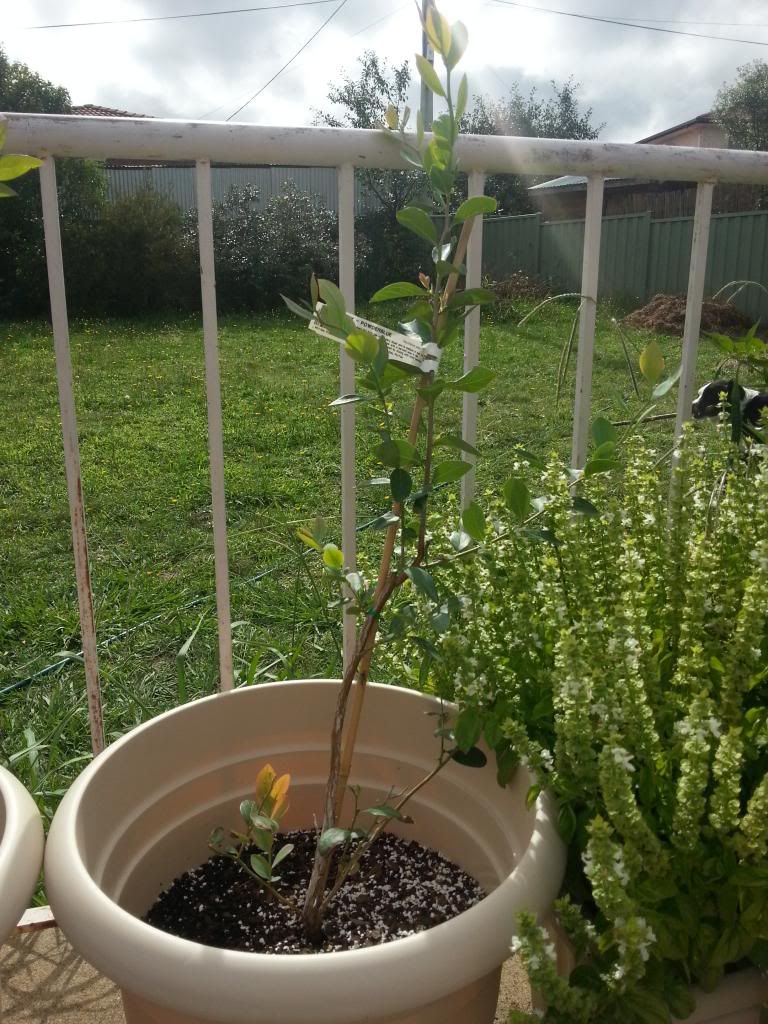 Fig - Black Genoa
This fig has put out about 2-3 new leaves since reporting, and has sprouted a new branch near the bottom. In general however all my figs growth has been slow to date.
5th feb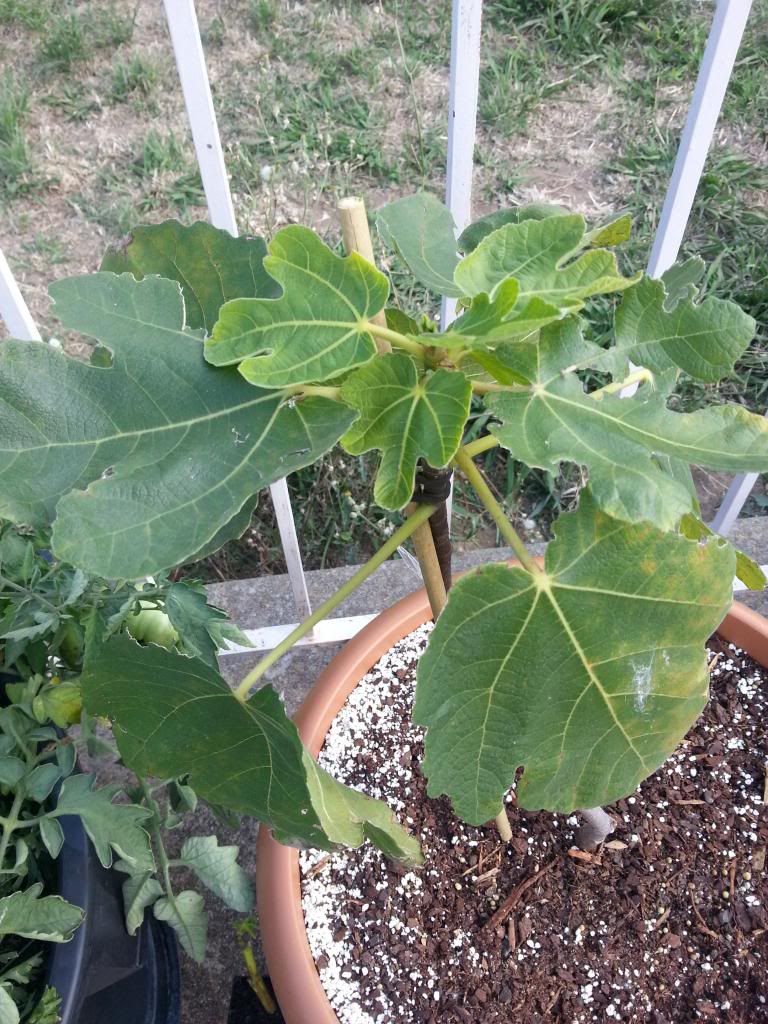 18th Feb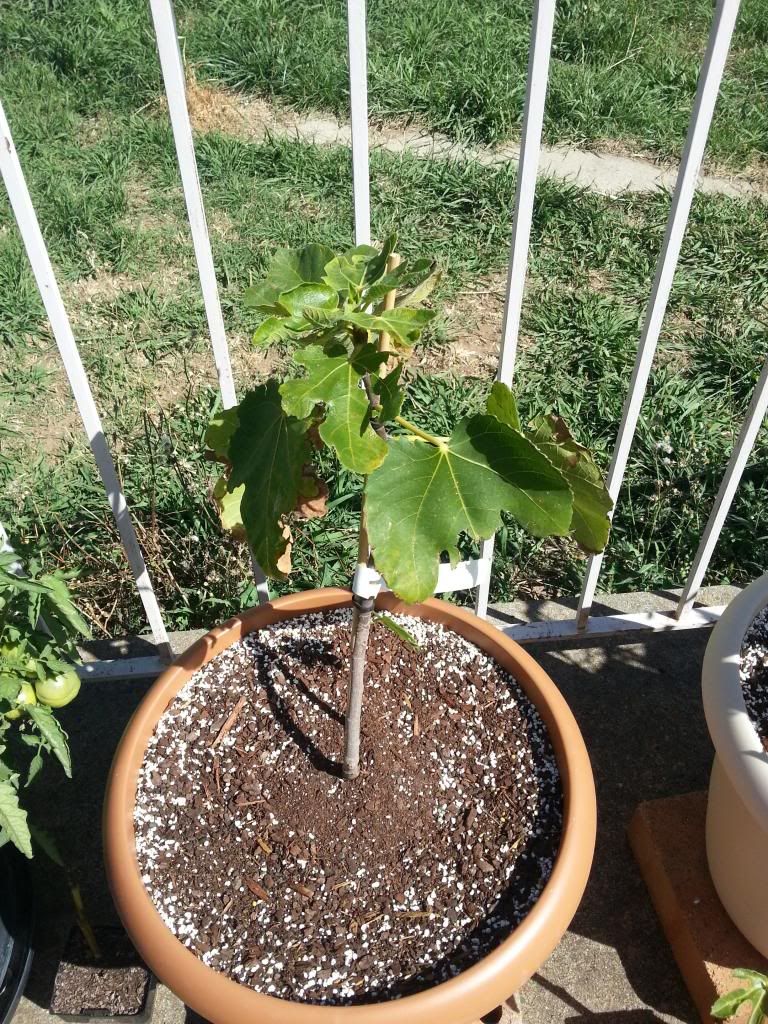 3rd March


Fig - Brown Turkey
This fig hasn't done much, and has even lost a leaf or two since repotting. It has recently tried putting out a small fig, which I pinched, and looks like it is finally thinking about putting on some more leaves. It has also decided it really wants to make figs and has started growing a second tiny fig which I have decided to leave on this time, since it is so persistent.
5th Feb


18th Feb


3rd March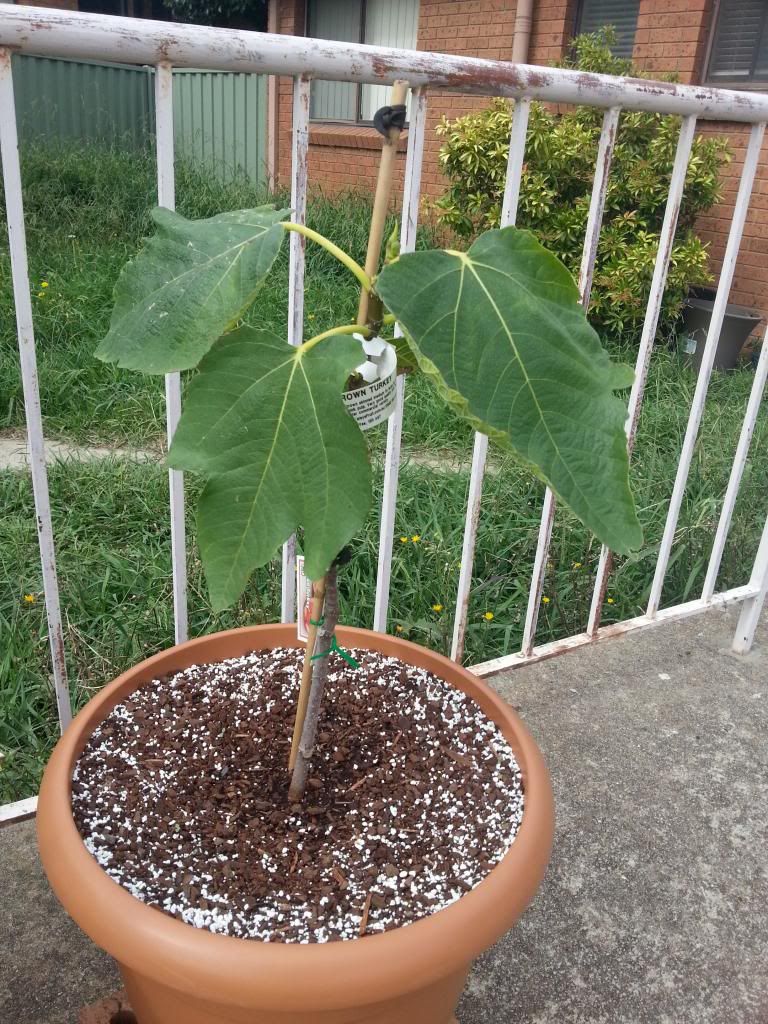 Blueberry - Misty
This blueberry is growing slower than the rest, although has started to put off some new growth. This plant had similar watering problems as with Powder Blue as above, and also has had some physical damage when I threw stick for the dog, and managed to directly hit it, taking off a good 4-5 leaves. Oops! Its also my favourite blueberry, so its no wonder its growing slower and has sticks thrown at it!
5th Feb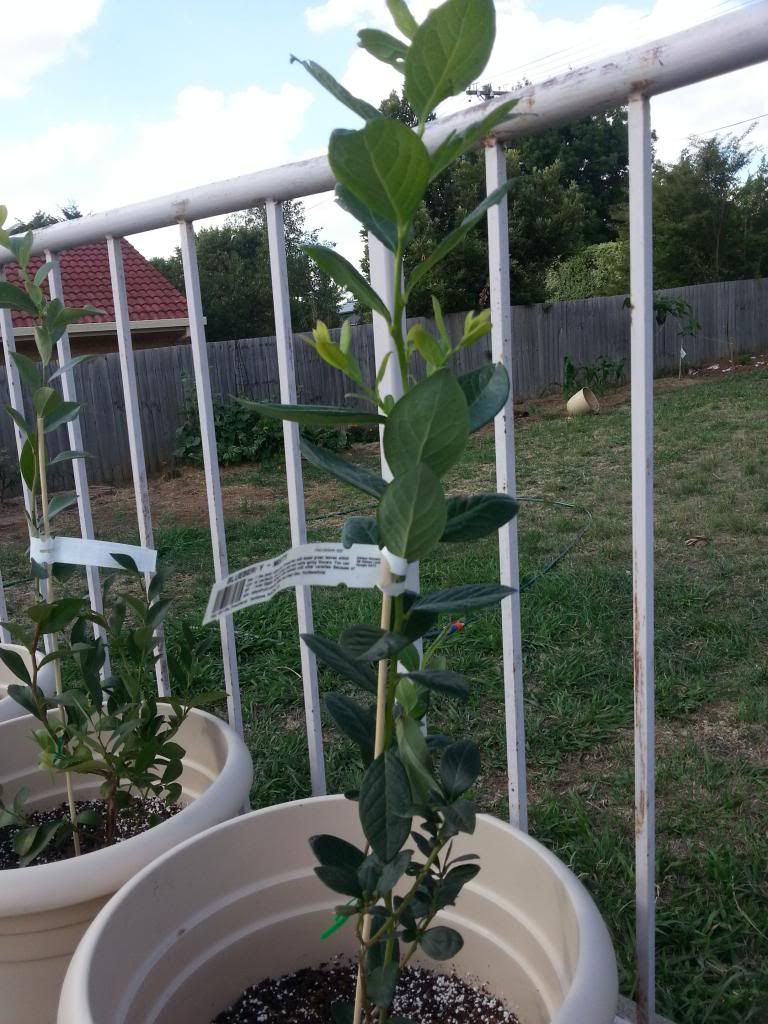 18th feb


3rd March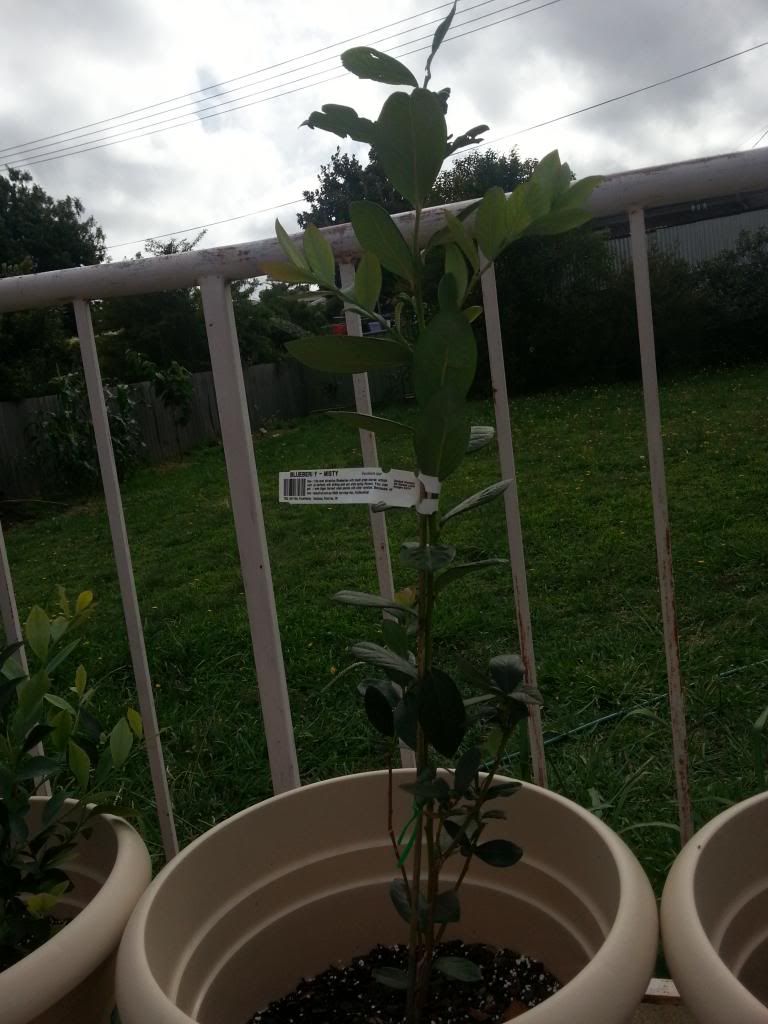 Bay tree
This guy has done nothing. Hasn't declined or grown, just kind of sits there.
5th Feb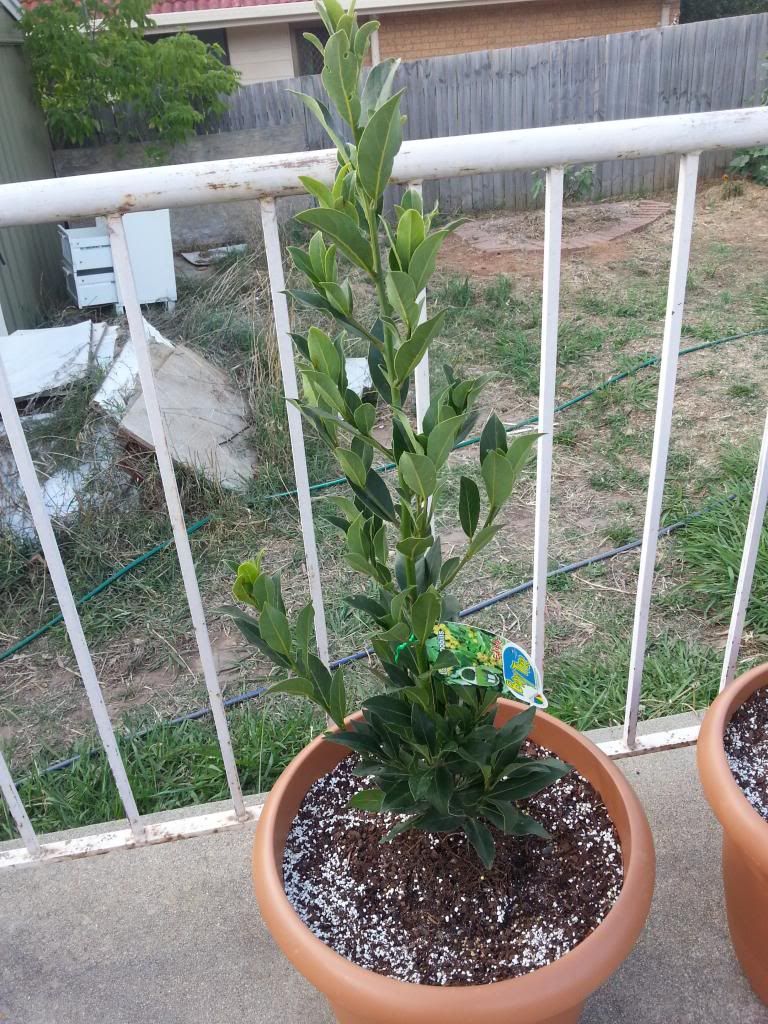 18th Feb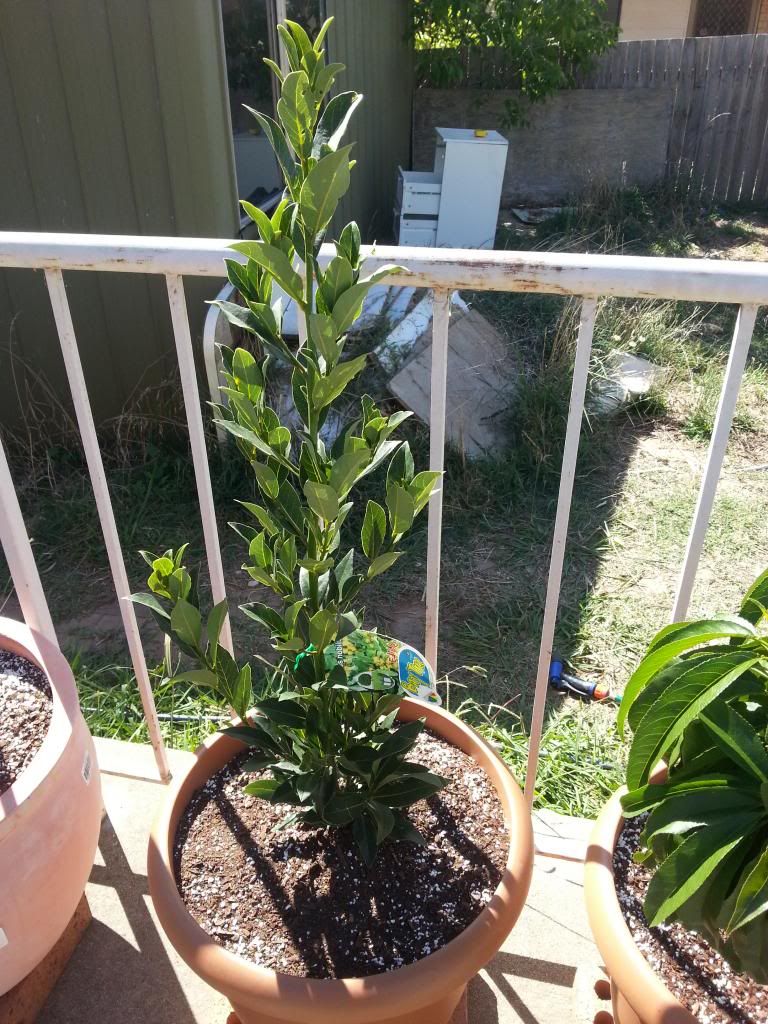 3rd March


Fig - White Adriatic
My favourite of all the plants, and the worst performing! This fig has dropped a few leaves, and they have lost some of their vivid greenness, picking up a slight yellow tinge. The buds on this plant have also gone brown. If I could guess I would think it has decided to hibernate early. I don't think it is on deaths door or anything, but I am severely disappointed with its progress. I am hoping it wakes up a little before the cool weather really hits!
5th Feb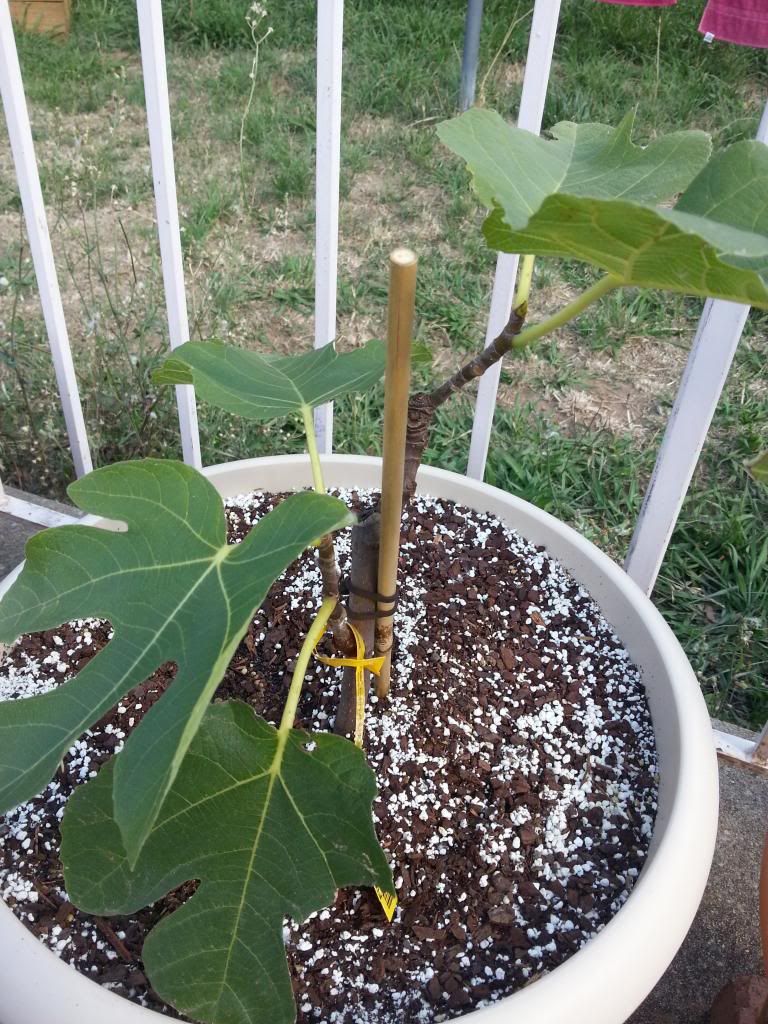 3rd March

And finally, to finish up I planted one more plants into the 5-1-1 this weekend, due to the overall success of the others, a curry plant here is hoping for continued success!