Vines, Ivy or whatever for deck privacy
Hi all, I live in a crowded suburban neighborhood in zone 7a with a large deck off the back of my house. I have one of the few 2 story homes in the neighborhood and my deck is off the second floor. Consequently, when I go out on the deck, I look out at all the neighbors backyards and they can look up at me. I have placed ornamental grasses and large potted plants around the deck but I have 2 planters with trellises in the corner that I would like to grow some kind of ivy or vine to give me more privacy (see picture). The deck is facing north and gets sun all day long. Ideally this is what I am looking for:
1-Something that is REALLY fast growing. I use the deck from May to Sept. and can't wait all summer for something to grow.
2-No berries or fruit that's going to stain the deck.
3-Flowers are ok as long as they don't attract bees. The table and chairs will be right by the planter.
4-I would love to have a perennial but it would have to be able to withstand being outside in a pot all winter long.
Last year, I planted black eyed susan vine but it took all summer just to reach the top of the trellis and even at that it didn't fill in much. I put either a potted palm or ornamental grass in between the 2 planters.
I know that I'm asking a lot but maybe someone out there has a few ideas. Thanks.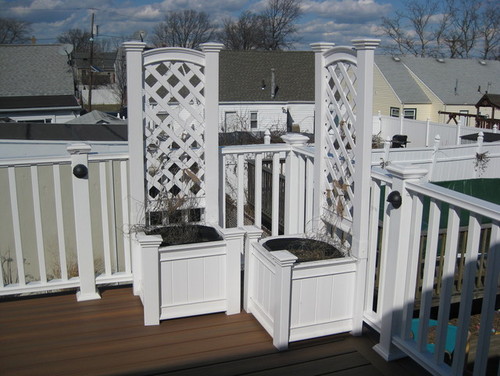 This post was edited by misspugs on Sun, Mar 16, 14 at 12:49