Grouping plants in bagged & porous mixes 2gether,lessons learne
meyermike_1micha
(5)
March 12, 2011
What are those lessons?
1. Not to grow, group plants planted in 'bagged' or of very fine particle mixes together along with my plants in 'porous' mixes if one plans on doing a mass watering all at once.
If one has a greenhouse and plans on just putting them in there all grouped together, one should make sure they have one side left for hand and selective watering for the bagged mixes, and then the other side for being able to water whenever you want with a hose, grittier mixes.
2. The same holds true for keeping them summered outdoors. I wouldn't plan on bringing them all outdoors and think that the ones in the 'bagged' mixes will fare as well as the ones in the 'porous' mixes. Please make sure if you gets lots of rain, you bring in your plants in bagged mixes, while you can leave your porous mixed ones outside as long as you want, no matter how much sunlight, or lack of it. No matter if cool , warm, hot temps.
While those that get lot's of water in the grittier mixes do very well, the ones around them will fall like a swatted fly to root rot if one is not careful.
I did with the few I left in bagged mixes until today, and so therefore, I almost lost two trees to a bagged mix while the others around them flourished even in my sometimes what can get very chilly at night, very warm by day, very bright all year long pop up greenhouse. It can also be perfect temps and bright sun for days on end.
I thought that all the 'LIGHT' they got was a cure all, and that my plants in bagged mixes would be alright or could take the frequency of watering as all my others could until I could re-pot them, but not so.
Hope this prevents anyone else from learning the hard way. If you are going to grow in good porous mixes that drain and dry out well, in particular the gritty mix, then no worries, but if you're determined to leave many in bagged mixes that can take forever to dry out, then I would suggest you water each of the plants in bagged mixes one at a time, and watch out for wet summers and using your hose to water all your plants at once.
I would also watch out for mass grouping of plants, and yes, even in your greenhouses.
Please don't believe just because plants get lot's of light, they can handle mixes that hold water much longer than very porous mixes, because that is just not so.
Plants grown in bagged mixes gave me a false sense of security even when grown in 'LOTS of sunlight and warmth.
This year, I will make sure ALL my plants are in the grittier mixes.
Plants left in lot's of light in bagged mixes all winter long did poorly in comparison to those grown in gritty, or porous mixes. I hope they survive until I can transplant. I lost half a Citrus tree to branch die back, and almost my whole Brunfelsia to rot. Now I water these separately from the rest.
Perrsonally, I use to think that watering in gritty mixes would be more work, but not so.
What was work? Having to lift each one of my more than 100 pots, or not getting correct moisture readings when I used my finger method or meters when my plants were in bagged mixes.
I still lost dozens upon dozens of my plants then.
My two plants In the bagged mix that I never had a chance to re-pot last fall that will be re-potted as soon as I can.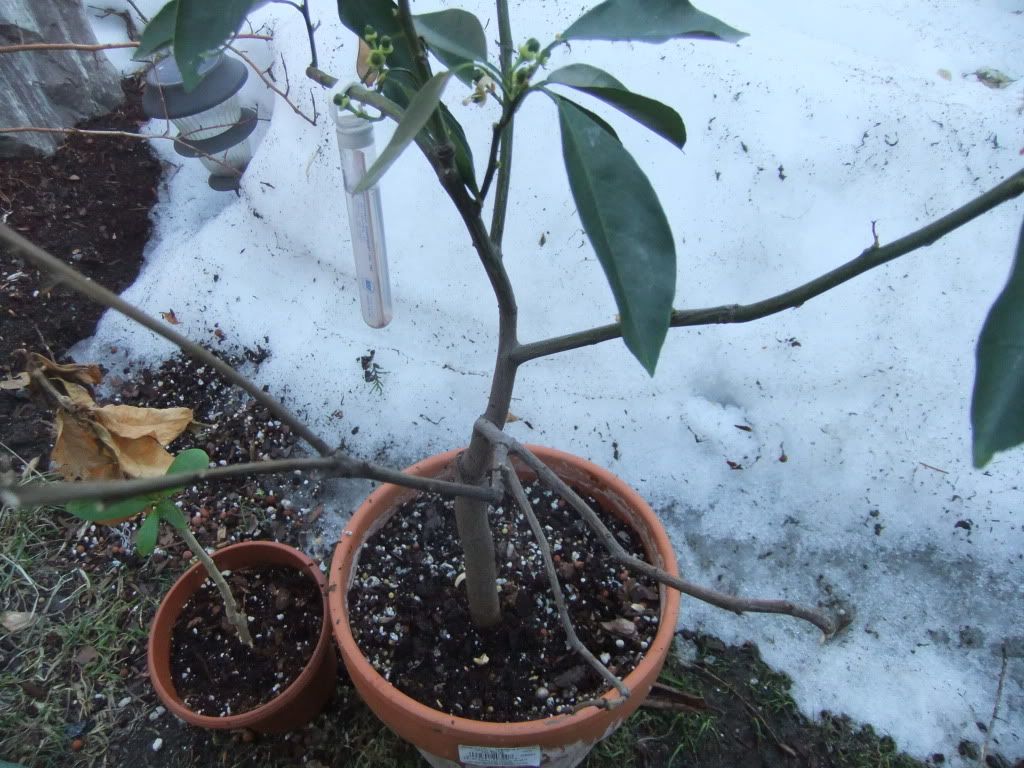 The olive tree sitting right next to them in the gritty mix that I kept in the greenhouse all winter.
Mike