Retaining Wall Advice
peaceone23
January 9, 2014
Hi Everyone
First of all, thanks for all the great reading (long time reader, first time poster)
I would really appreciate some advice on how to proceed with my retaining wall - in particular my messed up corner post.
Basically I am building a retaining wall in an L shape, which will then be filled, in order to extend our lawn on our sloping section. The wall is approx 9m x 10m ranging in height from starts 1m - 1.4m (at the corner) - 0.2m on the opposite end. Purpose is purely for making our usable flat lawn bigger and does not support a driveway, structures etc.
I have just had all the holes drilled by a small digger, but after sitting back and calculating the wood I require I realise I have made a mistake in marking out the holes in particular the corner post which makes up the L shape (and which is also the lowest point /will be the highest point from the existing ground level once filled)
I know that I should have started with the corner post and worked back from there, meaning post 1 would be much closer to the corner post (marked 2)
Materials being used - 200 diameter H5 rounds to be set in 400 diameter holes filled with 20mPa concrete & 150x50 H4 tongue & groove retaining boards fixed by 150mm galv nails to the inside of the posts. The inside will then be filled, (pushing the boards against the posts) & compacted (driven over by digger) with a mixture of discarded concrete pieces, clay & dirt -and finally a layer of topsoil
Drawings attached (hope they make sense) of the current situation and a few solutions as to how to proceed, but wanting any other ideas or recommendations on the proper way to go about it.
Or am I just stressing & worrying and it should be ok considering I have tried to over spec the wall in the first place? (e.g. holes are the height of poles out of the ground + 200mm)
110mm perforated drainage pipe + scoria + geotextile fabric will be used along both lengths of wall, joining at the corner discussed and will then carry on further past the wall to meet up with existing drainage pipe
Plan is to then build a 1m high fence on top of this (not sure if I should bold the fence posts to the retaining wall or set fence posts in concrete in/on the newly filled material?
Current situation - http://i39.tinypic.com/j9pkat.png
Alternate Solution - http://i39.tinypic.com/2r2mbme.png
Thanks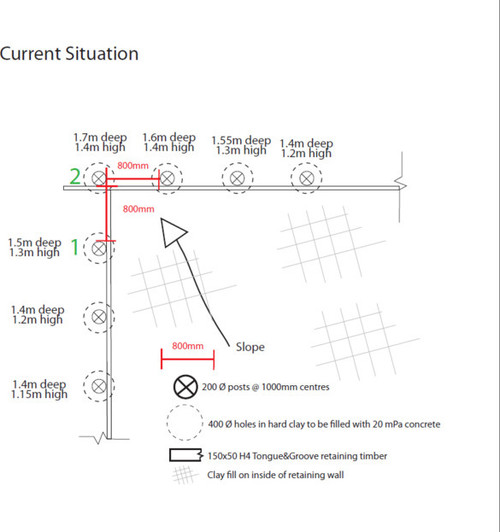 Here is a link that might be useful:
This post was edited by peaceone23 on Thu, Jan 9, 14 at 22:19