Raised Bed Layout and Landscaping New Backyard
syntria
(8a - South DFW Area)
January 25, 2014
Hello Landscapers, my names Christina and we've (me and my fiancee--who hates dirt and bugs) recently bought a house and we'll be moving into it shortly!
I'm an avid gardener but I've been contained with just containers over the past decade due to only living in rental properties.
With that being said, I'm browsing around here and online looking for primarily ideas for landscaping and raised beds and would also like to find ways to build solid walkways on slopes on a budget (Year 1 limit is $500-$750 and Year 2 is another $500 )
Here is a video of the property, if you just drag the curser to about 10 minutes in I spent a few minutes outside. I hope to have clear images of it soon too.
Right now, the image attached is the layout I'm considering going with. I want at least 100 sq foot to grow edibles in, as well as a place to plant some fruit tree's--but I don't want to just go slapping stuff just anywhere and my design sense isn't the most sound. I plan to video blog my backyards transformation.
The materials I'd like to stick too is wood, bamboo, and stone. For fencing, archways, borders, etc. I'm also considering if a retention wall on the property would aesthetically help, maybe around where the veggie garden will be and the garden itself sort of down in the 'hole'. Also the property is in a fairly nice community (HOA ew) where the fronts of all the houses are nicely themed and landscaped. Have one with all cactai and palms next to me and the other one has some really clean hedgework and stone. The front property of my house is pretty plain in comparison. (Nice three car garage, turning the third one into a workshop for wood working and stone cutting, grew up with access to one). I'd like either an Asian (Japanese maple, sand beds with stone accents) or Desert theme (rocks/some edible cacti, short palms) upfront but the front yard will be a project after my garden is growing on.
Anyways, I know its sort of vague but any ideas would be fantastic. I'm browsing around now looking at what everyone else has going on.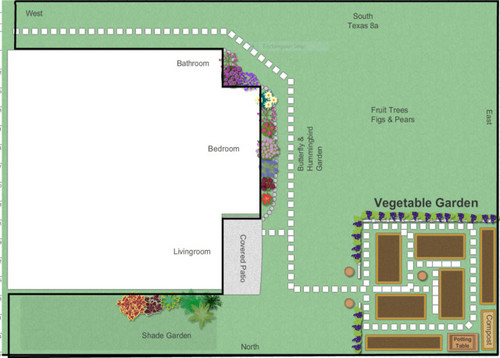 Here is a link that might be useful: My Garden Vlogs
This post was edited by Syntria on Sat, Jan 25, 14 at 13:06