What would you keep?
pbl_ge
(5/6)
January 29, 2012
We moved into this house in August, and we're spending our first Buffalo winter dreaming of landscaping projects to come. This house was previously owned by a landscape designer, we'll call him "Bob," who made some choices that I consider to be ... odd (I'm trying to be polite--the current design will illustrate what I'm trying to say). There was an interim owner for about two years who knew nothing about landscaping, and weeds ended up overtaking everything.
A lot of what "Bob" planted is semi-invasive. Lots of English and Boston ivy, rose of sharon, oenethera, pachysandra, etc. Bob also spaced plants very strangely, and had a tendency to put sun-lovers in shade and vice versa (there's a lovely ninebark in the backyard planted 4' from the base of a 100' silver maple, for example, but that's another story). We've made a few changes in small areas, but we're now starting to consider the front yard. One of the first decisions to be made is how much to keep and what to dig up.
Here's what it looked like in summer, BUT we had to cut down the crabapple on the right because it was sickly and old:
Here it is today, without the tree, and with a tiny amount of snow: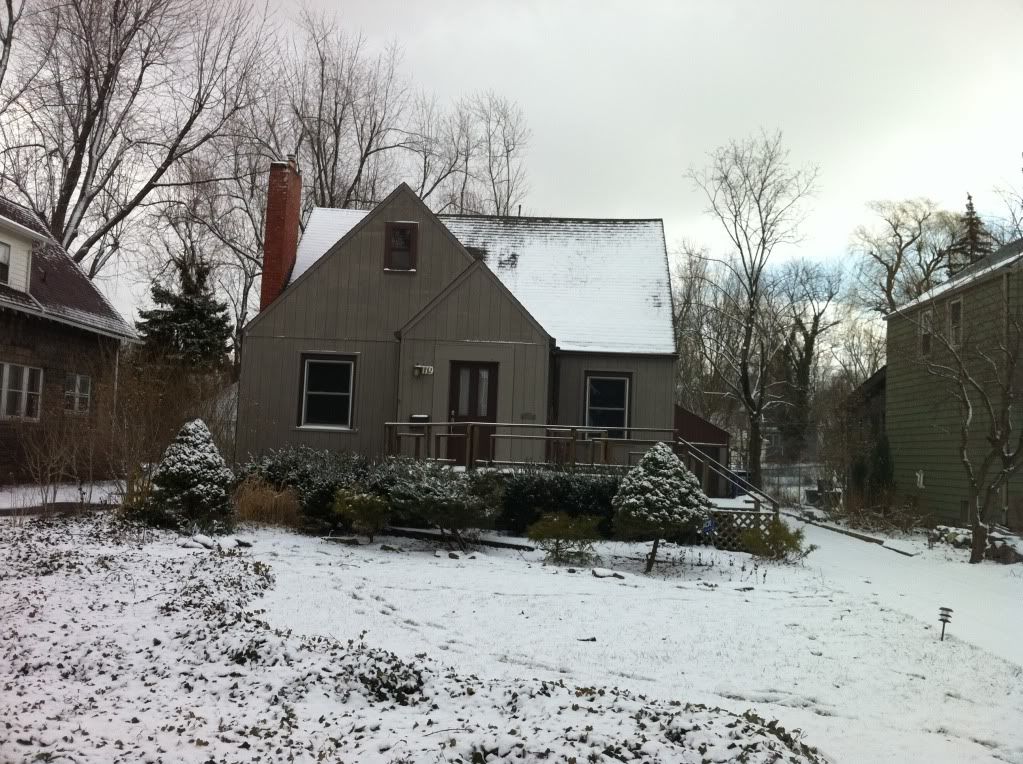 Here's the layout: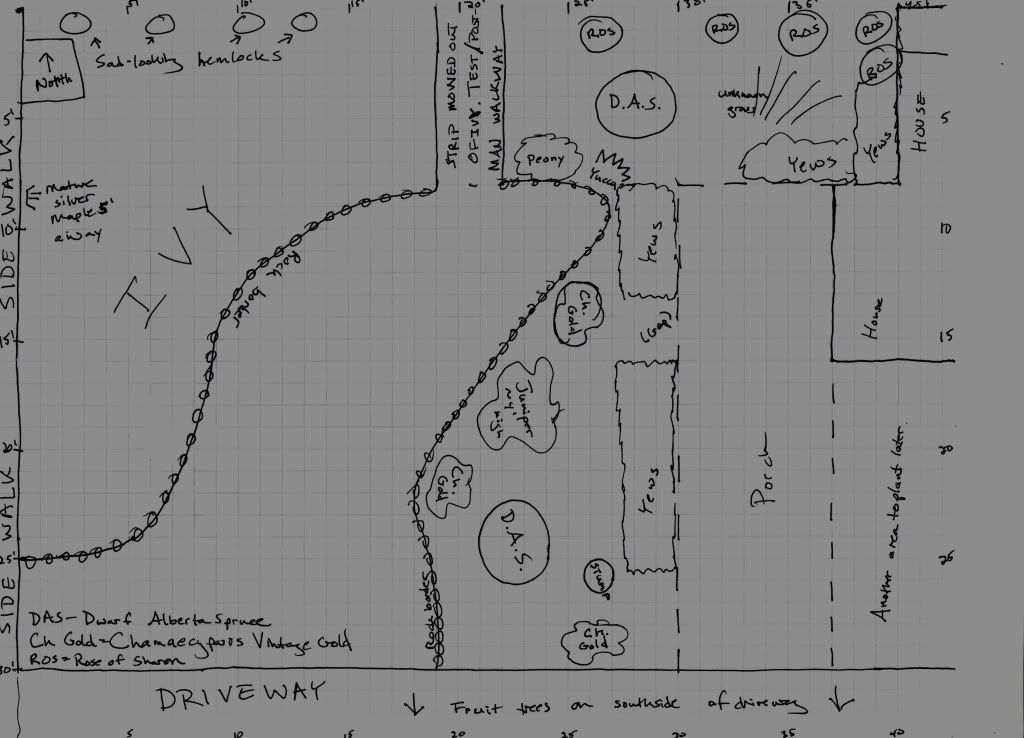 A few notes on the layout.
1. The gap in the front center of the yews may have something to do with an old concrete walkway they didn't bother to remove when they built the porch. We're not sure, and it's too cold to go digging. Nothing is visible, but my hubby said that's what Bob (we're in touch) told him.
2. Here's what the sad hemlocks on the northwest look like:

Pretty pathetic, right? I should also mention that the neighbors on the other side of those (the north) are college kids. We would really like to build more of a screen there. Actually, we'd like them to move out and for the AWOL landlord to sell to a family like what's in the rest of our neighborhood, but that's beyond our control.
3. When the house is repainted, ~5 years from now, we'll do a different color. Probably something like this:
4. Here's a close-up of the northwest corner, including the mystery grass:
5. I'm not sure we can put a tree in the same place the crabapple was for a few years, but we like the idea of an ornamental tree. I've been thinking of a redbud in approximately the place where the ivy was mowed as a test/walkway for the mailperson.
As you'll see, the spacing of the woody conifers is STRANGE. I like most of them, but they're in spots that make it difficult to build upon. I also don't like yews, although they're doing a nice job of blocking the unsightly underbelly of the porch. (As you can see, we haven't been pruning them.) Both hubby and I prefer gardens that look more natural than pruned and controlled. The basic structure of this layout is fine, although the substance isn't.
So, what would you keep? Any other thoughts?