Looking for some input/advice about my landscape design!
maggienchamp
January 23, 2013
Hi everyone! I'm a new member to this fantastic forum -
The reason I joined is because I'm looking for some advice about the landscape design I created for my backyard, and I figured this would be a great place to start. I'm pretty new to gardening in general, my only experience has been with a couple of indoor & outdoor plants and a few years with a veggie garden; My mom has always been the gardener of the family :) But in the past year or two, I've taken a real interest in it, probably due to my love for living a healthy and organic lifestyle.
So this year, I decided to re-do part of my landscape in the backyard - it's the space right up against the back wall of my house; the shape of the house + porch creates a little square area. My parents did plant the area years ago, but we all felt it was in need of a little updating :)
Any advice regarding the plant selections, layout, and/or anything else you can think of would be much appreciated! Here are a couple of my concerns:
- Did I incorporate too many varieties of plants and not "repeat" them enough in the design? In other words, will the space look jumbled and random?
- Based on my plant choices, will the area be appealing year-round (not so much in the winter, as I know that many gardens loose their visual appeal during the winter months, but more during the spring, summer, and fall)?
- Is the garden going to require a lot of maintenance every year?
A couple of side notes: The two chicken coops are already there, I just wanted to put that into the design to see it as a whole. The Lilac tree and raspberry bush are also already in that area.
Finally, what would you recommend using as a mulch? As of right now, we just have a layer of white stone. All of that will be removed, and were going to put some sort of mulch down to protect the plants - any opinions?
*I included a link to the design because the image that was posted on this thread is so small*
Thank you so much for any input you give - it's greatly appreciated!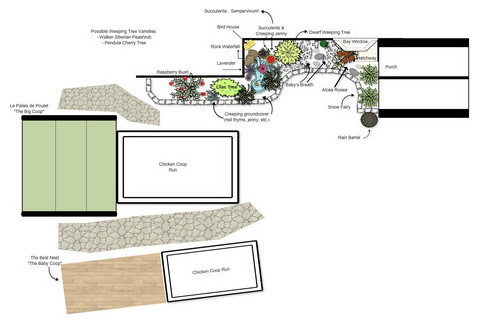 Here is a link that might be useful:
This post was edited by maggienchamp on Wed, Jan 23, 13 at 15:54