Totally new garden, need suggestions.
Annette Holbrook
February 17, 2013
I have just cleared my front garden. We removed all lawn so we will have WAY more room for planting beds. My hope is to add a conifer section (probably small, dwarf or minis mostly) an herb section, a fairy garden for fun, possibilities seem endless :D. My front yard is on the north side of the house but I am in Georgia so it is very hot in the summer. The 10 feet up against the house stays shaded and the rest gets a lot of sun. Here is my yard a couple of summers ago,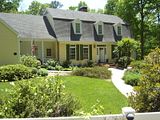 And here it is as of this morning, that is a wide gravel path meandering through the front.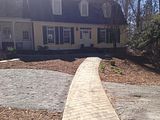 And a view from the front stoop facing out,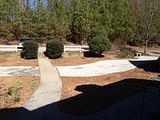 We have a total of 12 acres, so there is plenty of grass to maintain, I just got tired of it up at the house. The path is wide enough for our tractor so we can move mulch and gravel throughout.