please help me decide what stays and what goes!
Hi,
I would love some advice on what you would do with our landscaping! We purchased this home last fall. The house was built & landscaped 17 years ago, so some parts are overgrown and in need of sprucing up. We would like to work as much as we can with the existing plants, but at the same time want to neaten up the yard and make it easier to care for. We are in south eastern WA state, with a desert climate and do have underground sprinklers tied in with city irrigation. I would like to include more color diversity (most of what we have in the same shade of green -- arborvitae and rose bushes) so I'm thinking of adding some yellow grass plants or maybe some red-branched plants.
The driveway borders are probably most in need of help -- they are lined with large evergreen shrubs that aren't in very good shape. I'm at a loss for thinking of what I could replace these with? These are high enough that it's difficult to see when I'm pulling out of the driveway, so I would like something lower. I would like to leave a few of the healthy ones and add some variety in between but am not sure what to use. Any ideas?
Here are a couple of pictures: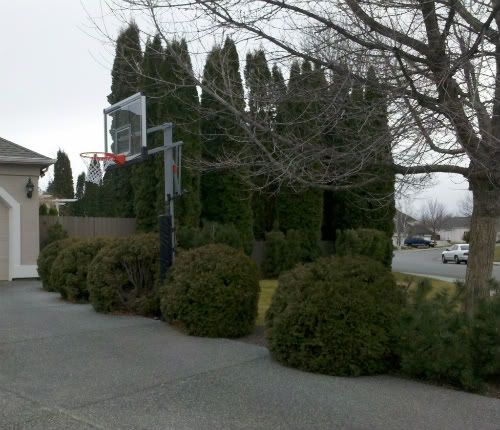 Here's the front of the house. We're trying to decide if the arborvitae on either side of the front door need to come out. I'm also trying to find some perennials that I could plant in the beds along the path to the front door that would work well with some annuals planted in between.
The backyard is lowest on our priority list since it seems in better shape than the front, but I would eventually like to replace some of the rose bushes in front of the arborvitae with other bushes/shrubs that would provide more privacy and some color variation (we have a street running behind our property).
Backyard right side:
Backyard left side: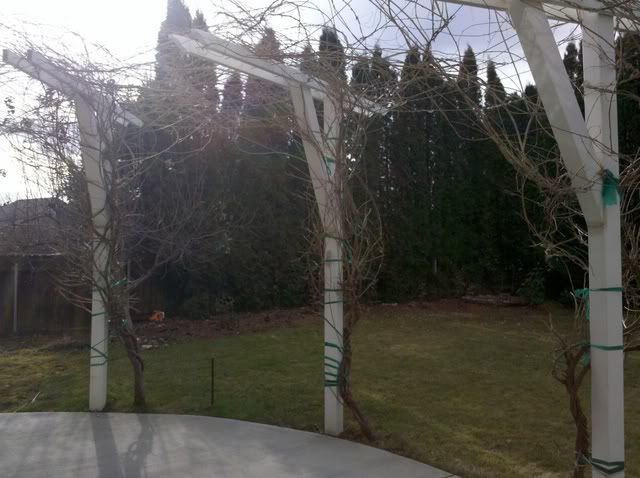 One final overall question I have is what should I use for mulch? Right now, we have a mixture of lava rock and large pine nuggets, but of which were horrendously difficult to work with when I was trying to clean up the leaves this fall. Both were light enough to get sucked up into the leaf vacuum I was trying to use, both wind up in the grass all the time, and both look quite messy when the trees start to drop their leaves! I am thinking of something that the arborvitae needles would blend into -- can I use them directly instead of bagging them in the fall? They drop so many needles!
Thanks for any advice or ideas you can offer! I'm at a loss as to where to start!
thanks,