Making super easy seed-tapes at home.
runswithscissors
(MT 4/5)
February 14, 2014
Supplies needed:
- Seeds to plant
- Radish seeds (to be used as row markers)
- 2-ply cheapo toilet paper
- Cheapy school glue in squeeze bottle (Not Elmer's)
- Painters Tape (or masking tape)
- Gel pen
- Pencil
- Labels
- Measuring Tape
Before you begin you must first determine what the proper spacing is between the veggies you are making the seed tapes for. For the following pictures I chose spinach and green onions (which I've always called scunnions).
Scunnions are bulb-less and are harvested when they are still fairly small, so they can grow very close together. I put them ½ inch apart.
Spinach on the other hand, grows fast and likes a lot more room. 8 inches or better is recommended, but I grow my spinach to pick as baby greens so I only need about 6 inches between plants for my garden.
Now you must decide how long the row is going to be. My raised beds are 40 feet long, but I don't want that many onions or spinach plants so my seed-strips will be much shorter. (hint* make your individual tapes only as long as you can reasonably handle. Murphy's Law mandates that even though you may pick the calmest day possible to do your spring planting, the most idle breeze will seem like gale force hurricane winds when trying to deal with paper seed-strips. If you are planting a long row I recommend making two or three (or however many you need) to complete the row instead of trying to wrangle with one loooonnnnng one.) I do the planting by myself without an extra set of hands to help and therefore make all my tapes arms length (for me that is about 40 inches long) or shorter.
Step one:
Select the length of toilet paper you need and separate the two plies. Rip off about a 5" piece of painters-tape to stick to the ends of your seed-strips. This gives you a writing surface to label them, but it also adds a little weight to the ends and makes it easier to fold, unfold, hold down, pick-up, ect.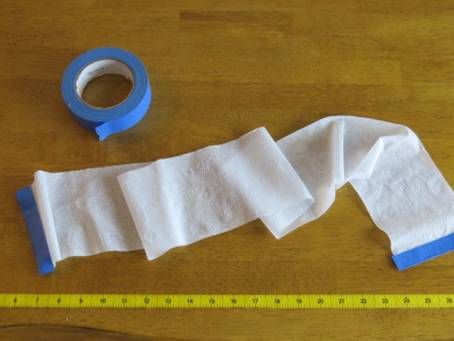 Step two:
Using your tape measure, make little dots at the intervals you want your seeds to grow, down the length of the paper. I use a gel pen because it doesn't tear the paper like a ball-point does, and it doesn't bleed through and make permanent marker dots on my table like a sharpie does.
In between your veggie seed dots, make a few more dots for radish seeds (hint* - Radish seeds are terrific to use as row markers. They sprout in just 5 days or less, even when it's cold, and they are extremely viable. Seeds will germinate even when they are older. Plus you can have a nearly unlimited supply if you just let a few go to seed every year. They also create a canopy of protection for some crops that take awhile to get started like carrots and scunnions. I like that they also serve as a "trap-crop" for flea beetles. The flea beetles will munch on radish leaves before heading on to my more valuable plants.) Don't worry that they will crowd too much, because they will be weeded out or eaten before the real vegetable grows big enough to need that space.
Again, I put my spinach at about 6 inches apart. It doesn't have to be perfect, nothing in gardening ever is. I put dots on one edge of the paper and then in between these dots on the other edge of the strip I make another dot. The seeds will go in a "W" type of pattern that allows me to have two rows of spinach from one seed-strip. Then I make a few x-dots along the row to put my radish seeds.
Step three:
(Before we go on….let's talk about the glue.) I've tried many different kinds of glues and consistencies and finally found the best one for me. I buy a bottle of .79 cent generic cheap school glue. (Don't pick Elmer's because it holds too good!!) The generic stuff seems to be more water-soluble and releases the seed easier when it gets wet. I squeeze ½ the glue out into the trash and replace it with tap water. Shake well and you have a thinned down bottle of glue that holds the seed firmly on dry paper, but releases it readily after it's covered with soil and watered.)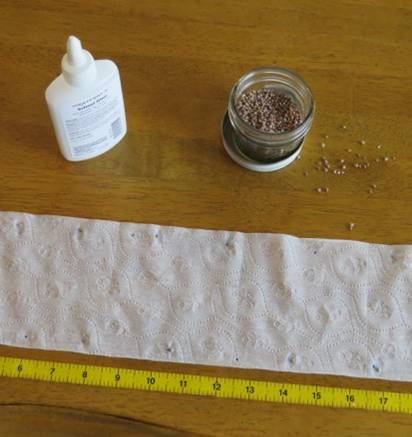 Take your glue bottle and put one drop of glue over the radish dots. (hint* don't touch the tip to the paper, because the paper will just stick to the tip. It's easier and quicker to just drop the drop as you go down the length of paper.) Then take a pinch of radish seeds and drop one seed into each glue drop.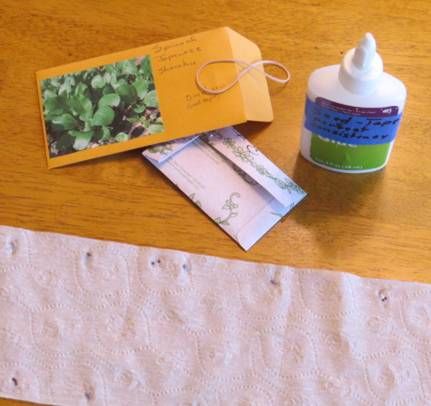 Next, put glue drops on the spinach dots. Take a pinch of spinach seeds and drop two seeds in each drop of glue. (hint* depending upon the likely viability of the seed you are using determines how many seeds you put in each drop. Spinach is usually very good at germinating for me, but I add two seeds just to increase my chances that at least one of them will sprout at each interval. If the seed is old, I might add 3 seeds to each dot. If both seeds end up germinating, I just simply thin out the weaker of the two baby plants.)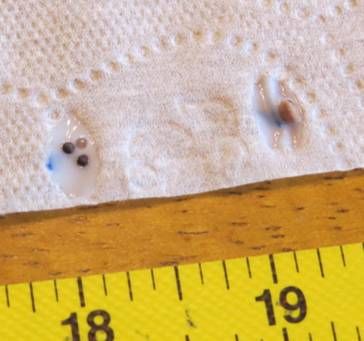 (picture shows the difference between radish seeds and spinach)
Step four:
Pick up your seed tape by the end and gently lift up from the table in a "peeling-away" motion. (Glue dots will be left behind on the table but they wipe away very easily with a wet paper towel.) Now you have to put it somewhere to dry. I put mine on an old carpet, lifting it up every 15 minutes or so to keep it from sticking. Or you could hang them with a clothes pin on a string.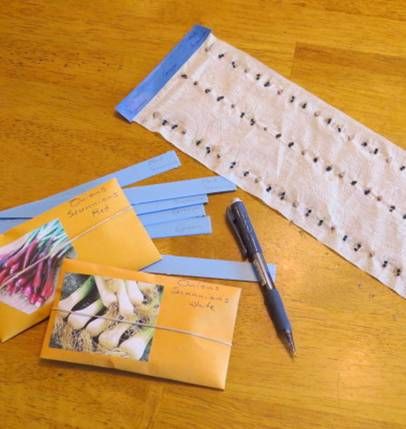 Step five:
While you're waiting for your seed-strips to dry, fill out your labels. This saves me time and frustration at planting time by having them ready to go. (hint* I use pencil to mark my tags. Pen and marker fades quickly in the UV rays of sunlight making them un-readable in just a few weeks. (You can buy specialty garden marking pens that won't fade, but I just use pencil. Plus I'm cheap so if the plastic hasn't gotten too brittle from the sun I just erase the pencil mark off and the label can be used again next year.)
Happy Gardening!