Help! Front corner of house, create a berm? Need privacy... pics
Hello all,
I have posted here before with similar questions but I am just really at a loss what to do with my front (and even backyard but i will save that for later.) We are on the corner of a busy road and would like some privacy from the passing cars. Also, need to block headlights at night although most of the cars are during rush hour. As you can see we have ZERO landscaping. I am a complete gardening amateur. Right now the only plan we have is next month we are having about 6 inches of top soil put down in front and back and then having a company come to hydroseed. Once that is done- we have about 3 weeks till we can start planting.
We obviously need some curb appeal. I am thinking (at the suggestion of others on the new england forum) of trying to create a 3 foot berm at the front left corner, on a diagonal. Semi circle shape back from the road a few feet. then planting some tall shrubs on top of the berm (need suggestions- shaded area) and some small on the ground, maybe hostas? Behind the berm I am going to try to create a little garden area with a bench etc. At the front right corner of the yard I would like to plant a flowering tree or one with colorful leaves- Japanese Maple or Dogwood? It would have to be able to survive next to that large tree. We may end up having to remove that but for now its staying.
Honestly, any ideas are welcome and if you could provide a visual that would be great. I dont know really anything about plants although I have been trying to learn. FYI I am in Massachusetts, zome 7a according to the maps. I would like some evergreens for the privacy so we can keep that going year round. I am attaching pics, the last one is to give an idea of the shade- this is before the fence. Thank you all so much for your help.
Front of house, corner
Front of house, from right side
View from inside, as you can see- we need some privacy and something to look at!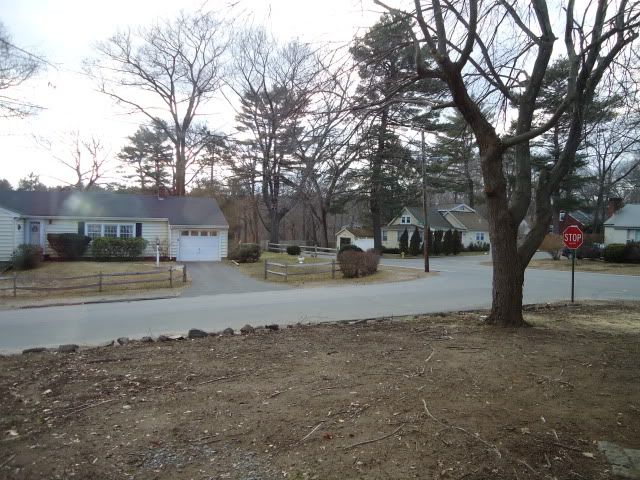 This was over the summer, when we 1st started looking at the house