Replacement for Dwarf Alberta Sprucs'
bsmith717
(6)
March 22, 2013
I honestly dont mind these little trees but the left one which is much smaller than the right one suffered an infestation a couple years ago that has resulted in dead lower branches and me having to remove them leaving a bare bottom portion that isnt too pretty IMO. The left one is in a pretty small area so space is limited and the right one is connected to a larger bed but still very close to the garage. Since im not really knowledgeable when it comes to this subject the only replacement that I can think of would be a dwarf Japanese maple or something along those lines...
I'm open to any suggestions. Id really like to replace everything but the Japanese Maple and the butterfly bushes but again, I have no vision for this kind of thing!
The good one of the two.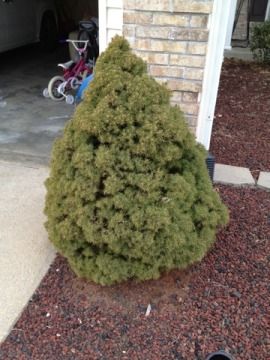 And the one I had to trim.

Thank you!