Growing On, First Flush, and Cuttings...
This is the time of year that ushers in the first flush of Rose blooms, which I'd like to share with you... and as they fade, I'll be busy filling the green house with bands/flats of cuttings to be rooted. This means that most things growing on in the green house will come out. They'll be taken to local Farmer's Markets and other sale venues. Enjoy... and please excuse the encroaching weeds and grasses while doing so... it's an enormous job to keep it all weed free, and I'm currently without help!
This is what the green house looks like now, filled with an assortment of companion plants...
The light yellow of a new Siberian Iris...
A beautiful Clematis in purple...
The deep blue of a Siberian Iris with Old Fashioned Columbine...
A little closer...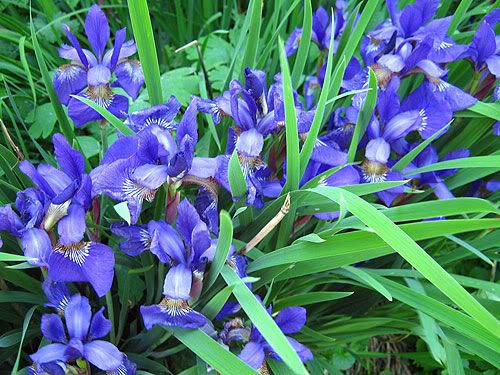 The orange and yellow of Honeysuckle...
One of the last tall Bearded Iris to bloom...
Betty Prior blooming alongside yellow Columbine and the blues of Iris...
A pink flowered miniature climber under the Fuji Apple tree...
A closer look...
Climbing White Iceberg...
The unusual red/orange of Hot Cocoa...
The red of Double Red Knockout, my favorite in the series...
The very first bloom from Paul's Himalayan Musk...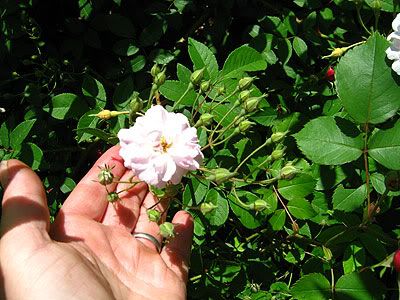 There are so many rose varieties growing and blooming, I really can't name them all... if I know it, I'll include a name. If not, enjoy each one for its beauty, and try to imagine the scent wafting around the yard!
This is a Buck, variety name unknown, growing next to a lovely large purple Clematis...
This is the pink and red of Knock Out roses...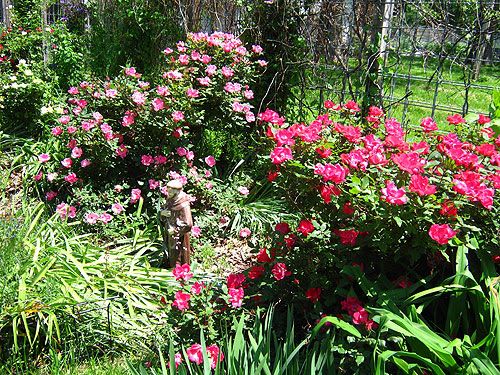 Jude the Obscure...
Ignore the grass edging closing in, and imagine several banks of lovely rose color... like this one, in all different varieties...
The brightest yellow...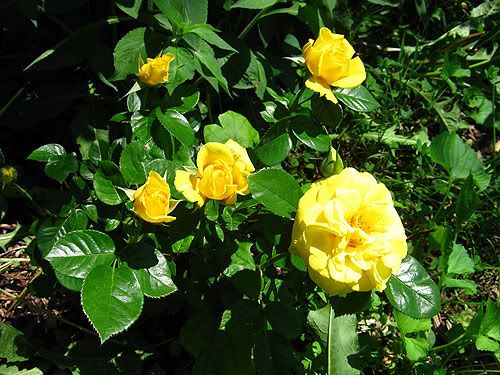 A red single with a lighter center...
A beauty in coral...
A cute pink/lavender Old Garden rose growing on the vegetable garden fence...
A beautiful orange peeking out from behind tall grasses...
This is a red from the Canadian bred series...
Large pink blooms from the Carefree series...
Even the leaves are interesting, though the striped blooms are really something!
A very prolific pink with small, salmony blooms...
Another garden area sporting large red rose blooms, with other shades in the background...
I'll leave my photo album link if anyone would like to peruse the rose gardens further... but that's a small taste of what the garden beds look like at this point in time. Memorial Day weekend is always the middle of the very first rose flush... and the scent in the air is divine! I wish you could all walk through the gardens with me, but I'm very glad I can share it with you all in picture form.
I hope you enjoyed another visit to our rose gardens... and I hope you come back as the season progresses to see more!
Happy Gardening!
Here is a link that might be useful: The 2011 Gardens...