(Update to Drainage Issue) Landscape Ideas
It's been a journey to get to this point, but we are finally ready to landscape our backyard. I came to the forum last year with a drainage issue in our back yard. After months of figuring out the problem piece by piece, asking lots of questions, taking lots of measurements, and finally hiring someone to do the big dig.... we have a fully functioning backyard (at least from a drainage perspective).
Take a look at the link below if you care for the backstory (warning - its a long read). As far as the swale goes, it is working just like we discussed in the below thread. A month ago we had a rainstorm that caused flash floods in the area. The pipe crossing under our driveway could not handle the flow and the flash flood came over the banks of the ditch and right down our driveway to the backyard. This all happened during the middle of the night, so I didn't get a chance to watch. When I woke up, the backyard looked like normal after a rain. The only sign that a significant amount of water had come through was all of the dirt, pinestraw, and sticks covering our driveway and patio. Further downhill from the swale, the flow of water overran the neighbors driveway leaving a large trail of debris. It was obvious that a large amount of water came through the swale, but the backyard was no worse for the wear.
I just wanted to share a success story before I got to the point... Now that the backyard is draining in normal situations and in flood situations (as designed). We are ready to design the long term landscape of the backyard. A couple of key features we want are 1. a grassy area for kids and the dog to enjoy. 2. A garden area at then far end of the backyard (the only sunny spot out of the shadow of the house). 3. Landscaping that makes it feel like the entire back yard is in the middle of a garden.
The backyard sits between the house and a large hillside. So it is a small area as it is. I will attach several pictures. there are also a number of pictures in the other thread.
Thanks in advance for anyone who shares their opinion. you guys helped us a lot with the drainage issues, so I'm excited to see what ideas you all have for the landscaping.
http://forums2.gardenweb.com/forums/load/design/msg0114373328595.html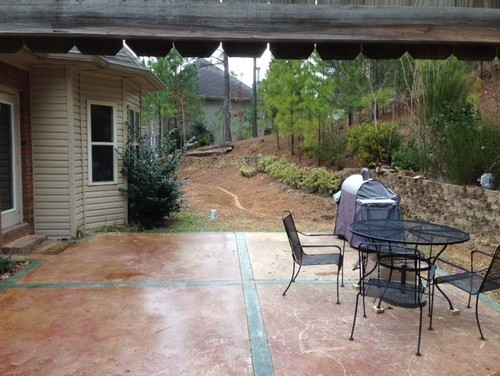 Here is a link that might be useful: Click here for original thread