Help with bed /border shapes in my odd backyard
maureeninmd
(z6 MD)
March 23, 2010
On a current thread Laag wrote: "you can tell how someone looks at their landscape by how they photograph it." I was inspired to hang out of my window and take a picture of my backyard. When I am unable to work outside I often stare out the windows and think about what to do next. Also this may mean that I garden for my own pleasure and have very little interest in impressing others? (except the family, who are unwilling to give up much more grass)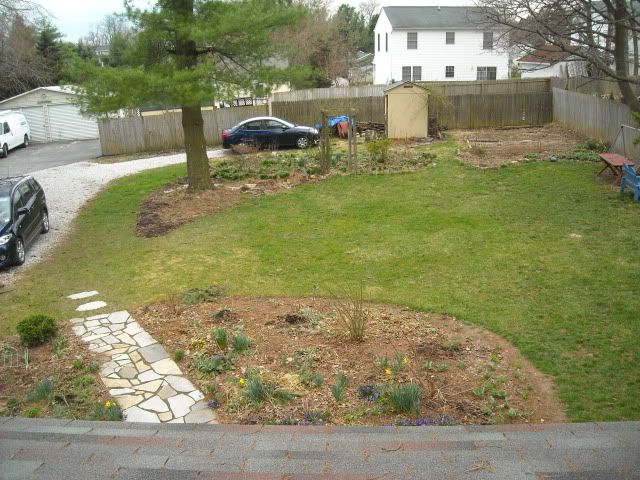 I live on a hill, and do not have an attached driveway. I use a shared driveway that ends up in my backyard. I think that the problem with my backyard is that it is too large and "undefined" to have a cozy space, yet too small to divide into separate rooms. I am OK with the beds along the walkway to the house. It's the ones in the back and against the fence that need help. I have no plans to remove the trees. The pine can be worked around, but not the maple (roots!).
The maple area seems to create a "hole". Although it now looks like a junk pile, it is usually used as a seating area. I would like to improve this area somehow. The vegetable garden is in the back.
I removed several large trees from the area with the arbor and have a few new trees planted that will eventually grow and help screen the house beyond. I am attached to both the arbor and the rose growing on it. The beds are much fuller than they appear in the photo (many small shrubs, most roses not apparent).
The side garden against the fence seems to recede from view for some reason, although it is nearly 12 feet at its deepest. I lost a few large shrubs due to flooding from my neighbor's yard (situation has been rectified).
To sum up this ramble: I guess I am mostly asking for help shaping the back and side beds and how to create a better-looking seating area around the maple. Here are a few more pictures:
Yard is very narrow. Here's a picture from the side, and look another big tree!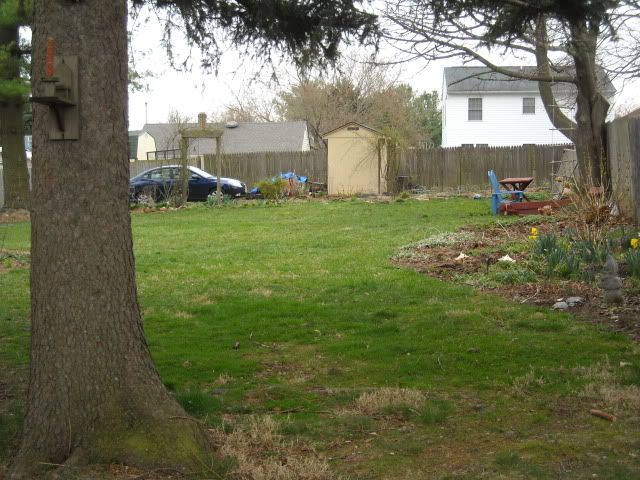 Looking towards house
And here's coming up driveway, showing how the side border recedes.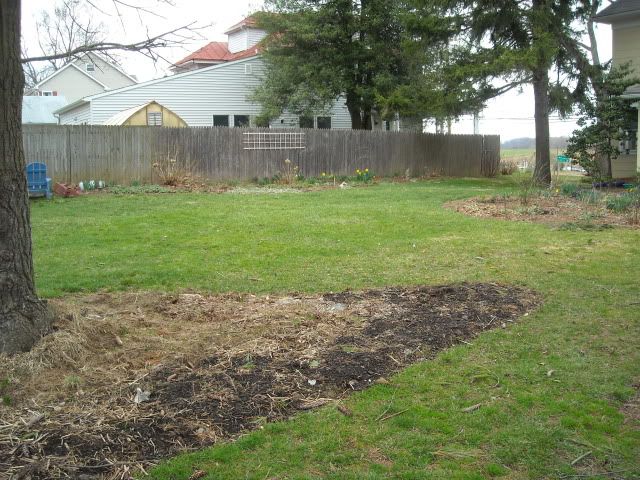 Thank you for any insight you can provide.
Maureen