Desperate Need of a Landscape Designer!
strawberrypoe
(7)
March 23, 2014
I posted here for the first time a few days ago and was so blown away by the quick community response that I'm here yet again with another tentative request :P
Moved into our new house a year ago and looking for a pulled together landscape and planting bed design (zone 7) -
I have a flower bed on the left of the picture that is 6.5ft deep before it gets cut off by the straight walkway (its under the big window). The other side of the house can go as far as need be.
This house needs the works - basically foundation planting, shrubs, flowers - ( I have a propensity to hydrangeas, holly bushes, korean boxwoods, arborvitaes, the color of golden mops... but have no NO idea how to arrange them) I'm also open to retaining walls, and perhaps even moving the walkway if the design really calls for it. Open to anything though, really - artistic expression truly welcome here.
My shutters are actually a very very deep purple black - something that didn't quite pick up in the picture. Id like -if possible - to find plants that pair well with this color. I'm thinking reds, yellows, deep greens. Or you know, whatever you guys think is best :) !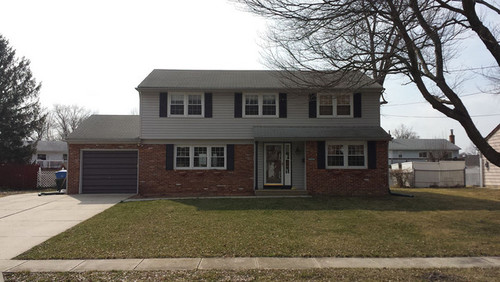 This post was edited by strawberrypoe on Sun, Mar 23, 14 at 20:21