Please help with landscape ideas
I posted last year when we bought our house and we were looking for some landscape ideas. A lot of people said to wait a season and see what grows in, as when we moved in we didn't have a single shrub or piece of grass. So here we are now and still nothing. We did remove a huge ugly tree from the center of the yard, and planted a redbud on the front corner of the house. I have a few pics to attach but it seems as though I will need to post in multiple posts as it will only let me choose one, maybe because I'm on an iPad? We are on the corner of a semi busy road. As you can see from the pics, we would benefit from some privacy. I was thinking of doing a cluster of some evergreens with height and some different shrubs and grouncover on the front left corner of the yard. We are going to get rid of the tall weird tree by the stop sign. I also want to do a couple of fast growing flowering trees, one in the middle of yard and one towards the front right corner. We have a row of hostas that will grow in over the rock wall, and we do plan on rebuilding that wall over the summer. The mulched in front of the walkway has perennials but I would rather something with height.
Any advice is appreciated. I am at a loss of where to begin. We don't have a huge budget but do have some money to spend. We are south facing and the yard gets full sun in the afternoon.
We really want privacy, every window we look at is a view of the street. We plan on focusing on the front this year and the back next year, the back is even worse as far as landscaping. Lol.
Thank you for taking the time to read this and post.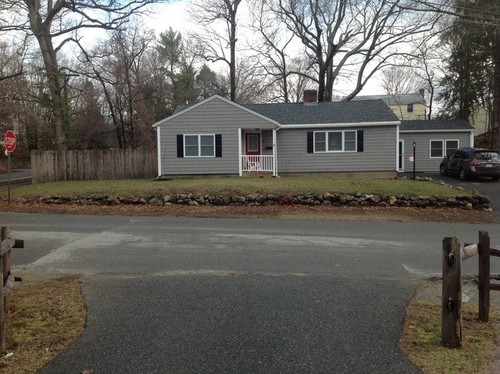 This post was edited by lindsroc on Mon, Apr 1, 13 at 9:48