plant label got me all screwed up. Help/pics
sunny631
(7B)
April 14, 2010
I purchased a crape myrtle "muskogee" tree the other day for some shade in my full sun small back yard. The label said 20x15. After doing some research online I am told it can get bigger. I have a small back yard and don't/can't plant anything too large. I wouldn't want to damage neighbor's water pipes or mine for that matter. I live in a townhouse w/ neighbors on both sides of me.
This is from the very back of my yard.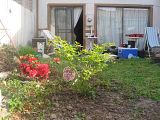 This is from the patio. Pay no mind to that sorry excuse for a shed. It is getting dealt with next week. Also, that tree coming out by the shed is a weed and grew on it's own. It's coming out also.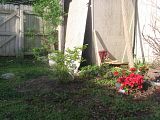 This is the whole yard.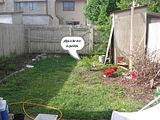 I had posted this on the tree forum and not gotten a response. I just planted it two days ago and can take it up if need be. If it is too large is this plant suitable as a container tree?
Thanks for any advice.