Patio Landscaping
I'm completely re-doing my back yard. I'm in the second year. So far I have had concrete patios and sidewalks poured. I do what I can afford.
The sitting area patio has the house on one side, a fire pit patio on one side, a concrete planter that I built on a third side (with a 4-foot space for the dogs to run from the lanai door to the yard area. The fourth side has nothing and will be the closest to the area where sod will be put in next spring.
My question is, I want to make a planting bed on this fourth side of the patio. I have flowers in containers and in an area between the house and the sidewalk that connects this fourth side of the patio to the gate. So, I'm not interested in putting in more flowers in this planting area. I would prefer small bushes and shrubs.
First, how wide (from the edge of the patio) should I make this area? This area will cut into the area that will be the actual grassy yard in my back yard, since most of the yard is concrete patios.
Also, what kinds of shrubs should I look for? I do not need anything fragrant as I planted 2 tea olive plants and a sweet almond plant this weekend. I would like something to add nice color (different shades of greens).
Here is a photo of the fourth side of the patio that I would like to put in some sort of plantings:
Here is a photo looking towards the fourth side of the patio and beyond to the fence. This shows the area where I will put in grass next spring. (The area from the concrete planter to the back fence (which you cannot see) is about 6 feet and will eventually have grass.)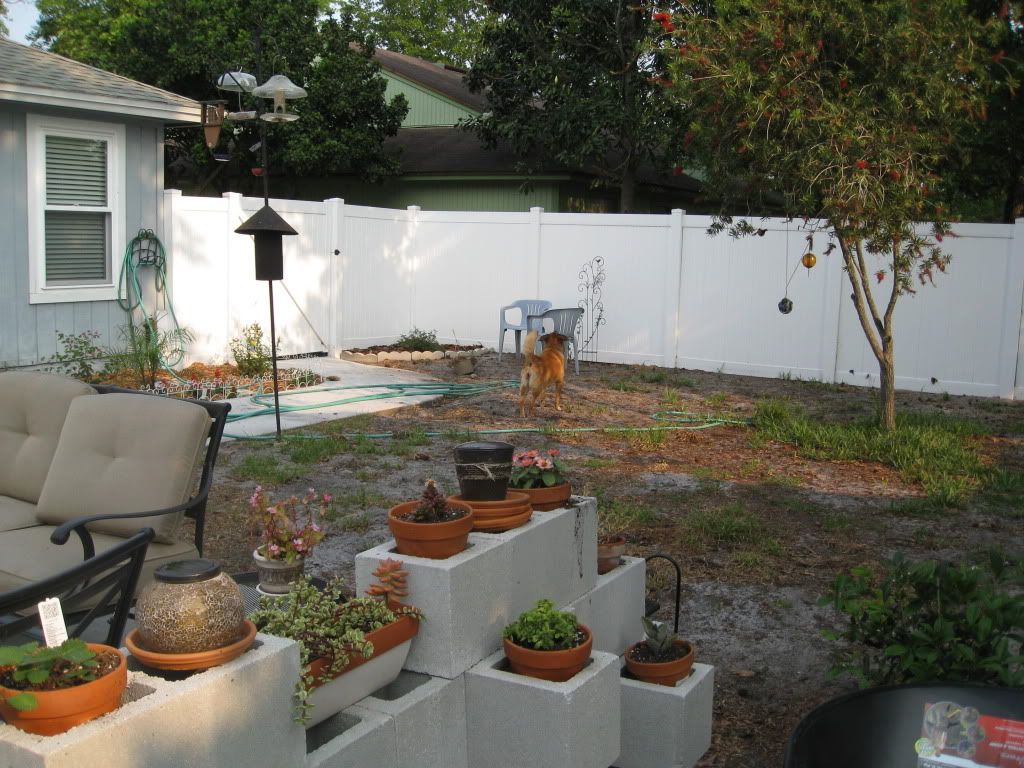 This is a photo from the back side of the yard, facing west towards the house. This is the fourth side of the patio and a new sidewalk I had poured last month. Between the house and the sidewalk is a butterfly/hummingbird garden that I have started.
This last photo just shows how much hardscape there is. This is taken from the "sitting area" patio towards the fire pit patio. This area is in the opposite direction of where I want to put in the new planting area. I show you this so you can see that I need to soften the back yard with plants.