Grade slope toward house help
I have a grading fix question I'm hoping the hive can help me with. I will try to be as brief and as thorough as possible.
First is a picture of the front of my home from a year and a half ago before the final grading was done. As you can see the brick ledge on the area of brick to the left was really put lower than it should have been. In this picture, everything below the red line is foundation wall behind the brick, there is not wood wall behind the brick below this line which is good for my predicament. My lot slopes two directions. Away from the house front toward the street and right to left as shown in the picture. The yellow line indicates an "ideal" grade slope right to left and is just for reference.
When the final grading was done and everything settled a little, the grade near the house sloped slightly toward the house. Obviously with a basement this is not ideal, so last fall and again this spring I've started building the grade up to slope away from the house. The issue is if I continue the slope all the way to the house, it will put the dirt against the brick which isn't good (it will block the weeps and put lateral pressure against the brick veneer, right?) So I have stopped the grade build-up about a foot away from the house temporarily as shown in the first detail. This has created a "trech" of sorts right near the house, but it is better than 4'-0" of negative grade pushing water toward the basement IMO.
Detail 2 shows an idea that I thought up this morning. Essentially I'm thinking a mini retaining wall to hold the grade back and backfilling the small remaining gap with (likely rubber) mulch when I do the landscaping.
Cutting the grade down isn't an option with the amount of slope to the street; the issue stems from the brick ledge being too low as mentioned.
Questions:
1) Any thoughts on how to best address this?
2) I had considered some type of trench drain to carry the brick weep drainage and brick surface runoff from left to right in the picture. Perhaps some sort of trench drain/gutter below the weeps? Any recommendation on what to use for that?
Thanks so much for your time, I really appreciate it.
Adam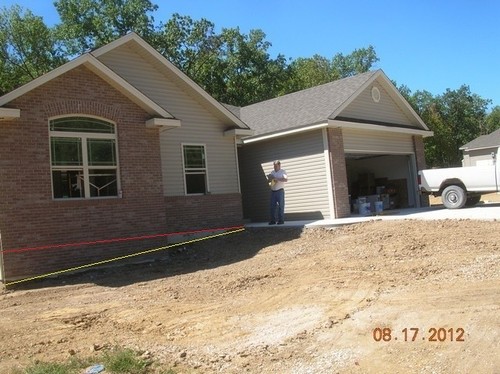 This post was edited by adaman04 on Wed, Apr 30, 14 at 12:29