Sugar snap peas getting buds
I grew peas last year and they were putting out peas by June 9. I planted these earlier. These are supposed to get 5-6 feet tall, but they are putting out buds now at only 3 feet or so. Now, I went back to my journal, and I think the vine height is in synch with last year's timeline, but I am starting to see little buds on them.
Unfortunately, I didn't write down when that happened last year. Do they start budding this early usually, and at this size? We had a few days in the 80s--could that have triggered early fruit? They seem to be growing at about the same pace as last year's, but they seem to be struggling more this year. I am growing them in a different spot, and they are in potting mix instead of the poorly drained soil of last year.
The peas sprouted March 20 this year. Last year they came up (I'm estimating, because I didn't log it) first week of April.
I'm also not sure about the variety, but based on size description, I think I may have grown the same variety last year. Once again, didn't write it down. (I'm writing everything down this year, LOL!)
They are Super Sugar Snaps. Last year that got full sun all day long. This year they get full sun until 2 pm.
(Hubby needs to mow! LOL!)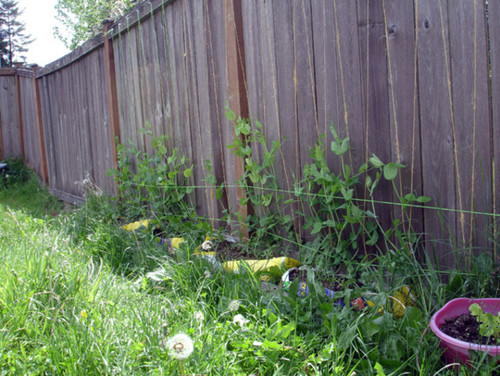 This post was edited by jemsister on Sat, May 17, 14 at 21:51