Landscaping Case Study
swanoir
(Zone 5)
April 16, 2010
This might be of interest as it documents the evolution of a four year old project that still has never come to fruition.
These are the original plans for this space (see the far left bottom corner):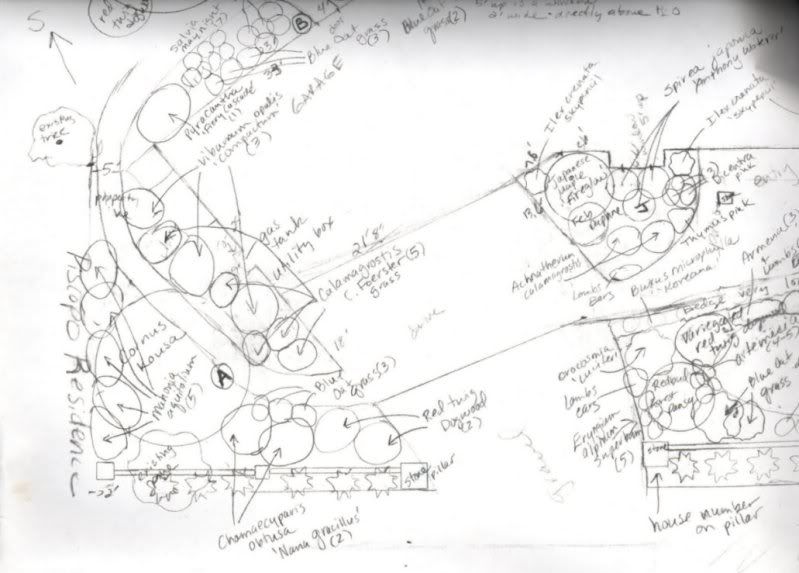 In a nutshell, the landscape designer that drew these plans left in the middle of the project without warning, cutting off all communication with us and the nursery working with us. Later, we learned she was burnt out on design work and just quit.
Some of the details of the plan are not visible here, but her choices for this space were awful (at least according to our new designer). She did not account for the intense heat and light this area gets all day long from May to Sept. The Cornus kousa struggled for two years and died. The Mahonia couldn't handle the strong sun and heat and languished, as did the Chamaecyparis. The Blue Oat grass and Red Twig dogwoods did fine. The Hamamelis was stunted. Most of these things that were still alive had to be moved - a laborous process in the rocky soil here. The Perovskia (Russian Sage) and Buddleia I moved into this area did great as did the Ceratostigma and all the grasses (Calamagrostis, Zebra). The Thyme I planted here died within a season. However, this area still looks like a sad afterthought - a wasteland - after all the plants that did not do well were moved out.
These are pictures of the space today: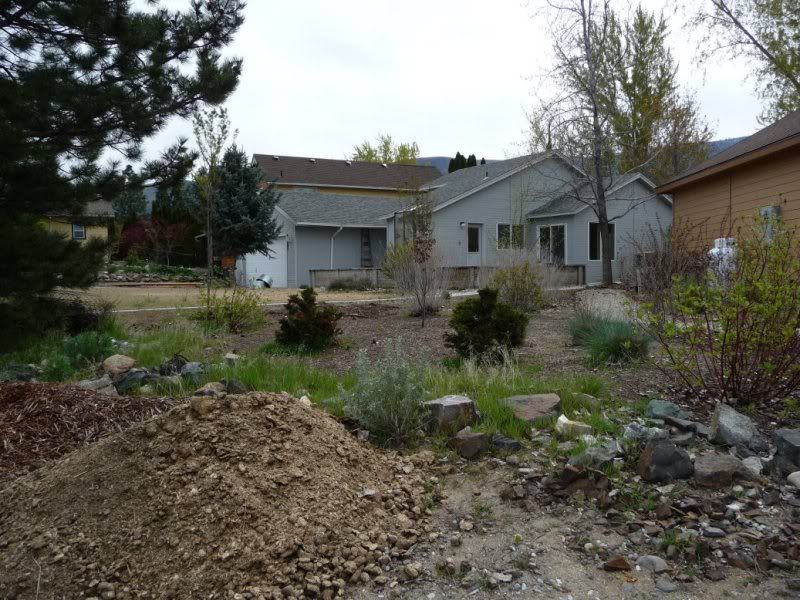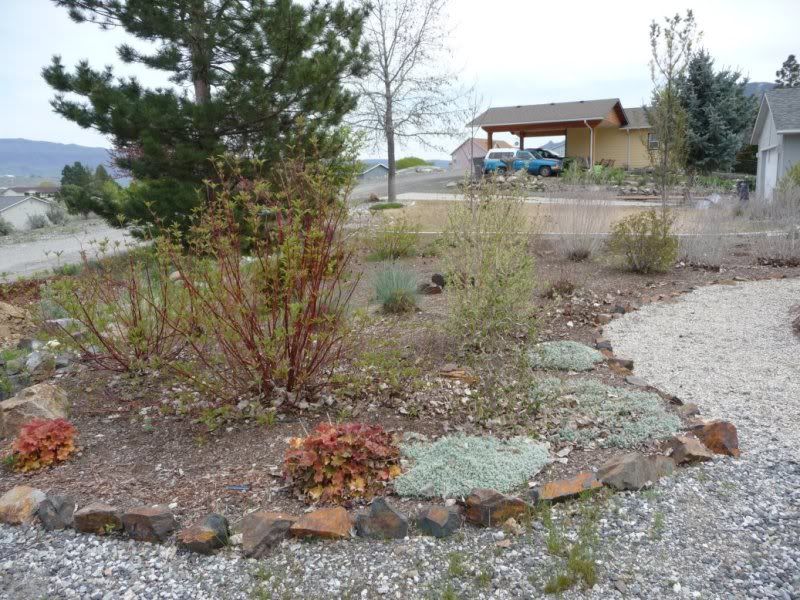 I hired a new designer to basically help me with this area, especially to create a strong screen to hide the neighbor's unsightly yard. These are the new plans for this space: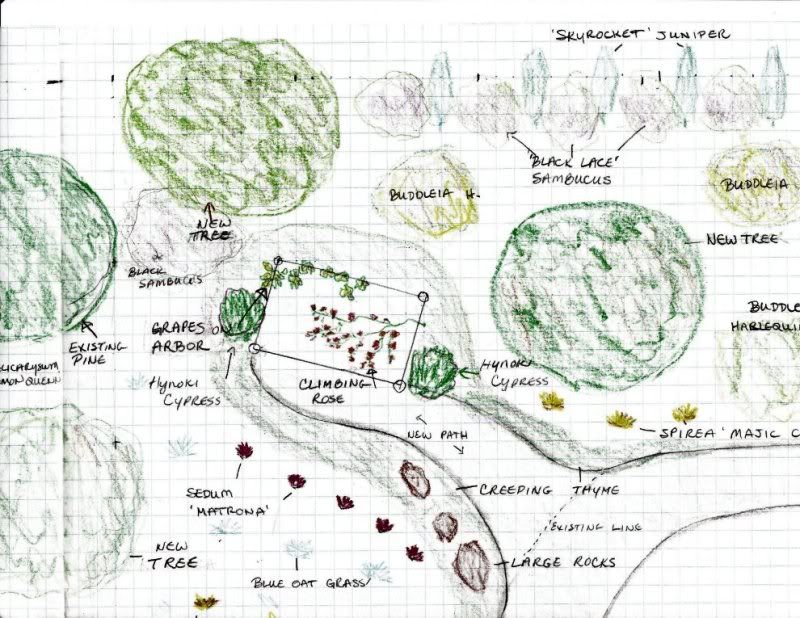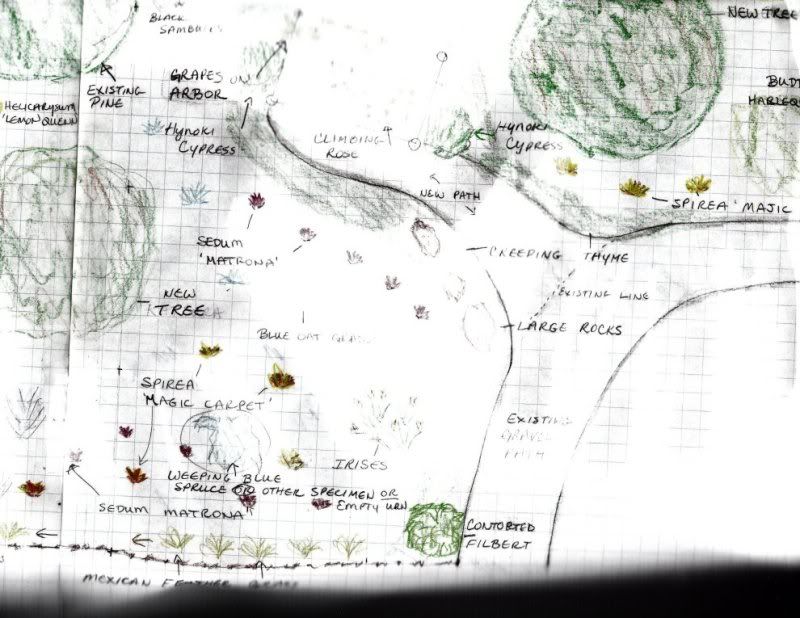 I admit that I am rather gun-shy after the first go round, and while I like some of the individual choices, I am not thrilled with the overall composition. I would think this area would do better with drifts of medium-sized plants and much larger grasses than Blue Oat grass. Because our house is pumpkin-colored, she when with a cool palette but I think some blood grass in areas would be a nice accent. We have Crocomia on the other side, so it would be nice to pull some red into this area. I was thinking that this area could be more of a secluded sanctuary with a view of the river, which is to the north of the house. This plan seems spare and rather exposed to the road to me.
I do have issue with some of the choices. For example, in WA State Buddleia is a Class B noxious weed. I do like them and I have two near the patio where I can keep a close eye on them and deadhead them immediately after flowering. But to have three more seems excessive, especially if they are in an area I don't get to much.
Same with the Sambucus. I love these bushes but they really need a lot of room to grow. Our landscaper packed two of them together in 15' by 8' space at our clinic, along with two bush maples, and it was a nightmare. I finally had to chop most of the maples down. In this plan, I can see the Sambucus totally overrunning the Skyrocket Juniper. I also don't think the Juniper makes much of an effective screen, although I do like the color combo of the dark purple Sambucus and the blue Juniper.
I hate Irises. End of story.
To accommodate the weeping spruce, I would have to remove two large 4 year old Red Twig dogwood bushes, which are no mean feat to transfer - and why? They are healthy.
I do not know if the Spirea will survive here. I also find it to be over done, not unlike Potentilla, which my former designer wanted to put everywhere, along with Burning Bush, until I put my foot down.
I like her idea for the sitting area, the trees, and the path.
Anyway, I was curious if anyone had observations or comments they would like to share.