Working on Curb Appeal, thoughts?
craftlady07
(5b/6a)
April 12, 2011
DH and I are planning on overhauling our front yard soon. I've come up with a tentative plant list and have some vague ideas but I'm struggling with what I want to put where and what I really want it to look like. So I'm hoping to lay out everything here and see if anyone can/wants to help.
Okay, for starters, we're definitely DYIers. We have access to a small backhoe. I got into gardening about 3 years ago when we bought our house. I have some very generous co-workers, friends and family and I've been growing my perennial collections with a lot of help from them and very little monetary investment. I'm a plant rescuer...if someone has something they want to get rid of, I'll take it.
I love cottage garden style. I love varying heights, colors, textures, varying bloom times and scents. We do compost, mostly for our veggie garden. I haven't done a whole lot to amend our soil. We have a cement quarry in our back yard and our yard has about 2' of topsoil and then it's all clay under that. But we don't really have a real drainage problem.
When we moved in we had a couple meatball shaped yews, a half dead rhody and a sick azalea around the foundation that all got yanked. We did save (read: not touch) 3 burning bushes (euyonomous) a bridals wreath spirea and 3 super huge maples across the back yard along the Alley in the back, a large silver maple on the east side of the house along another alley and a possible norway maple out front (this will play into my front yard plans) as well as a large cherry tree on the west side of the house. I really do not want to get rid of any of the trees. I know the roots are a problem, but the maturity and the shade/privacy they provide are all very important to us.
Ok, here's the front of the house, it faces north. We have plans to repalce the windows and insulate at which point we'll reside the house (thinking a blue grey color). We also want to replace the concrete path from the main sidewalk along the street to the front stoop and the tempoary brick path to the left side of the porch with a more permanent (small) brick sidewalk with an actual base (the pavers were set right on top soil when the concrete sidewalk slabs were sacrificed when the yews were pulled out).
I hope these following views are self explanitory, any questions, just ask. The pictures were taken at 1pm yesterday, I was documenting the shadows.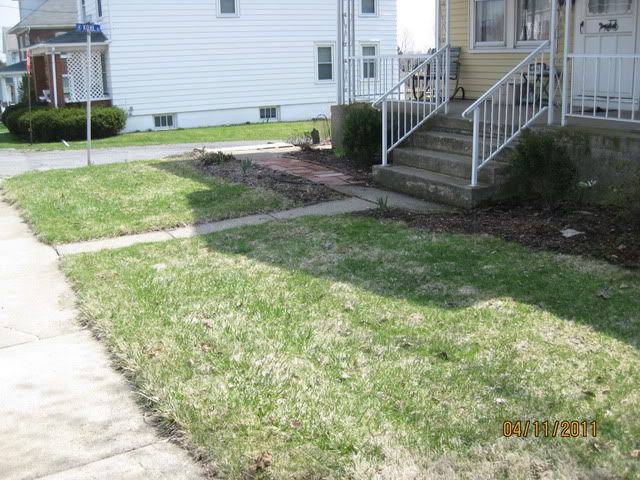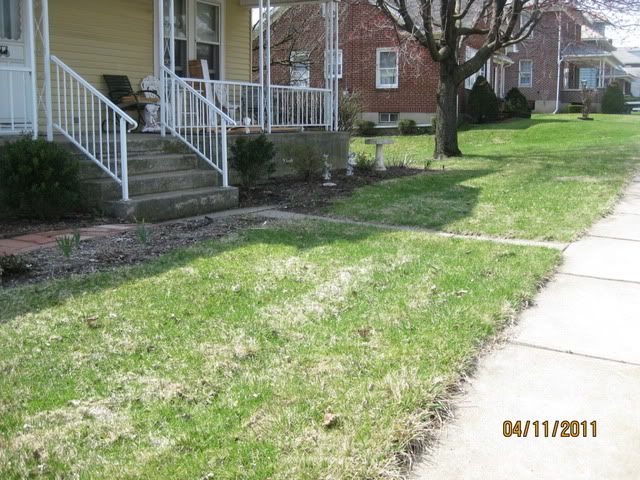 We planted 2 shamrock inkberry hollies on either side of the front steps. I also have 2 evergreen azaleas although the leaves are small so they don't really show up. There is a leucothue to the left of the bird bath that is struggling and a macrophylla hydrangea on the right of the bird bath. I'd like to keep that, but possibly replant it if I have to. All of the shrubs are in front of the drip line from the roof. I also have some perennials in there: daylilly, astilbe, 1 fern, waldsternia (barren strawberry = ground cover), poleminium (jacob's ladder).
Here are my thoughts:
#1 Main focus: I want a serviceberry on the left of the porch in the front yard. I have 10 feet from the back edge of the main sidewalk to the front edge of the concrete steps (those are staying). It's another 5' to the corner of the porch (the main front sidewalks are 5'9" from the front of the curb to the back of the sidewalk). This area is full sun (from first light until about 3-4 pm, then the last hour as the sun sets)
#2 Evergreen shrubs: I need some. I want to stay with dwarf conifers so they don't get overgrown. I like chamaecyparis 'gold mop' and cryptomeria japonia 'globosa nana'.
Sidenote: I think maybe I'd move the inkberry holly from the right of the steps over to the left edge of the porch and then putting some sort of taller, perhaps pyramidal conifer in its spot to grow up and cover the blank wall. I'd like something different then a dwarf alberta spruce, but I'm not sure what.
Also: I think I need to keep the evergreens away from the main paths/sidewalks since we can have a lot of snow to shovel and we have to pile it in the yard. If we have smaller pockets of shrubs we'll be able to avoid them but the snow does stick around for weeks at a time as this area does not get a lot sun in the middle of winter.
#3 Decidious shrubs: I like are clethra, caryopteris 'blue mist' and/or divaricata 'snow fairy'.
#4 Free plants: My coworker will be giving me a lacecap hydrangea, a Neon Flash Spirea and a yellow twig dogwood. My mom wants to get rid of a sand cherry that she doesn't have in the right spot.
#5: Hostas, I am sure there are some that will do great in my space, but I have no idea where to start.
#6 I would like a loose informal pathway from the path to the front door around to the right of the house.
#7 I like the look of mulched beds, but not formal. I have soaker hoses, I will fertilze, I will prune.
#8 If I can get a sense of what it would look like I'm kind of interested in getting rid of all the grass out front to somewhere near the maple tree. I don't want to go all the way to the neighbor's yard with a garden.
#9 in the same vein I'd really love to see what a fence would look like acros the front of the yard to really set off the cottage look. but I'm not sure I'm brave enough to do that right at the main sidewalk. I have some neighbors with really cute picket fneces but most of them are set back o ntheir property, more in line fron the front edge of the house, not right at the edge of the yard.
Okay, that is a whole boat load of information but I'm sure there is still some information I'm missing. Most importantly I forgot to scan my aerial view sketchs with dimensions so I can add those tomorrow from work.
Thanks for anything you can do to get me started!!
Andrea