Design ideas for sloped front yard
elizabeth_24
April 16, 2011
Hello all,
I'm wondering if I can get some advice about what the heck to do with my front yard. Specifically, the sloped part of my front yard. Ideally I'd like something that's low maintenance and will choke out weeds on the slopes. Is it possible to plant some type of quick growing flowering ground cover on those slopes or will I need to be doing retaining walls etc? I'd like to avoid just planting shrubs (something like a juniper shrub)as I like the idea of having some colourful flowers on the slopes but if shrubs are going to be the best idea in terms of cost, weed choking etc. then I definitely won't rule them out. The slopes get full sun for at least half a day plus they tend to be baked a bit by the exposure to the driveway.
Also, feel free to go crazy with your ideas; meaning - if it was your sloped yard and money wasn't an option what would YOU do? I've been lurking for weeks and have loved your ideas!
As well, I will be digging up a front flower bed this year in front of the trailer for some shade plants and maybe a nice clementis climbing on a trellis up the wall so it won't be as horrid looking as it currently is! :)
Thanks in advance for your help; I really appreciate your ideas and thoughts on the sloped monstronsity I call my front yard!
This first picture is taken from the street. Our driveway is to the left. The slope is the steep one, the one I consider most problematic and currently covered in weeds and old lava rock. Sexy right?
The angle of the slope from the end of our driveway, you can also see the second slope that I have to deal with: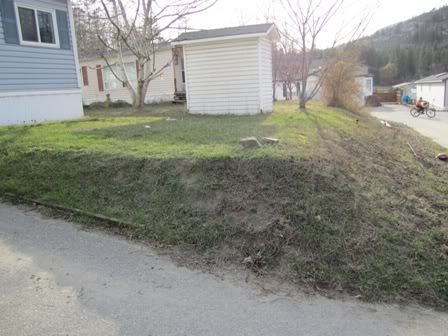 From the top of our driveway (next to our fence), this shows the beginning of the side slope leading down our driveway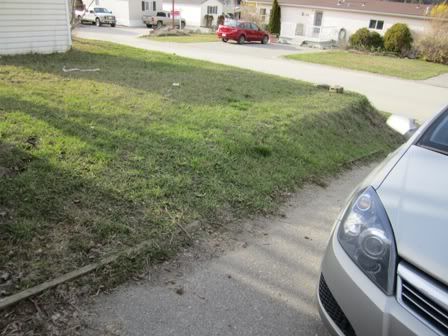 The end of our driveway, this picture shows the other side of the driveway with the third (and least daunting) slope to deal with.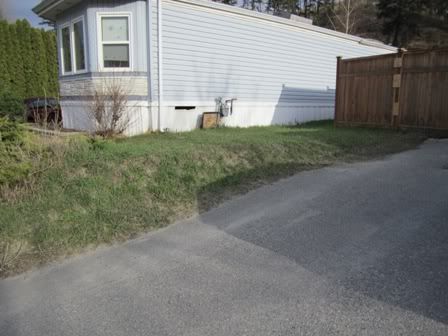 And here, are just a couple examples of what our neighbours have done with their god awful slopes. Shrubs. Definitely effective but boring as all get out and not pretty right?
There you have it - my sloping issue! As I mentioned before, feel free to go crazy and tell me what you would do if you were given free reign. :)