Latest thoughts on 'Shrubby low-water/full sun slope'
melle_sacto
(Z9/Sunset 14 CA)
May 24, 2012
This is a follow-up to my previous post, when I described the front yard as "cottage style" LOL. It's getting too hot to really plant anything -- I think all the little rosemary "Tuscan Blue" I put out either died or went into shock, maybe they will surprise me with new growth but right now they are dried up kindling! So I'm focusing on clean-up/weeding/removal, and I want to have my plans finalized come cool weather this winter.
I've been working on clean-up in the front, and spending time looking at the overall shapes (and the fact that I have small stuff near the Crape myrtle, big stuff near the sidewalk) The more I look at it and think about it, the more I am ready to do a more serious overhaul as far as shrubs go. Here's the pic, just to refresh those memories, but I tried to label the "major" shrubs :-)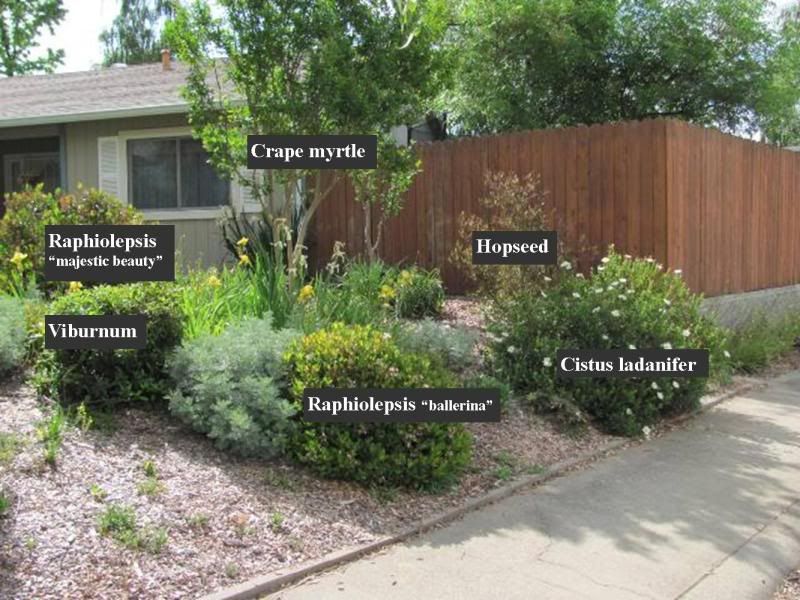 I'm planning to take out all the artemesia (not labeled but it's the clumps of grey shrub); maybe they need to be grouped together better. They are easy to move around/divide etc. I also limbed up the "Majestic Beauty" b/c my original goal was for it to be tree-like. My DH doesn't like the shrubs that have branches on the ground -- he says that they provide cover for vermin :-( So he was really happy that I limbed it up. The little shrub to the right of the Crape myrtle is a Rose of Sharon. I really don't like it, so I might try cutting it down this winter and seeing if I like it better if I keep it bushy and about 5 feet tall/wide. My kids have climbed on it a lot, but it keeps on trying to grow :-)
Considering the Cistus: I LOVE it, but it has covered a Grevillea ground cover, and it grows onto the sidewalk. I'm not sure how well it will transplant, but I think it needs to be closer to the Crape myrtle or at least higher up on the slope. But I don't want to move it right now, so I'm planning to trim it way down when it finishes blooming.
The small Indian hawthorn that I labeled "Ballerina" has done well, I'm wondering if I should plant a few more around it b/c its really not a specimen shrub or anything. I dont think it's "Ballerina" though, the flowers are white.
Then I'm looking at adding (if I can find them) "Valley Violet" Ceanothus, "Goodwin Creek Gray" Lavendar, and Bush Germander -- all recommended for the area on the UC Davis "all stars" plant list (so I'm hoping they will also be at the nursery). The ceanothus and lavendar will be near the sidewalk, the Bush Germander toward the middle or top.
My photo doesn't show it well, but the bare area on the left is about 5-8 feet wide (wider at the base, narrower at the top). I've always imagined putting in wide concrete steps there but I don't think it's going to happen. I might try carving out some steps and topping them with pavers...not sure if that would work though, when I tried to describe it to DH he didn't get what I was talking about. We use it as a walk-through area a lot, so having steps would probably look better than a mulched, sloping pathway.
We are also going to buy the shredded redwood mulch in the fall, before it rains.
How does this sound?