How to balance this softscape?
decoratingditz
May 9, 2011
We are slowly upgrading the curb appeal of our small 70's ranch. A few years ago we replaced our front walkway with pavers. Last year members of the decorating forum helped us with a plan to update the curb appeal by painting the front door, adding shutters and a windowbox. (This work is scheduled for early June, so my photos are "photo-shopped"). After the carpentry is done we will replace all plantings.
I've spoken to designers at several local nurseries (we're in zone 6). They've helped in the selection of plantings but I don't feel the whole design is cohesive; the balance is off.
This is the original "photo-shopped" image with all existing plantings removed:
The photo below shows the plants that we selected at the nursery. We're looking for easy maintenance so we selected short-growing shrubs. The pots on the steps and the windowbox will hold summer annuals for that splash of color.
To the left of the front door are short evergreens under the window and 2 flowering evergreen shrubs (Elf Mountain Laurel or Japanese Andromeda). Iris will be transplanted in front of the flowering shrubs
To the right of the front door are 3 Bigleaf "Endless Summer" Hydrangea and several more short evergreens under the windows.
Two specimen trees will be on each side of the house (dogwood, eastern redbud or a camperdown elm).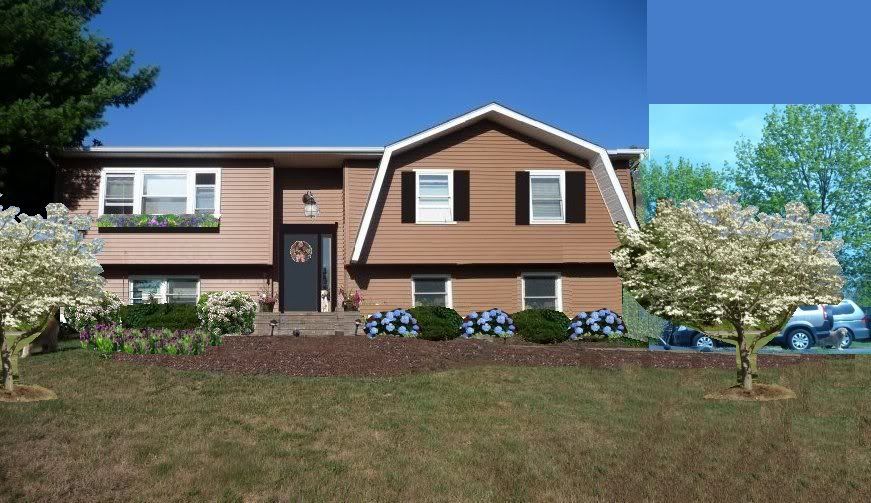 The problem is the area to the right of the house, between the driveway and the walkway. It seems to be hidden behind one of the dogwood trees but, in fact, it is a huge open area. I can add short evergreens here but I'm not convinced that would help to balance the layout from the road.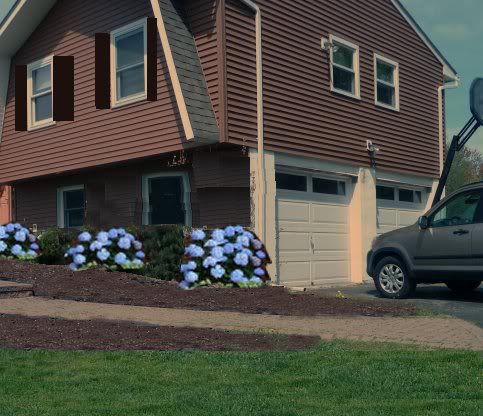 Something is missing.
We would appreciate any thoughts on the design.