I think I killed it...
btbarbara
(7b/8a)
July 9, 2011
I had a pumpkin (not sure what kind...it was one of those little windowsill kits the kids got for $1 at Lowe's) in an 18 gal bucket with half MG potting mix and half Black Kow. It's got a TON of drainage holes in the bottom of the bucket and it's been doing beautifully. Lately, it looks droopy about 4-6 hours after I water so I've been watering 2-3 times a day as needed. I'm in GA and it's in full sun...it's been ~100 here every day and very little rain. When it's droopy, it perks right up after watering although I've noticed that the last few days, it looks pretty tired in the afternoon, no matter what but it perks up again after dark so I figured it was just the heat. It's had lots of flowers and three little pumpkins. One got to about the size of a baseball and then suddenly got moldy and rotten (kind of like the pics I've seen of BER on tomatoes) so I cut it off and threw it away. It was in a really weird place (in the container instead of out on the vine) so I knew it wouldn't have room to grow and I wasn't surprised that it died and started to rot. The other two little babies are about the size of baseballs now.
So yesterday morning, it looked great and I watered with MG just like usual. About 5 hours later, I looked and it was AWFUL. The leaves were totally wilty and turning brown and yellow. I watered again but every time I checked, it looked worse. After dark, I walked out there and the leaves almost appear to be dissolving. I didn't think MG was supposed to burn? And I use it exactly the same way several times a week so I can't imagine it's that but it does almost look like acid eating through these leaves because it happened so fast. This morning, the leaves at the ends of the vines look good but the ones closer in look like they've been rotting for weeks. I don't think there's any hope at all.
This was really just an experiment and I'm getting tired of watering so much so I won't really be heartbroken if I lose this one but my son will and if it's something I did wrong, I'd like to know before I kill anything else...
This was about a week ago: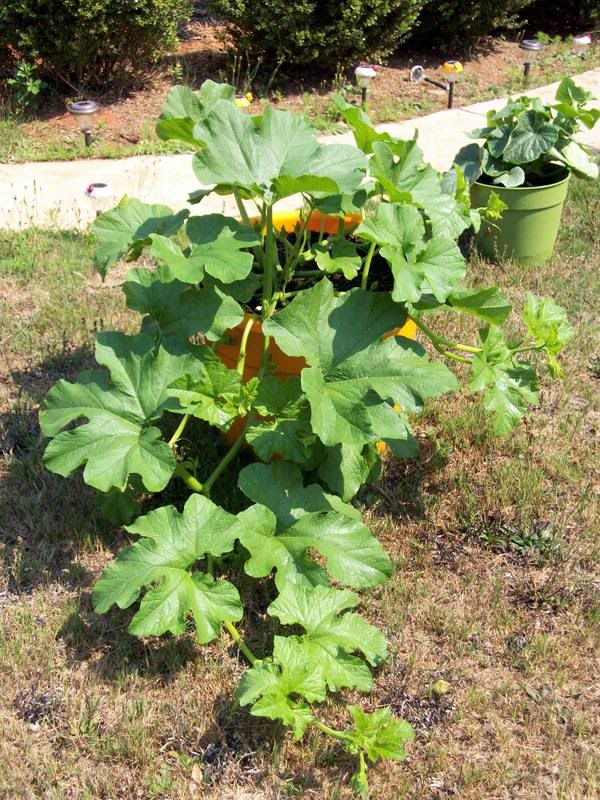 And this is today. You can see a little bit of the vines and they still look good but up close to the plant is gross: