Help me design my new front yard
adam211
(8-Seattle)
May 30, 2013
I recently purchased my 1912 home near Seattle and I've been plotting how to completely revamp the front yard.
The house faces west.
THE HOUSE:
This summer I will split the top window into two smaller windows (making a second bedroom) and at the same time probably replace the large bottom window, both hopefully with older style partially paned glass as was more common to the home. Someday I MIGHT be able to restore the original thin cedar siding on the lower half and cedar shingles on the upper half--but not counting on it.
PLANS:
Last weekend I removed the pampas grass you can see on the right of the picture.
I'm thinking of removing everything else (including the Lavender on the far left).
I'll be changing the awkward 'L' to the back right either entirely with grass or at least making into a less awkward '-'.
I'm thinking of planting a Stewartia and maybe one or two other small trees. Perhaps the Stewartia on the left and some sort of nice maple on the right (Sango Kaku?). Or two nice trees on the left and the Stewartia on the right. I don't want anything big and bushy. My neighbor has some pretty maples with great form--not sure if they are Sango Kaku or something else, but I'd like something with nice form and that looks good in a small spot with decent year-round appeal.
Maybe intersperse with dwarf evergreens, like Tsuga Canadensis, Cryptomeria japonica, or Hinoki Cypress.
Also thinking interspersing some sort of Cotinus Golden Spirit with the evergreens, or maybe the purple leafed Cotinus with Spirea Ogon. I'd trim them all annually to keep them small.
Thoughts? I have no idea what to plant against the house. I really don't like the current rhodies or mexican orange, but I'm not sure what else. Hydrangeas? And? Big things I'm trying to figure out now are (1) what trees and where so I can start to plant the rest and (2) what to put against the house, and I'd love to hear any input.
CONTEXT FOR THE REST OF THE YARD:
I'm leaning toward planting some vine maples (maybe red-barked 'Pacific Fire') and organized, staked raspberries or blueberries on the left (north) side of the house. Maybe some blueberries perhaps on the south side (there's a thin strip of flowerbed), or just a row of plants like Cotinus and something. Also like the idea of shirasawanum aureum in the backyard, so lots of maples already.
Thanks so much!!!
Adam
PS - Be sure to check out the link to the more recent picture at the bottom of post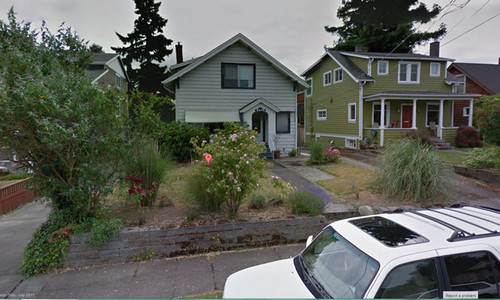 Here is a link that might be useful: