Potatoes in Smart Pots (Results/Pics)
farkee
(Florida)
July 3, 2010
At the very end of my season decided to try Smart pots.
FIRST EXPERIMENT:
Had just 2 organic potatoes from Whole Foods that had sprouted.
Medium: old, used potting mix (peat based ) refreshed with just a little pine bark fines and some perlite.
Used time release (dynamite) and syn. liquid fert --also now and again organic granular on top.
Tops grew fantastic --I even added a piece on top so I could keep adding potting mix. But I don't think this is necessary. (I had folded the pot down and put the potatoes on top of about 5 inches of potting mix. Then as it grew folded the container up and kept adding new mix.)
Can't find my pic of the nice green growth. First pic is about 3 months old and I am anxiously waiting for the top to die more so I can empty it out.
Got 5 pounds 8 oz. from 2 potatoes using old potting mix.
SECOND EXPERIMENT:
I am also always trying to figure out how to increase yield in organically grown containers--(yes I know all about the drawbacks of organics in containers--but my 'hero' is Charles Wilber and he has phenomenal success growing organically in whiskey barrels (How To Grow World Record Tomatoes).
Back to potatoes--started 2 smart pots (past my growing season but I did it anyway). Same old, used peat based mix.
Used 3 seed potatoes of Yukon Gold in each.
Both grew similarly on top--nice green growth.
RESULTS:
Got 5 pounds of potatoes grown with synthetic fertilizer.
Got 2 and 1/2 pounds of potatoes grown with organic fert.
Did a completely blind TASTE TEST and organic potatoes 'won' . Yes, I could tell a difference--this even surprised me. But of course I wasn't satisfied with their yield so try and try again is my motto. (Also learned I prefer red potatoes over Yukon gold.)
(Synthetic fert./used mix)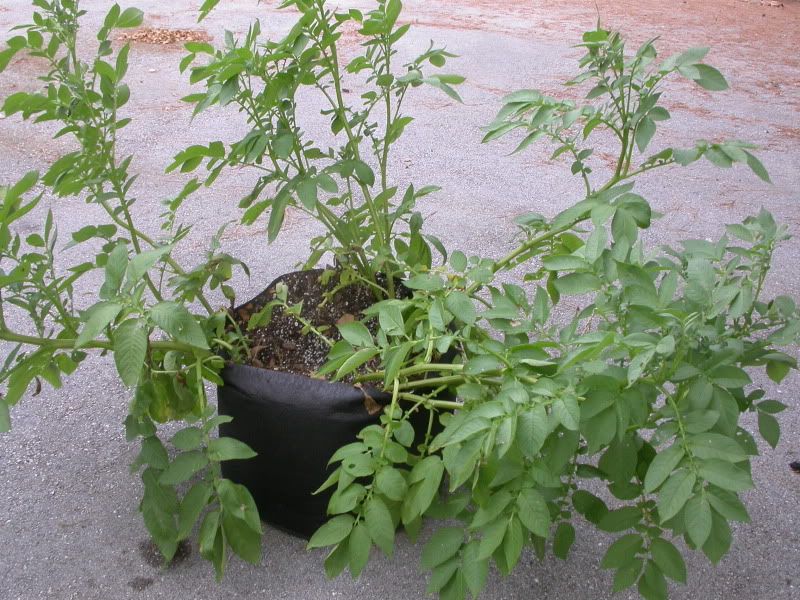 (Syn. Fert.)