Pieris Japonica-Trim or Remove?
Hello:
I have two Pieris japonica shrubs that have grown very large over the years, and have taken over the front of the house. In addition to growing very tall, the one on the right leans very far forward and has many suckers growing from the base. Between the Pieris and Japanese maple there are two roses, Chrysler Imperial and Graham Thomas, which are not really growing well, for obvious reasons.
My question is this, should I try trimming them? If so, how should I go about it? Should I replace them? If so, with what? I'm in zone 8B (Vancouver, BC, Canada)/Southern exposure.
On a side note, should I trim the Japanese maple, which also seems to be getting quite wide?
Sorry for all of the questions. I look forward to your ideas and suggestions.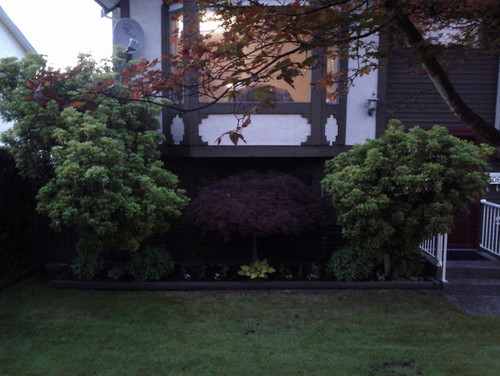 This post was edited by bcca on Sun, Jun 2, 13 at 12:53