Showing off
btbarbara
(7b/8a)
August 3, 2011
I have this thing about doing everything the hard way and I love to do what "they" say can't be done. So my container garden started out kind of crazy...watermelons, cantaloupes, pumpkins, corn...not your traditional container veggies. I fully attribute this to beginner's luck and I don't know that I'll try these in containers next year but for all the naysayers...
we have corn! The first silks appeared about 3 days ago. I've been trying to hand pollinate but the watermelon vines have surrounded the corn container so I can't get to it too well. And I don't know how tall the stalks are but I'm 5'11" and I can't reach the highest tassles even on my tip-toes. Still, those first few "hairballs" actually look like ears of corn now! There are ~15 stalks in this 31-gal container and this morning I counted 10 silks but like I said, the first ones just appeared a couple of days ago and more are sprouting fast so I'm hopeful that we'll get enough to make it worth it. One good-sized ear will be enough for my boys and me for one meal so we don't need too many. A few weeks ago we had a bad storm that knocked all the stalks over so I wound up using bamboo stakes and twine to make a "fence" around this box which seems to give just enough support and it's pretty much invisible.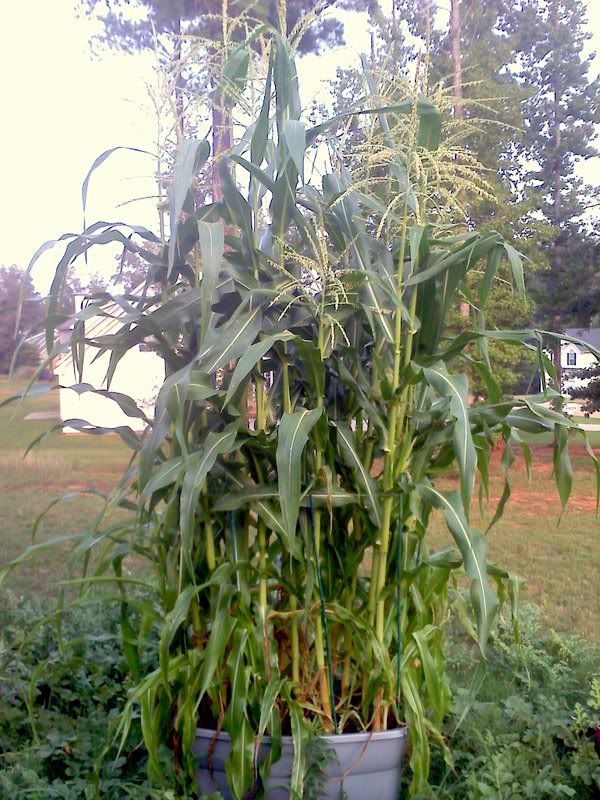 I picked a watermelon a couple of weeks ago to take to a family shindig but it wasn't good and ripe yet. It still got eaten but I was bummed because I really wanted to impress everyone with my farming prowess. Monday was the first day of school so when my boys got off the bus, I surprised them by picking another one. It was a Jubilee that weighed over 20 pounds and was PERFECT! I don't even care for watermelon and I ate two slices. It was so sweet and juicy! My 7-year-old definitely approves (his favorite part was spitting the seeds in the yard so we may REALLY be drowning in watermelon next year!):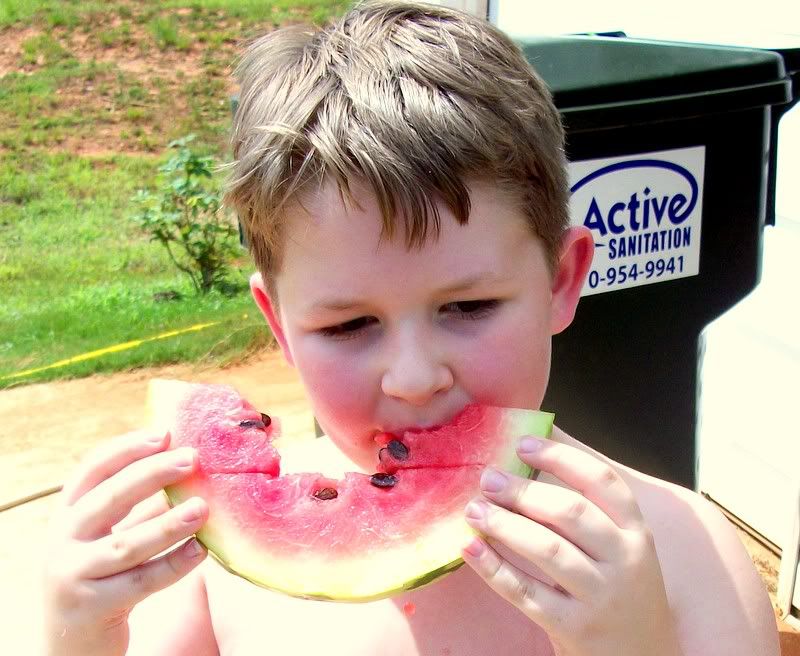 I want to get an earlier start next year and like I said, I'm not sure I'll do melons in containers again next year but the timing couldn't have been better. This was the perfect first day of school surprise! One of my Crimson Sweets split on the vine the other day and none of them have fully ripened yet so I don't know how they'll be. There are 3 of those in 14" pots (no kidding!) and about 9 melons almost soccer ball size between them so we'll see. I didn't really expect those to do anything so I'm just shocked. The one jubilee that is in a 31-gal tub with two pepper plants has just blown me away. I really don't see how that one could possibly do any better in the ground...it has at least 9 melons that are bigger than footballs and several that are 20+ pounds...and it's still setting new fruit every day.
No ripe cantaloupe yet but there's one that's getting close and 9 more that are bigger than softballs.
My garden is in my front yard and apparently my landlord is not impressed but my neighbors (unless they're really good liars) think it's awesome. One neighbor asked me if I'd help her plant a fall garden and three others have come over to "help" me harvest.
Every time I brag or show off, something bad happens so I'm definitely NOT bragging. This is entirely beginner's luck! They're all cheapo plastic tubs and boxes with MG potting mix and Black Kow and $.25 seed packets from Walmart...about as low-tech as it gets. I'm just thrilled to death though.
My 7-year-old told me that we should turn our house into a grocery store for our friends and family and people that don't have any money. They can tell us what they want and we'll go pick it for them. He also said when we move out of this house, we should move to a big farm so we can grow all our own food and save money on groceries so I won't have to work so much. Since we'll have some extra veggies, we can share with the people that don't have food and if they're nice we can even share the good stuff like watermelon to give them something to be happy about when they're having a hard time. :)