We finally finished the Front... Sort of
Suzi AKA DesertDance
June 12, 2014
Are you ever really finished? The front yard was just dirt. Nobody here has grass (except for one neighbor, and he works constantly and it just looks terrible). We are in a drought. Most here have gravel and native stuff.
But we are golfers, so this is a beautiful, water conservation, and no maintenance solution.
We are adding bark to the planting beds by the fence, and extending artificial turf cut around a flagstone path to finish the back portion of the yard. The pile of rocks at the end is the beginning of a waterfall that falls into the pool below.
If you are interested in a DIY job, I outlined the entire process at the link below. We hired a contractor. Cost about $6500 in Southern California, but we are adding to the job, of course!
Suzi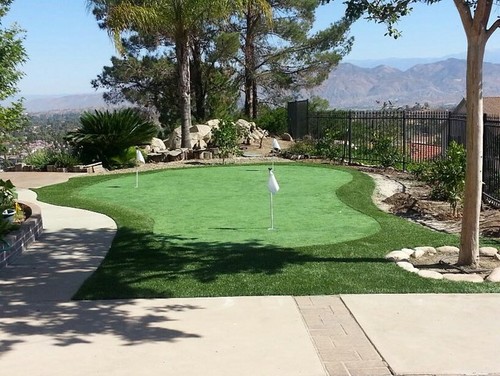 Here is a link that might be useful: Pinterest Construction Board