Sloped Front Yard Lawn Removal
I would really appreciate some suggestions & advice from experienced professionals for my first big project. I am not a designer but I studied horticulture & took 2 semesters of landscape construction. I've been working for the past 2.5 years doing mainly garden maintenance and love doing stuff with rocks & stone, but I am totally new & inexperienced.
This project is a front yard lawn removal and it's going to be a succulent garden that I plan to terrace with cinder moss rock. So far, the lawn is gone and I've amended the soil. 1 ton of cinder moss rock has been delivered.
The main part is 13' x 13' and it's sloped, And that's mainly what I need help dealing with is the slope. There are also spaces on each side of the entryway and one side has a little semi circle retaining wall (like a tree well) made with wall block~ If I mess with those blocks, all the dirt spills into neighbors driveway. I was thinking maybe I'd try and remove like 1 or 2 blocks in order to plant something that trails down over to camouflage the block but then I'm still undecided what to do for each side of the entryway. (One thought is a big tall vase on each side, but still not sure)
So the 2 main areas I like any suggestions/ advice for are 1)selecting either the right plant or architectural feature(s)to put on either side of the front entryway(nothing fancy or complicated). I don't think a tree is a good idea since it will litter all over the succulents and shade them but some height & something contrasting and soft against the house maybe. What ever goes there has to be able to tolerate wind.
2) The other question I have is about the existing brick border that's there~Should I remove it or leave it? If I remove it, at what point? Should I wait until after I've planted so the roots hold the soil? Could I use some bender board. I'd like to remove them but I'm scared I'll make a big mess & regret it.
It's not really relevant, but I just want to add that I met the client a couple years ago when she came to my house to buy some plants from me. She's a neighbor and saw that I was replacing sections of my own lawn with succulents & native plantings. Without a doubt, she's saving money by having someone like myself do the work, but she's not cheap and I don't get the sense that's WHY she chose me. She & I are definitely on the same page as far as how we both envision the space. I had taken photos of similar front yards in the area before I got started and when I went to meet & show her, she had taken photos of the exact same front yard on the same day! We realized we had missed each other by only about 15 minutes!
I'd really appreciate ANY advice that might help me avoid any major blunders as well as feedback & suggestions & I welcome any CONSTRUCTIVE criticism.
Thanks so much (in advance)!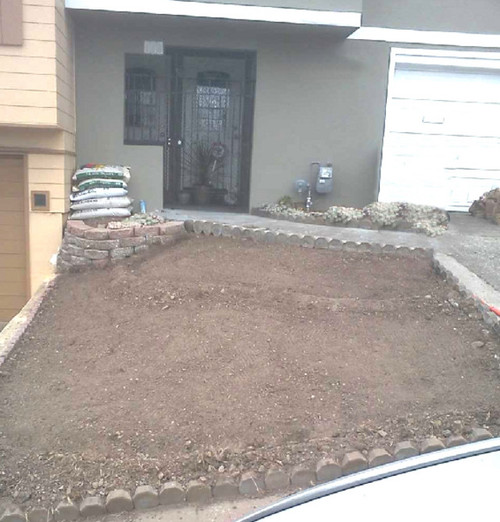 Here is a link that might be useful: photo album of inspiraton gardens & progress