Help fine tune my ideas about privatizing my yard.
This is the SITUATION: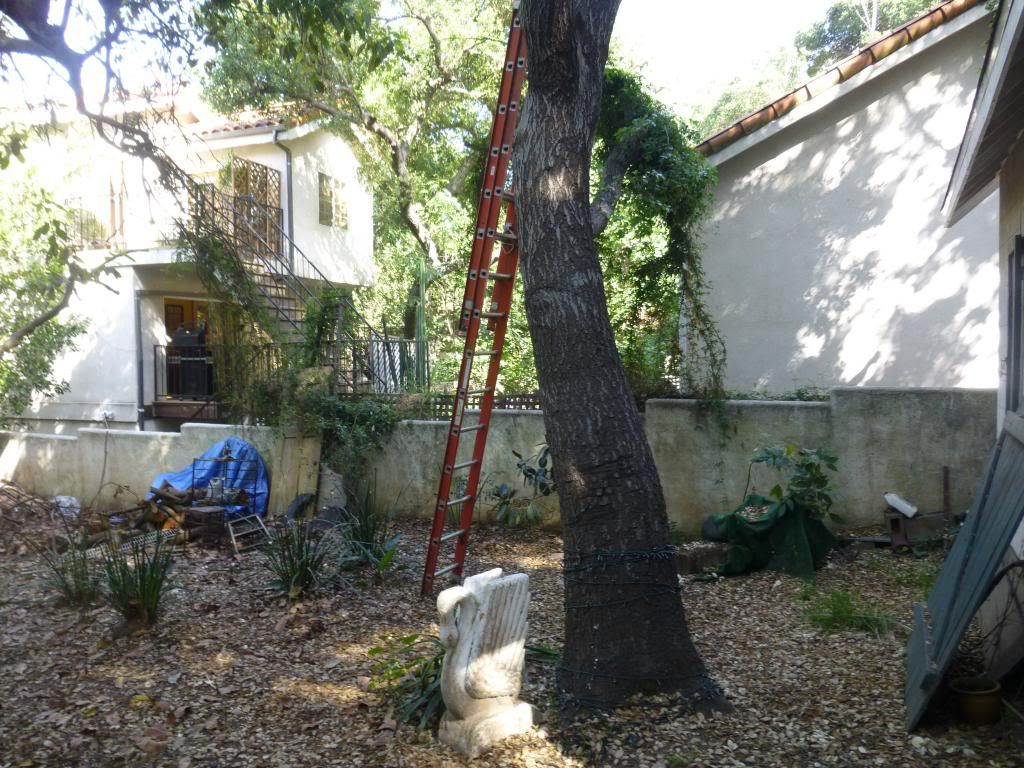 We'd like to achieve privacy between these two stack-ups and our far lot. Currently we have an avocado tree (maybe 80 years old) that used to have a ginormous overhanging branch that blocked the view pretty well. Then one day, that huge branch (like half the tree) just snapped off.
So it is our idea to plant a few more avocado trees (we love the fruit) closer to the little wall between the two properties. We understand they will grow well in that spot: few hours of morning sun, then partial or complete shade for the rest of the day. We know our neighbors will hate the leaf droppings, but hey, we want our privacy and our avocados, too. I also heard loquat trees grow well in partial shade, so we may plant one avocado and one loquat tree. Or even one loquat tree under the two avocado trees.
To privatize the part below the branches, we'd run some posts from the ground with wire between them to support vines. We were thinking of cape honeysuckle, mountain lilac, or, we really like the idea of pineapple guava -- or any combo thereof. We don't really like the idea of maintaining them, but when it comes to privacy planting, there doesn't seem to be an easier way.
For a while I was thinking of clumping bamboo along the whole wall (which is what one neighbor recommended). But I've also been told that it may not grow in thick enough to privatize very well. That, plus the fact that there is no turning back with established bamboo root systems, is of concern. Bamboo is a modern-looking plant, and we have a quaint old home on a large lot.
Many have suggested ficus trees, but their root systems are problematic and, well, to me they're kind of boring.
We are located high up in Laurel Canyon in Los Angeles, where we get a lot of coastal fog and are protected from serious heat by altitude and the towering forever green canyon walls of foliage. We really don't want to be slaves to watering, and prefer drought resistant plants once established. We find that most everything we plant up there is drought resistant eventually.
I would be interested in hearing all of your opinions and thoughts.