Buddy just left and I miss him already.
Chemocurl zn5b/6a Indiana
(zone 5/6)
March 8, 2010
Tues 2-22 a little dog showed up here and made it clear onto the carport without my other 3 furbabies either running him off, or alerting me. He was skinny and limping, so I decided to feed him and just take it a day at a time. If I didn't find the owner I was secretly hoping that BF might want him when he saw him the following weekend 2-27 (Sat).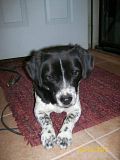 Well, Buddy, as he was being called on 2-27 (Sat) had absolutely no energy, or personality and would just lay there and sleep, get up and hobble a few feet and lay down and sleep some more. BF decided Buddy was not the dog for him. I had to admit, little Buddy at that time, had the personality of a rock!
2-28 (Sun) I put an announcement of the local Freecycle, complete with his pic, looking for the owner. I didn't really think there was a previous owner wanting him, as he had no collar. I checked the newspaper and also with the local shelter.
3-1 (Mon) He was starting to make himself quite at home, thinking of the couch as his. How could I not let him up on it? Here he is with 'his' bear.
3-1 (Mon) I got an email from a Freecycle member who said that if Buddy was not claimed that she would welcome giving him a loving home. After asking a few questions and the member answering them to my liking, I decided that her home sounded good for Buddy.
3-2 (Tues) I took Buddy to the vet. A couple of pads on his front paws were injured (ice damage the vet said) and I wanted him healed up and to have his shots before going to a new home or back to his owner if he was claimed. The vet said he needed to wear an Elizabethen collar until his pads healed as he was keeping them raw by licking them. I talked to Buddy's new Mommy (she called to see what the vet said, bless her heart) and we decided she could have Buddy the next day.
Well the night of 3-2 (Tues) neither Buddy or I got much sleep with him wearing that big old collar. I decided he needed a couple of days here where he was starting to get familiar with things to adjust to the collar. We made plans for 3-5 (Fri) for Buddy to go to his new home, but those plans fell through and we rescheduled for 3-8 (Mon).
By 3-4 (Thurs) he was feeling a lot more comfortable with his collar, as shown here on the couch.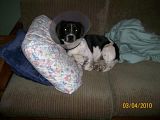 3-6 (Sat) BF came down again, and Buddy was all over him, wanting to frolic and play and wanted to lay beside him on the couch. BF couldn't believe the transformation in Buddy, and I think sort of regreted not agreeing to take him.
3-8 (Mon) I was supposed to meet Buddy's new Mom at 4 today, but she called, was in the area, and asked if she could stop by and get him early. I agreed to her picking him up, not particularly wanting to drive into town later to meet her.
Buddy barked and wagged his tail when he saw his new Mommy again. She picked up Buddy, and seemed so happy to see Buddy had more life to him than when she had seen him briefly last Fri. Buddy and his belongings left just a bit ago, and I miss him already. Already having 3 furbabies, I 'knew' keeping Buddy was just not an option (I know where to draw the line and can't keep all strays). It was amazing though how attached I got to him, knowing he was not mine and that he would be going to a new home.
His new Mommy told me she would keep me posted on how he gets along and will send pics. I sure hope Buddy isn't too confused for too long and that he settles in quickly with his new family.
Isn't he sweet looking?
Sue