Narrow bed between fence & pool decking
I'm looking for ideas on how to work with a narrow bed next to a fence.
We are building a pool, and pool builder just installed the concrete pool decking. (Grading and clean up has not happened yet) I wanted an 18" deep space between the fence and the pool decking so that I could plant small things -- liriope, lambs ear, cast iron plants, ferns, etc. The pool decking is 11" higher than ground (and bottom of cedar fence) at the maximum height. There is also a 3x3 deck cut out allowing me room for a bit larger plant.
The decking is tied into our underground drainage that goes to the street, through a 2" channel drain AND the part without a channel drain will drain into the 3x3 planter cut out.
I understand that raising the beds to the deck level will put dirt next to my fence and rot the wood. What other options do I have?
It seems like these may be my options:
1) Use some sort of metal edging or Trex on the fence
side. Raise beds to deck level or just below.
2) Plant at ground level and use taller plants that reach above the raised decking. This seems like it could be a potential hazard if anyone mis-steps off the deck and falls into the lower planter!
I hope this was not a bad idea. The pool company builds over 200 pools a year, and never said it would be a problem. I have had a bad initial experience with their sister company landscaper. So, we won't be using them for the landscaping part of the job.
3x3' bed cut out, going to 18" deep for approx 25'

Artist rendering of entire project.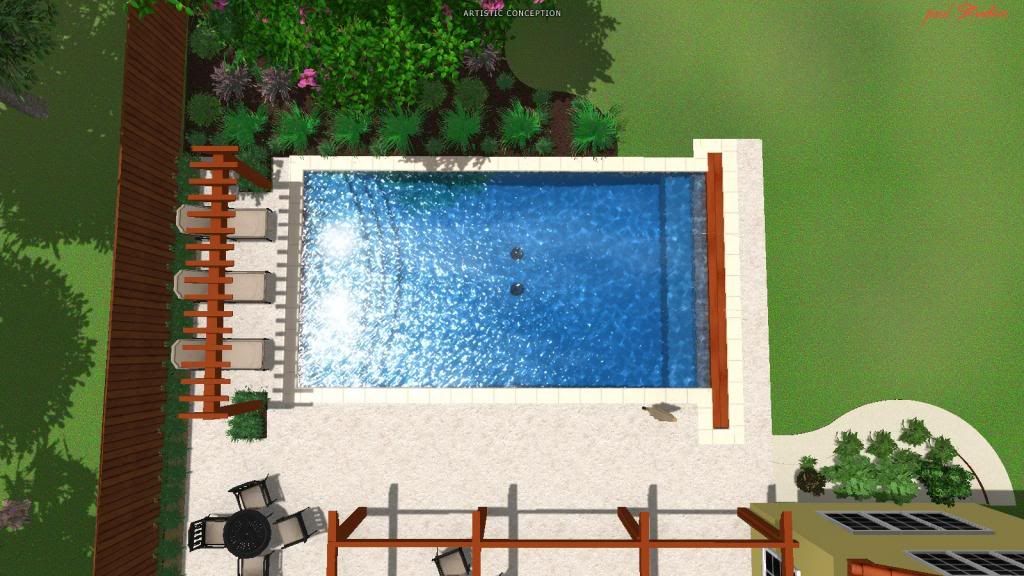 Thank you for the feedback. I used Gardenweb extensively when building our home initially 3+ years ago.