My Night Delight (vi's hot garden)
I've been trying hard to capture and share the pleasure my yard gives me in the evenings with only limited success. iPhone pics are great but the night ones not so good.
ETA: GW faked me out. Here's the additional stuff.
I wanted to post these to show that my main use for the function is to enjoy the sunsets and evenings, so an example of designing for function and for a specific site.
Also, a judicious use of lighting can really make a difference. I have two inexpensive solar lights which highlight my desert plants, and my most fave thing ever - the silly fairy lights! (Bliss lights). That thing wasn't cheap, but the amount of pleasure it's given me over the past year is immeasurable.
I love sitting out there and watching the lights come on in the distance over the wall, and the sunsets. And even though you guys made fun of me for my lighted arches idea (not implemented); and even though the yard is still mostly dirt right now, I'm still getting a huge kick out of it.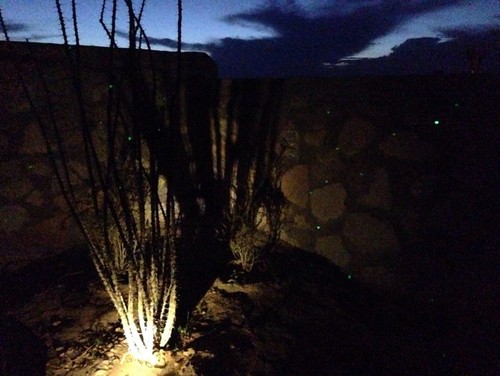 This post was edited by Violet.West on Mon, Jul 14, 14 at 18:09