Garden design (for new tree or new flower beds??)
Recently my kitty passed on and to show my love for him, I want to either (i) plant a new tree; or (ii) upgrade his favourite corner of the garden where we used to sit under the apple tree together on his supervised garden visits. The flowers under the apple tree were in the spot where he used to sleep under the apple tree - I put them there after he passed on.
I live in Calgary Canada where we have short summers so tbh even though I love perennial beds and cottage gardens, it is difficult to achieve much so I've done way more work on the interior of my home than my garden. The garden is small as in the photo, with thin strips of garden on either side of the deck but most of the garden is shown in the photo. The back fence is south facing. My garden is super boring really, and it might be nice for it to look less like a suburban patch of grass and more cottagey-casual if at all possible on a limited budget.
My questions:
1) If I were to plant a tree, I am just not sure where I would put it so that it looks suitable from a design perspective. Sadly I might remove that lilac tree in the right corner as its shooters are aggressive and have taken over the flower bed. If I do that, I am unsure design-wise where I might plant that tree so that it would look suitable. In the photo you can see the deck and there is a thin strip of garden on either side of the deck but that is it. A small garden. Where would you suggest planting a possible tree?? I was thinking of a flower crabapple, so it would be a bit bigger at mature height than my small-ish apple tree on the left will be.
(ii) If I add in some new flowerbed(s) in the right corner (maybe with gravel paths), what kinds of ideas does anyone have for that??
Thank you for suggestions/ideas. :)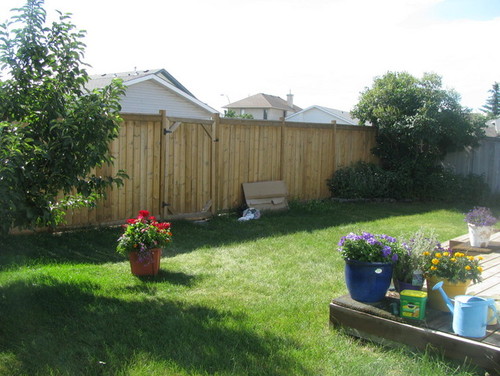 This post was edited by Scarlett001 on Mon, Jul 28, 14 at 18:07