Hoping for helping in designing kid-friendly, family backyard
michelleinidaho
(6 ID)
July 15, 2006
I have been amazed at the difficulty I've had finding examples/pictures of the internet of just plain old kid-friendly subdivision backyards. I want our back yard to look nice, but be functional for our needs. Can any of you help with ideas?
We built this house and had a plain landscape plan drawn up originally, but that was pre-kids. Now we're realizing our needs are different. So far, everything has been done in a plant in now, move it later fashion and we're both tiring of that. Its time for a plan!
Our priorities are:
1) kid-friendly - that is places for sons' playhouse, and sandbox, and lots of grass for playing around on. Also that means not to many plants that attract wasps/yellowjackets, etc.
2) fruitful - We like most of what we plant to be fruitful. The three trees we've planted are 2 apple trees and 1 peach tree. In the Northwest corner, we currently have a blueberry bush and several blackberry bushes & raspberry bushes. In the northeast corner, there are the raised garden beds with veggies, and the other one along the fence is raspberries. We are open to adding non-edible plants now, but definitely want to keep as much as we can of what we've already planted.
3) Pleasing to the eye - Right now it is a bit of the first two - kid-friendly and fruitful, but I hate how it looks! I would like to be able to invite people over and not have to explain that it is a work in progress. I want a more finished look.
4) Privacy - if possible. We can see right into the neighbor's house behind us and the ones kitty corner. The two beside us aren't a problem.
I'm hoping for some ideas and especially pictures of other people's backyards that are kid friendly.
Here is a picture of the side yard, on the west side of the house...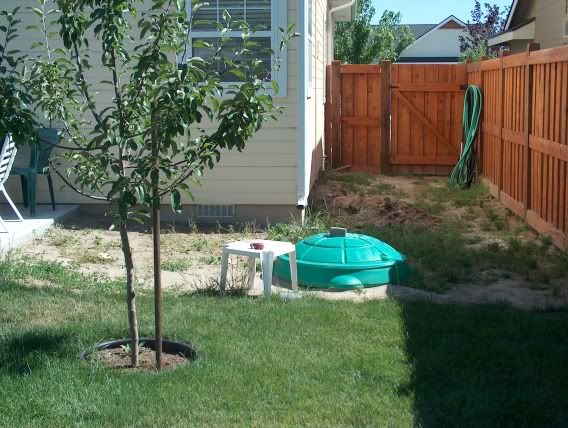 It is 7 feet wide and maybe 15 feet deep along the house. The dirt area/unfinished area, extends to where it meets the lawn, probably another 8 feet or so. It gets only afternoon sun. This is the spot I thought might be ideal for the kids area. We have the portable sandbox there now, and would like to build a wooden one in that area somewhere. Also would like to move playhouse to that area, instead of having it on the cluttered patio. Maybe have pea gravel or something on that area for both the playhouse and sandbox. Then do grass all the way along the side of the house extending to the gate? That's our latest idea. What do you think?
This picture is just to the left of the previous picture, showing our cluttered back patio, just to give an idea of our need!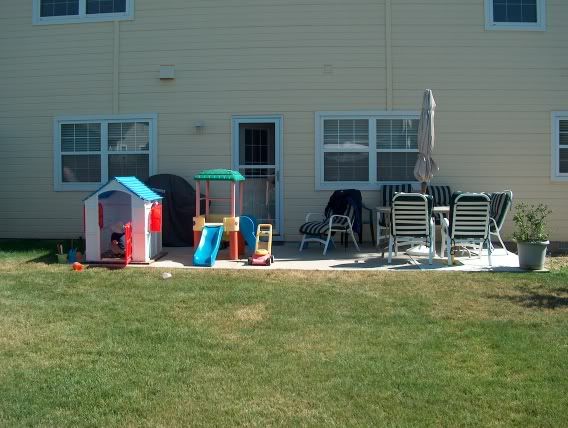 Now turning around, this is the northwest corner of our yard...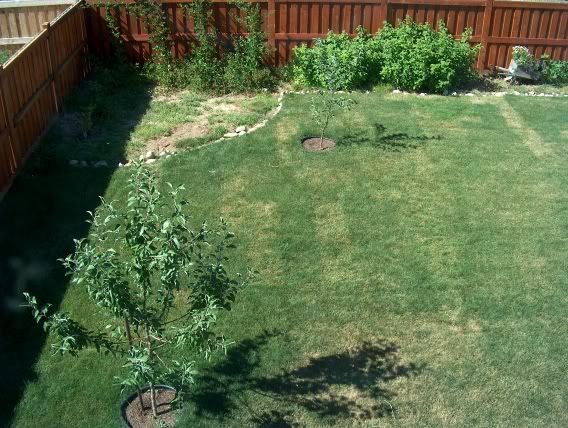 This is the biggest eyesore to me. This is where the blackberry bushes and raspberry bushes are. This is also where I'd love to plant a tree or move an existing one so that we can have a semblence of privacy from the neighbors two-story house in that corner. Oh how I'd love a waterfall or something, but that is probably 20 years out before we could afford that.
And now the northeast corner...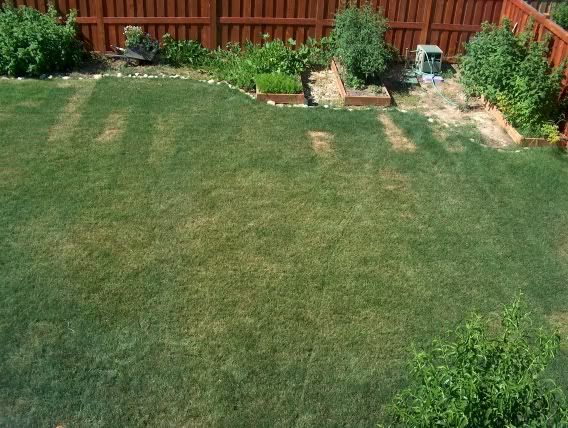 Hubby built the raised beds last year and it is sure an improvement over everything planted haphazard but I'm still not happy. It just doesn't look finished.
Other notes: none of the three trees are planted anywhere that help provide shade or privacy. We would be very open to moving them to better spots. Also, since the blackberries and raspberries are really attracting the wasps or yellowjackets, whatever they are, I would really rather have them all in one area somewhere. We could build more beds along the east side if needed.
Oh the overall size of the main part of our backyard is 60 feet wide and 46 feet deep (deep meaning from house to back fence where the blackberries are planted)
I don't know if anyone will be able to help me specifically with our yard, but even in you can point me to some pictures that might give us ideas, it would be much appreciated. I've been scouring the web for over a year, and still haven't found much.
I did put a call into a landscape designer who specializes in designs for the do-it-yourself installer, which is what we would do. I'm hoping he'll be able to come up with a good design but I'd love to show him some ideas.
Thank you so much for your time reading my message and giving me any input.