Supporting stone veneer wall - Footing??
landscapenewb
August 28, 2010
Hi all!
I am in the process of building a small knee wall around my front porch. The porch is about 4'x6' and there is an awkward 22" gap between the porch and the house which I am trying to make useful.
Before: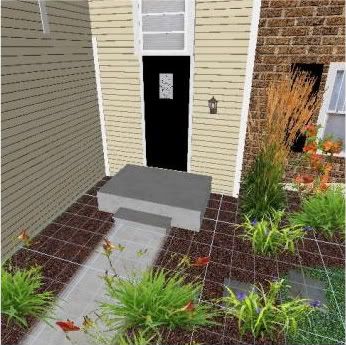 After:
The wall itself is about 19" wide all the way around and 34"-40" high. I am building it with a treated 2x4 frame, covered with stone veneer. I figure each side will weigh about 500 lbs all said and done.
So my question is what kinda of support do I need?? I was planning on sinking a cinder block at each of the corners for support, possibly driving in re-bar and then filling the blocks with cement. The other thing I considered was somehow attaching to the existing concrete porch with masonry nails/screws. I am concerned about the weight distribution and whether I am making a mistake by not digging a footing 3-4' deep or whatever. Do I even need any support?
What are your thoughts?
Thanks!