Steep Side yard slope + big picture planning
Recently bought a place in PA. It is a walkout basement, so the property slopes. The left side of the house (when looking at it) has a very severe slope. I have figured out how to mow it, but it stinks. I am a leg amputee from a blade driven weedwacker, so I am pretty leery of unnecessary risks with gasoline driven whirling blades.
So we are trying to make a plan to deal with that. We have a second problem area, directly behind the house the ground doesn't really get dry. So its a bit muddy and difficult to mow. I think it is partially driven by less direct sunlight since the other areas dry up fine. My gut is to put in a big poured concrete patio and eliminate that mowing area.
In terms of needs, we have small children (almost 3, one on the way), so we want a play friendly yard, with some curb appeal. We plan to add a swingset, and possibly fence. We are also toying with whether the minor slope in the backyard could be leveled for a flatter play surface, although the yard ends at a feeder point to the retention pond for the 'hood. We don't want to do any harm to that.
Well, patio, fence, swingset, nasty slope is starting to look like a bit of money, so I want to work on a plan to minimize mistakes. So this brings me here.
Here are few pics from when we were buying. Dirt is now grass (w/weeds), with varying levels of patchiness.
The front of the house:
Slope Pic 1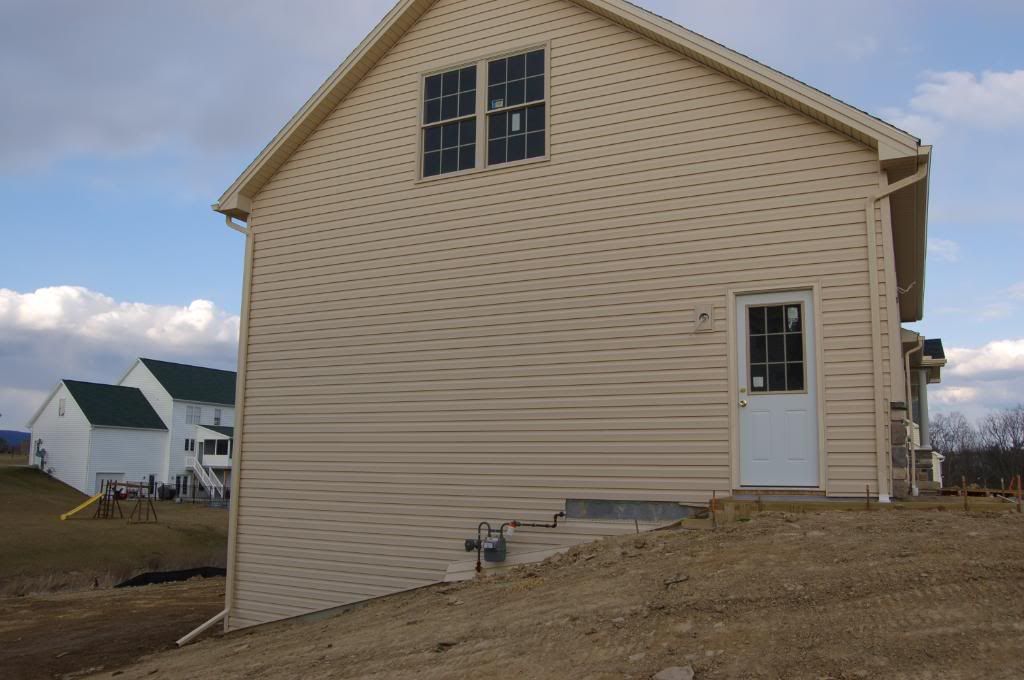 Slope pic 2 - the slope kind of goes two ways, to the back of the house and towards the neighbors yard which makes mowing harder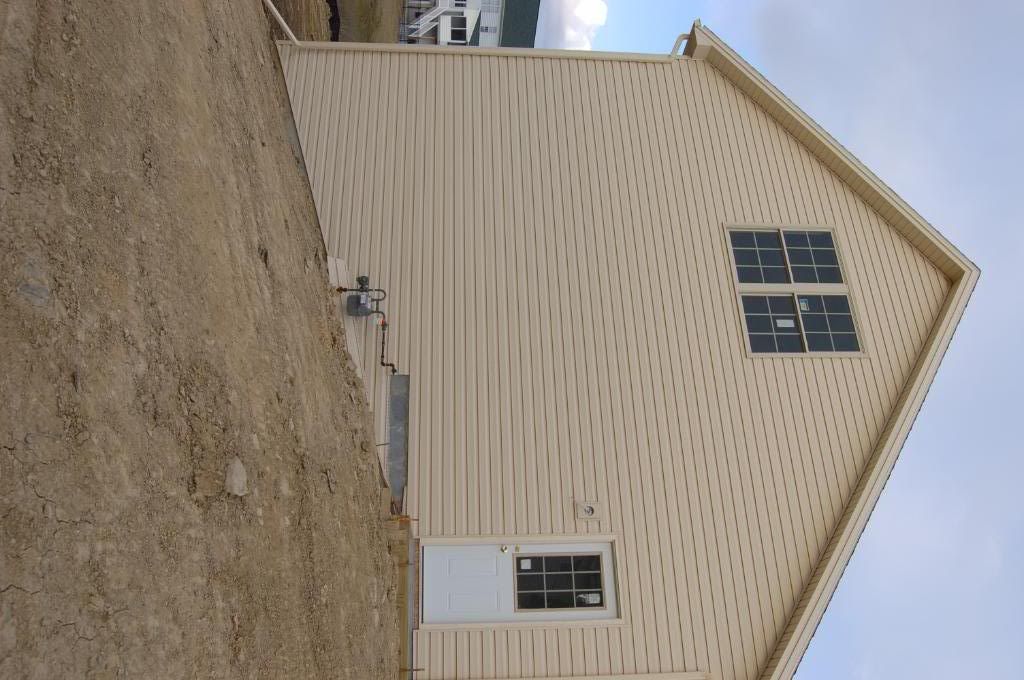 THe backyard (note the muddy problem area isn't the mud in the picture, but rather the part under the deck and adjacent).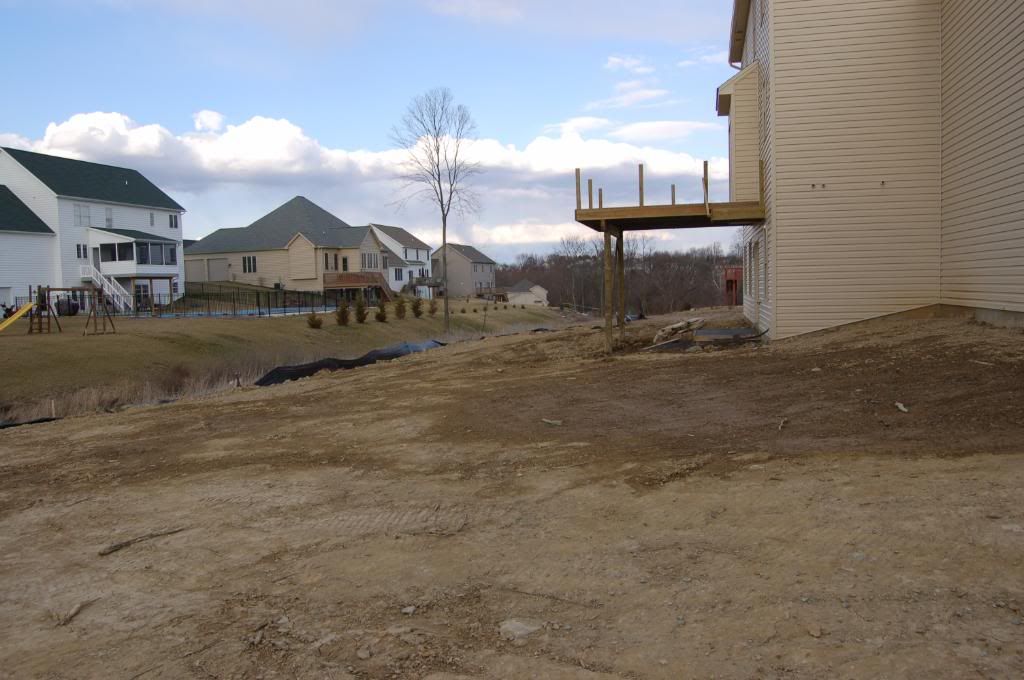 The beginings of a plan: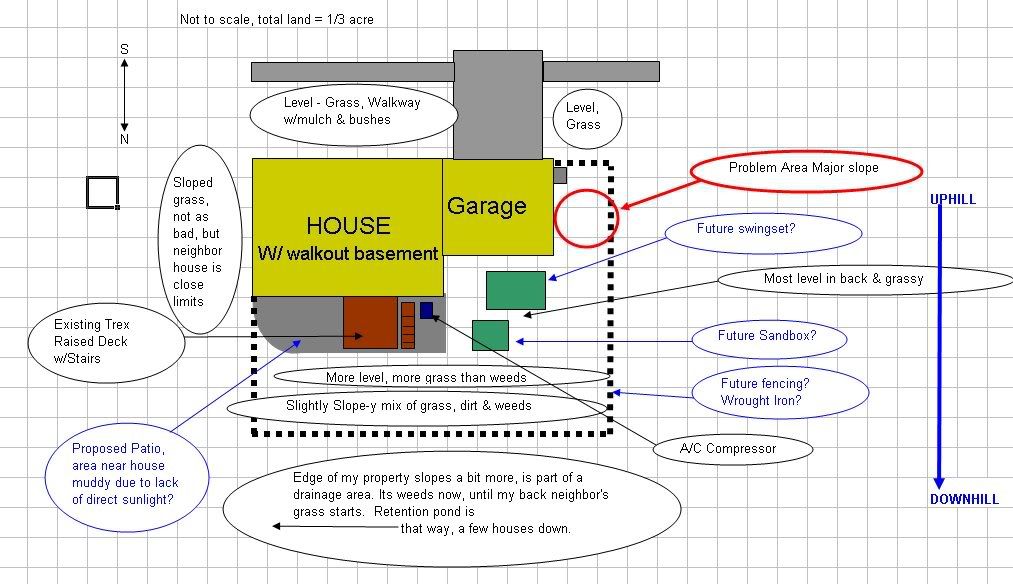 We are tying to brainstorm ideas for the side yard. My wife throughout the idea of maybe a stairwell, with mulch on each side constrained by the house and fence respectively, and plantings. Maybe retaining walls. Its not the biggest side yard. We are a middle lot, I'd guess its about 15-20 feet. Our neighbor has grass now (weeds, actually a landscape company used some nearby soil that was full of weeds that messed up his grass - they are working on it). He is thinking of running a similar (shared?) fence as he has a dog & toddlers.
This is a next year project, but we are big planners. Any ideas? Sorry if the info is kind of a mess. The goals are pleasing to the eye, kid friendly, low to lower maintanence, and nothing know to trigger outdoor allergies.
I'll try to take more recent pictures with grass this weekend.
Thanks!