How to landscape under old hemlocks
thisoldbungalow
August 15, 2011
Hello, this is my first post to this wonderful garden forum, and I would like to ask some advice on how to deal with a difficult area in the backyard of our 4,000 sq.ft. lot.
We bought this house last year and I have so far only worked on the front and side yards. The backyard is basically a wasteland. It used to be covered with concrete pavers at the center, which we already pulled out. We are planning to revamp the entire hardscaping, replacing old pressure treated wood retaining walls with dry-stacked stone walls, building new paths, beds, compost area, space for firewood, etc.
Here is a picture of the problem area: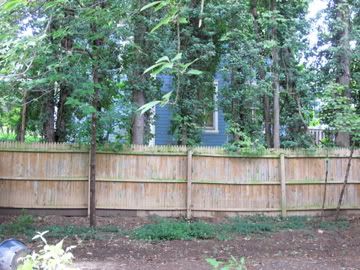 What you see in the picture is the view of the fence from the back of our house, facing east. It's not a very nice view, and I would like to plant something along the fence to partially cover it and provide a backdrop for a small patio and a path around the center of the yard.
The problem with this is the row of about 15 very tall hemlocks directly behind the fence, along the alley.
These hemlocks are unfortunately overgrown by mature ivy pretty much up to the crowns. Yesterday we have begun to sever the vines (some of which are as thick as my arm), so that they stop choking and pulling the trees, which are already leaning in various directions (some of them are very close together).
How can I plant anything beneath them? This is a very shady area (there is also an old cherry in the center of the yard that contributes to the shade), and I assume the ground is full of roots. I test-planted a Virginia Creeper there in June (a book told me it grows in shade), and it nearly died, despite soil amendments and watering. So what will grow there? I would like to plant shrubs, they don't need to flower, just something that will live under these conditions and frame the garden in the back.
Here is my concrete question: I am thinking a solution might be to add a narrow (3 feet or so) raised bed along the fence, held in by dry stacked retaining walls, no more than 8 inches high. I read that this is a depth of new soil that will not harm tree roots. Of course they will eventually grow up and invade this bed, but by this time my shrubs would have a head start at getting established. Does this sound like a viable plan? Or will the hemlocks die if I do this? Or will nothing live in this bed either in the long run? Since our yard is slightly lower than the alley, the bases of the trees are about 1-2 feet above the area I would build up (there is a steep drop right behind the trees down to the fence). On their other side, the trees are about 4-5 feet from the concrete paving of the alley.
Thank you for any advice!
Kate