How Do I Tie the 2 Sections Together?
Some of you might remember My previous post about this project~ a sloped front yard lawn removal~ it's the first big job I've done and it's taken a little over a month because I work part time and do gardening side jobs because it's what I love to do. (I studied horticulture & took 2 semesters of landscape construction but nothing design).
Anyway, the photo is the main part & the driveway is on the right. On the other side of driveway is a long narrow strip 18" x 15'and I'm in need of suggestions for how to visually connect the long strip with the main part. I'm planning to fill in the main section a lot more but as for the narrow strip, I don't want anything that will grow too big since the client does park in driveway. It's too small for the cinder moss rock I used but I do have some left~ not sure how/ where to place it. And YES Im removing the cement blocks & will either use wood or benderboard with the idea that the plants will hide it. Is that a dumb idea? I posted a link to a photo of the strip below.
Also just want to mention that I place 3 ceramic pots of varying heights in front of the meter but because it sticks out so far I had to place a shorter pot directly in front so now i need to figure out the right plant to use. I'll take a photo today & post later.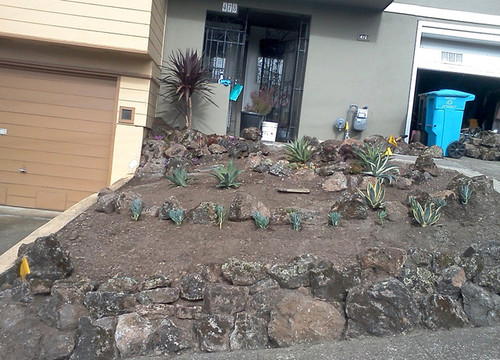 Here is a link that might be useful: